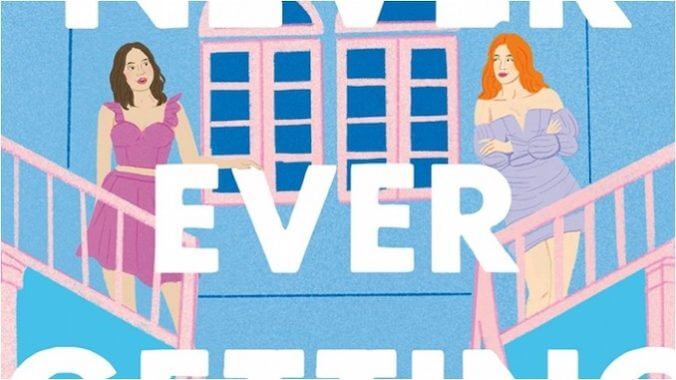 The thing that has always fascinated me about the Bachelor/Bachelorette reality dating show mega-franchise is that the year's titular lead is both the judge and the prize. Strangers are supposed to fawn—and fight—over these stars ostensibly because…they become convinced this person they'd never met until eight weeks ago is their soulmate?
Never Ever Getting Back Together, young-adult author Sophie Gonzales' latest feminist, queer-positive spin on rom-com tropes, succeeds because it leans into the insanity that is the popularity of reality dating shows and that actually found a refreshing new approach to that staid format. In this story, several young women go on a dating competition show that will put them through elaborate challenges as well as drunken catfights and confessionals in the hopes of winning the heart of a new person. The twist is that they're all supposed to do this for a new show called Second Chance Romance because all the contestants have at least one thing in common: They all dated Jordy Miller, the handsome, manipulative younger brother of the newly crowned princess of Chalonne (a fictitious Scandinavian country that, upon Googling, seems to share its name with a very real luxury accessories brand for wearable tech—i.e. high-end accessories for high-end accessories) .
But, as the Taylor Swift song that inspired the book's title has taught us, not everyone actually wants to get back together with Jordy.
The story is told through alternating POVs. The first is from Maya, a recent high school grad who is going to college to study pre-med, mostly to make her mother happy. Jordy really messed her up when he went to study in Canada. He cheated on her, said the other girl knew about it, and then told everyone that Maya was nuts when she freaked out on him. Since his sister had just become royalty and he was now a world-renown eligible bachelor, his version of history is the one that stuck. Maya, quite understandably, goes into this show hell-bent on revenge. And Jordy and the producers, just as unsurprisingly, are gunning to make her the villain.
The other POV is from Skye, the slightly older "other woman" who was with Jordy during his relationship with Maya and after it ended. All of this was unbeknownst to Skye, who actually wasn't aware that Jordy had someone back home and certainly didn't know that he'd told Maya that she'd known about her all along. Thanks to some family trauma, Skye's a private and guarded individual. She's really only let three people get close to her: her dad, her best friend and, for a brief time, Jordy. When their relationship ended, it was more or less amicable. She joins the show out of a mild curiosity about whether Jordy might be the one that got away but really because she's got the travel bug and wants to explore a different country after already spending several months backpacking through Europe. She does not know that she's the stick meant to poke the Maya bear.
But what Jordy should have thought about is that women talk to each other, especially ones who are stuck in a house with nothing else to do but bond over their only guaranteed common denominator. It takes little time for Maya and Skye to sort out this matter.
The other thing Jordy didn't think about? As we've learned from Minh Thu and Truc Nhu, the women who fell in love; with each other while contestants on a season of The Bachelor: Vietnam, there are also other things to do during the copious amount of downtime on a production than talk about him.
Never Ever Getting Back Together is a fun read with a fun premise that's clearly written from the vantage point of a feminist who has spent multitudinous hours studying both the young adult and rom-com genres. I love the way that Gonzales makes sure to let us know what everyone looks like but doesn't spend a ton of time analyzing body shapes or features. Same for individual wardrobes and personal styles. The language is fresh and present but not so much that it will feel dated if someone reads it in a few years (modern music references are made up while real bands are referenced through Skye's iPod that's stocked with her dad's favorite jams from the '80s and '90s. There's also a subtle, fun, dig at the TV adaptation of Bridgerton toward the end).
As Gonzales has done before, the characters' sexualities also aren't hugely major plot points. Maya's out and bi; something Jordy addresses just briefly at the beginning of the novel (and in a way that's not particularly flattering to him). Skye's sexuality is never even really officially defined at all, which is also significant in its own way and speaks to the modern ways that young'uns view that spectrum.
The one part of the story I really just didn't enjoy was Maya. I get that this character has been publicly gaslighted and is still just a child, really. But she's also whiny, doesn't really think before she speaks, and is so headstrong in her own ambitions that she is immune to others' ideas—be it about her relationship goals or the ever-evolving game plan to take down Jordy. Sometimes it's hard to understand what Skye sees in her. Such is the nature of (young) love.
Perhaps a sequel can involve the couple taking on another reality TV genre. I'd love to know how they'd do on The Amazing Race.
Never Ever Getting Back Together is available now from Wednesday Books.
---
Whitney Friedlander is an entertainment journalist with, what some may argue, an unhealthy love affair with her TV. A former staff writer at both
Los Angeles Times
and
Variety
, her writing has also appeared in
Cosmopolitan
,
Vulture
,
The Washington Post
and others. She lives in Los Angeles with her husband, son, daughter, and cats.