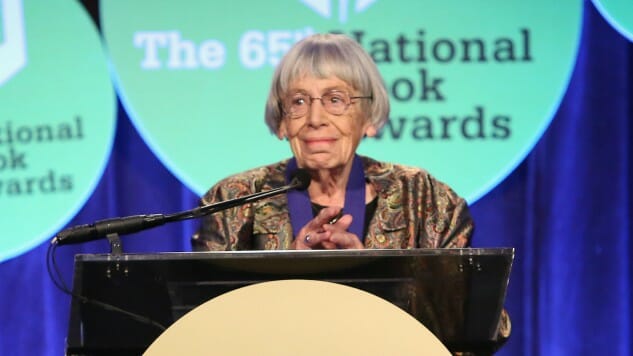 The famed fantasy and science fiction novelist Ursula K. Le Guin died Monday evening at the age of 88 in her home in Portland, Oregon. Her son, Theo Downes-Le Guin, said to CNN, "It was unexpected at that moment. Her health had not been great."
Ursula K. Le Guin penned some of the most intricate stories that often challenged societal norms regarding ideas of power, gender and race through focusing her stories on wizards, dragons and outer space. Her most famous works derive from her Earthsea series, beginning with the 1968 book A Wizard of Earthsea. The 2006 Studio Ghibli film, Tales from Earthsea featuring Willem Dafoe, Timothy Dalton and Mariska Hargitay as voices and directed by the son of legendary Oscar winning director Hayao Miyazaki, was based on Le Guin's novel.
She won five Hugo Awards, which is the highest honor in science fiction, for her novels The Left Hand of Darkness in 1969, The Word for World is Forest in 1973, The Ones Who Walk Away from Omelas in 1974, The Dispossessed in 1975 and Buffalo Gals in 1988.
A documentary titled Worlds of Ursula K. Le Guin is currently in post-production and is hoping to hit festivals soon. According to the official site of Ursula K. Le Guin, starting this month the film will begin its "online editing session, where we'll fix all the technical glitches, correct the colors, add closed captioning, and otherwise get ready for festivals, theatrical screenings, and eventual broadcast," said the documentary's director Arwen Curry.
Some of Le Guin's trademarks include taking typical fantasy and sci-fi tropes and turning them upside down, meaning her novels usually avoid clear-cut moral victories, cannot easily differentiate between good and evil, and protagonists tackle conflict with brains rather than brawn.
Le Guin lived in Portland for almost 60 years and lived in the same home for the past 36 years. Her son describes her as "an extraordinary conversationalist." Seven-time Hugo winner Neil Gaiman, whose novels Stardust and Coraline have been adapted into films, said "Her words are always with us. Some of them are written on my soul. I miss her as a glorious funny prickly person, and I miss her as the deepest and smartest of the writers, too."
Author John Scalzi wrote about Le Guin saying, "Look at the top tier of writers in science fiction and fantasy today … and you see the unmistakable traces of Le Guin in their work. Multiple generations of her spiritual children, making the genre more humane and expansive, and better than it would have been without her."
Her range included not just science fiction and fantasy novels but poetry collections, essay collections, children's books and over 100 short stories.