The College Football National Championship Was Yet Another Example of the NCAA's Sham Known as Amateurism
Photo by Brian Blanco/Getty
Business
Features
College Athletics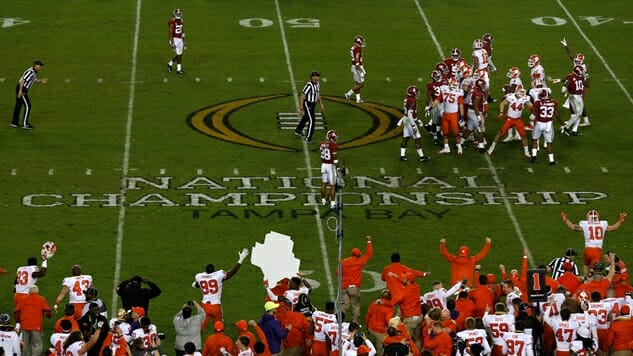 Clemson scored the game-winning touchdown with one second remaining to win a thrilling National Championship over Alabama. The game was an instant classic, and the bonkers TV ratings reflected this greatness.
16.0 combined rtg for @CFBPlayoff Champ 3rd best on record for any ESPN event ever; WatchESPN sets records & up 23% in avg min imps

— Josh Krulewitz (@jksports) January 12, 2016
Despite being classified as an "amateur" sport, the revenue generated from college football is anything but. ESPN signed a deal for $5.64 billion to broadcast the College Football Playoff over 12 years. The Playoff pays out all kinds of bonuses to conferences, per their website:
For conferences that have contracts for their champions to participate in the Orange, Rose or Sugar Bowl, the base combined with the full academic performance pool will be approximately $55 million for each conference. The five conferences that do not have contracts for their champions to participate in the Orange, Rose or Sugar Bowls will receive approximately $83.5 million in aggregate (full academic pool plus base), which the conferences will distribute as they choose. Notre Dame will receive a payment of $2.83 million if it meets the APR standard; the other three independents will share $930,462.
Conferences also receive $6 million for every team that makes the semifinal, and $4 million for making one of the lesser bowls as part of this agreement (there are six bowls that rotate hosting the playoff games each year). This money is generated largely from corporate sponsors, as Allstate, AT&T, Buick, CapitalOne, Chick-fil-A, Dos Equis, Dr. Pepper, Ford, Gatorade, Goodyear, Nissan, Northwestern Mutual, Playstation, Reeses, Taco Bell, Eckrich, Gerdau, Panini, Ticketmaster, and Wilson are all sponsors of the event. Navigate estimates that a 30-second ad cost between $1.2 million and $1.3 million last night. To put that figure in perspective, a 30-second spot in the Super Bowl will run about $5 million this year.
Even though conferences receive the payout, a lot of the revenue trickles down to the universities. According to Chris Smith of Forbes:
From 2005 through 2012, the average championship-winning team saw football revenue increase 11% in its title year, and that growth was even more significant through the following season – across the three seasons from the year prior to the title win to the year after, winning teams experienced an average 18% surge in income.
Jonathan Jensen, a sports marketing consultant and assistant professor at Merrimack College's Girard School of Business, told Fox Business "In aggregate, college football viewers are more attractive to advertisers and sponsors than fans of even the NFL."
Clemson's football program alone generated $44 million in revenue for the 2014-2015 season. Given that they played in the National Championship last season as well, that figure has no doubt risen, and will continue to skyrocket with their win last night. Based off these figures, Clemson football likely generated upwards of $52 million this past year. Their coach, Dabo Swinney, makes $4.42 million, which is far behind his counterpart from last night, Nick Saban—who took home $6.94 million, which pales in comparison to college football's highest paid coach: Jim Harbaugh. Michigan is cutting him a check for $9 million every year. Sean Payton and Pete Carroll are the two highest paid NFL head coaches, and they make $8 million each season.
Show them the money. pic.twitter.com/1fH02L99Ko

— Outside The Lines (@OTLonESPN) January 10, 2017
In short, nothing about the revenue generated from college football indicates that it is an amateur affair, yet the coaches, administrators, and sponsors maintain this ridiculous façade that this isn't one of the largest business in America. Dabo Swinney, who earned a million-dollar payout for his players' performance last night, said earlier this year:
We try to teach our guys, use football to create the opportunities. Take advantage of the platform and the brand and the marketing you have available to you. But as far as paying players, professionalizing college athletics, that's where you lose me. I'll go do something else, because there's enough entitlement in this world as it is.
Someone might want to explain to Swinney what the word "professionalizing" means, as he trademarked his postgame phrase "Bring your own guts." The word "trademark" literally means "a symbol, word, or words legally established by use as representing a company or product." It's hard to get more professionalized than that. Players do not have this same luxury to make money off their own likeness, as current NFL superstar A.J. Green was suspended from his Georgia squad in 2010 for four games after selling his own jersey for $1,000. Ohio State players were caught exchanging their memorabilia for tattoos and other small items, and the NCAA deemed this to be such a massive scandal that they still have a page on their site specifically devoted to it. Ohio State was banned from the postseason the following season and suffered financial penalties as well. Head coach Jim Tressel was fired—all this because some kids sold something they earned that the market valued.
Now, players are not working for free. A college degree nowadays is like a high school degree from the Mad Men era—it's a prerequisite to get pretty much any good job. A lot of these players would not have been able to afford college if not for the football program. The scholarships cover room and board, books, and miscellaneous costs associated with the team. Additionally, because basketball and football are the only sports that generate revenue, they help pay for athletes in sports like field hockey or soccer. However, some federal and state money is already designated to these smaller sports, and these scholarships do not have anywhere near the security as the six-plus figure contracts given out to head coaches and administrators.
In 2014, UConn freshman soccer player Noriana Radwan flipped off ESPNU cameras after the Huskies won their conference championship, and she subsequently lost her scholarship over it. Kyle Hardrick committed to play basketball at the University of Oklahoma in the ninth-grade, and after he tore his meniscus, the university revoked his scholarship. He had unpaid medical and tuition bills piling up all because of an injury sustained underneath a regime which removed any responsibility they had to him once he was no longer of use to the team. Jared Drew was cut from Saint Louis University's basketball team for not "being the right fit for what [the coach] is trying to do." Jared Uthoff wanted to leave the University of Wisconsin basketball program, and coach Bo Ryan blocked his ability to transfer to any other Big 10 or ACC school, along with Marquette, Iowa State, and Florida. Essentially, Ryan said it was OK for Uthoff to make his own life choices, so long as they didn't lead him to a school on Wisconsin's schedule.
I can go on and on and on with examples of how universities give their players on scholarship the shaft, as "amateur" players operate under an entirely different standard than their "amateur" coaches. Coaches are free to move from school to school with relative impunity, while players must sit out a full year when transferring. Greg Bishop of the New York Times reported that "if a coach does not grant an athlete a release, the player must forfeit any scholarship opportunity, pay his own way to the new university and sit out the next season."
Scholarships are portrayed as four-year guarantees by proponents of the NCAA, but in reality, they are one-year renewable agreements that are subject to review after every season. When a coach is fired or quits, they still recoup a large chunk of the contract they negotiated up front. As soon as a player removes any value they have to the university, they can be discarded for virtually no penalty to the school. A study by CNBC showed that "the odds of landing a college scholarship in many major sports are lower than the chances of being admitted to Harvard, Yale, Princeton or Stanford."
A school's academic responsibility to the student only goes as far as the NCAA's Academic Progress Rate (APR). The metric is centered around the term "academically eligible," which is largely determined by the university itself. A passing score to keep a team eligible per the APR is about a 50% graduation rate. The number of teams facing penalties increased last year, yet none of the 128 FBS schools that compete for the College Football Playoff were declared ineligible.
It's pretty hard to believe that while violations are on the rise, those programs that generate nearly all the revenue are somehow magically above these transgressions—especially in light of the massive scandal at the University of North Carolina, where athletes had their work done by tutors, and over a period of 18 years, at least 3,100 students took classes that didn't even exist. This report came out in 2014, yet North Carolina still played in the basketball National Championship this past year. There is a zero percent chance that a player would be given similar leeway had they been falsifying transcripts and forcing tutors to do their work for them. Given how often schools run into problems like this, if you think UNC is the only offender, I have some swampland in the area that I'd like to sell you.
So to recap, not only is college football a billion dollar business that paints itself as "amateur," but the bowls themselves are actually registered as 501c3's—which is a designation typically reserved for charities, yet the U.S. Internal Revenue Code classifies 29 types of "nonprofits" that includes college athletics. While we're letting Dabo Swinney know what "professionalizing" means, we should also probably define the word "profit" for the NCAA and the federal government too.
The popularity of college athletics is undisputed, and the amount of money it generates makes the "amateur" designation utterly laughable. This map put together by Deadspin encapsulates the true absurdity in all of this.
Former NCAA executive director Walter Byers wrote in his memoir, Road to Damascus, that the system which he oversaw suffered from a "neo-plantation mentality," meaning that the economic benefits "belong to the overseers" and "what trickles down after that" going to the players. It's not that the players are not compensated, it's that they earn nowhere near enough compared to the value they provide to the school. This would be like Facebook paying its top engineers $20 per hour.
A report conducted by Drexel University and the National College Players Association estimated that each football player was worth $178,000 to their college from 2011 to 2015. Basketball players were worth $375,000 each. Four years of out of state tuition at Clemson runs about $125,00, so even the kids who barely played last night are giving Clemson roughly two years free out of state tuition value, and that figure rises dramatically for superstars like last night's MVP DeShaun Watson. Johnny Manziel won the Heisman Trophy at Texas A&M in 2012, and their revenues skyrocketed that same season.
Amateurism in its current form exists solely to enrich college coaches and administrators at the expense of the players. Dabo Swinney and Nick Saban are known for their entertaining sideline tantrums, but no one tuned in last night to watch them coach. Defending the NCAA as a legitimate amateur institution necessitates significant mental gymnastics to designate this billion-dollar business as separate from other massive industries which dominate the American landscape, and have integrated their revenue streams into this sham known as "amateurism."
Jacob Weindling is Paste's business, media, and politics editor. You can follow him on Twitter @jakeweindling.