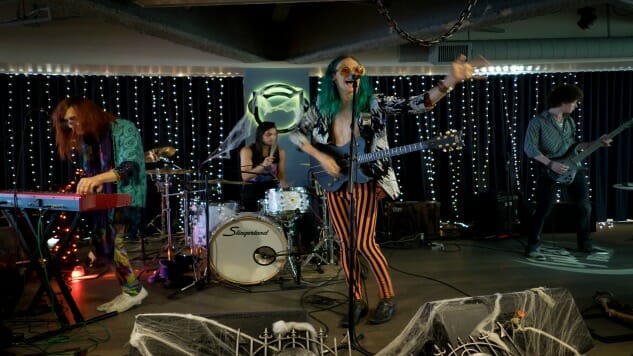 For those who grew up in the 1990s, Napster was a defining moment in our lives. When the file sharing service launched on June 1, 1999, it spread like a virus, infecting all of us through our dial-up connections. Instead of recording songs off the radio to make mix tapes, all we needed to do was leave our computers running all night, making every morning feel like Christmas with a freshly burned mix CD. However, Napster's run didn't last long. The file sharing service ran into legal issues over copyright infringement, causing it to be shut down on July 27, 2001. It was later acquired by Roxio.
If you were a teen like me, there's a good chance you didn't follow Napster's journey after that.
When I walked into the Napster office in Seattle, my heart skipped a beat. The familiar cat was staring back at me. I started working on this article with "How to Lose a Guy in 10 Days" on in the background, immediately causing me to send out a tweet using the "What year is it?" GIF from Jumanji.
The year is 2017, and Napster has grown up.
Walking around the office with Sarah Tobis, Director of PR and Communications at Napster, formerly Rhapsody, it was difficult for me to contain my glee. Tobis has been with Napster since December 2015, and considers herself "to have one of the coolest jobs in the world."
The first thing you notice when you walk into the Napster office in Columbia Center is the stage, with the iconic logo glowing behind the drumset. This is the stage where Napster employees and select attendees enjoy exclusive live shows. Right behind the stage is the quiet hum of a busy office, overlooking a breathtaking panoramic view of the Puget Sound, the Olympics, and of course, Mt. Rainier. The entire Napster office is a tribute to music born in Seattle, with every conference room named after an iconic artist—from Jimi Hendrix to Macklemore to Heart.
Although it's no longer the file sharing service that shook up the world in 1999, Napster today is still all about music discovery. The Listener Network, Napster's global peer-to-peer platform, lets you share and follow playlists from other Napster subscribers whose music overlap with yours. This feature is clearly resonating with music fans and Napster members all over the world.
From your parents' basement to a global stage
Rhapsody acquired the Napster brand from Best Buy in 2011, but it wasn't until July 2016 that Rhapsody rebranded in the United States, joining the 33 other countries already operating under the Napster name. The initial acquisition in 2011 provided an ideal entry point to the European market, particularly Germany and the UK, where consumer demand for subscription music was growing fast. "Our partners were eager to bring music to the masses in new and creative ways," says Tobis. "Through the benefit of scale, the strength of our editorial programming and strategic partnerships, the merge allowed us to bring the Napster service—and music more broadly—to even more consumers on a variety of platforms."
Those partnerships were also key in re-launching the Napster brand in the United States, joining 33 other countries operating as Napster to form one global brand. In addition to partnerships with mobile carriers, Napster most recently announced a new partnership with iHeartRadio to power one of their new on-demand streaming service tiers.
There's one key difference between the Napster that shook up the music industry in 1999 and the service today: Napster is now a paid-only subscription, helping support a more sustainable digital music economy. So, how does Napster plan to break through the stigma of nostalgia and more importantly, reach the 90% of the global population who doesn't currently pay for a music subscription?
By educating the market about paid subscription models, focusing on diverse partnerships, and tapping into the power of the emotional connection we all have with music. If you're new to Napster, you can give it a try for free and get unlimited access for 30 days.
The premium streaming service of the future
It is 2017 after all, which is why it's no surprise that Napster is leveraging social media to connect with music lovers around the globe. Before Instagram had launched their stories feature, Napster started a Live Concert Capture series, posting professional photos from music shows to their Instagram profile within minutes to share the live music experience with fans and followers.
During SXSW in 2016, they launched a VR app to share 360-degree performances from the festival. On Twitter, their #SOTD (Song of the Day) campaign serves as a great way to engage fans and share "who we think are the ones-to-watch in the music world," muses Tobis.
Social media moves pretty fast, and Napster is adamant to stay on top of real-time trends in order to give their fans the best experience possible. In the coming weeks, they'll be launching a new Facebook live stream series, featuring live performances from artists, streamed from Napster's Headquarters office in Seattle.
So what can we expect from the iconic cat in the coming months?
"In 2017, we'll continue to look for innovative ways for people to easily engage and connect with music," shares Tobis. "Expanding Napster's diverse set of partnerships will be a key vehicle of growth and focus for us—particularly with brands that share the same passion for creating great customer experiences and powering emotional connections every day."
Tobis continues on to say that "from a product standpoint, that includes building an amazing mobile app that delivers a personalized, visually-engaging experience and drives new music discovery balanced with quick access to a listener's established favorites."
Speaking of their app, after the latest updates, it now recommends music not just from a listener's own musical taste, but that of their friends too, "breaking the dreaded echo chamber."
Whether you're looking to discover new artists from around the globe, or you want to party like it's 1999 with your nostalgia playlists, Napster's got you covered like Madonna's cone bra.
Berrak Sarikaya is a freelance writer from Seattle, and Paste's assistant business editor. You can follow her on Twitter @BerrakBiz.