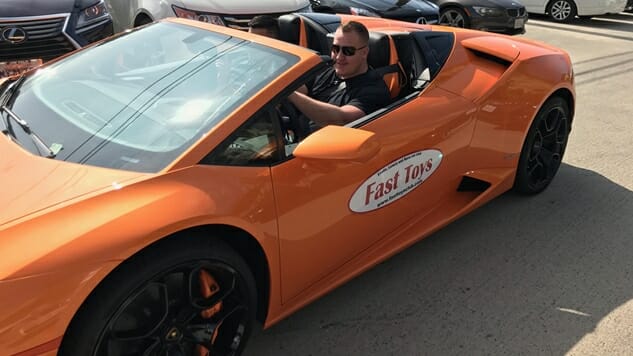 Los Angeles and San Francisco, two cities steeped in disposable income, have a service for just about every kind of luxury or weekend adventure, as well as every iteration of the sharing economy. Since 2014, the array of services includes a club offering exotic car rentals and racetrack events.
Some financial advisors caution against leasing cars—spending each month without ever acquiring equity—but there's a practicality to paying Fast Toys Club to avoid ownership. At least when you get to certain price brackets. It's a kind of timeshare for car nuts.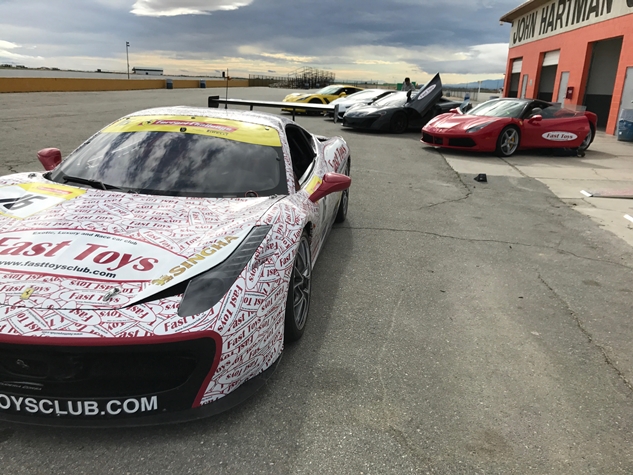 Foreground: Ferrari 458 Challenge EVO. Background, front to back: Ferrari 488GTB, McLaren 675LT, Lamborghini Huracán, Chevrolet Corvette Z06/Z08. Photo Courtesy: Fast Toys Club
Hollywood resident Ara Kirakosyan joined Fast Toys Club a year ago, when he was shopping to buy a McLaren. A successful businessman and remorseless consumer of luxury, the healthy six-figure sticker was well within his price range. He also considered a lease, but the $3500 monthly payment would not flatter his credit report when he was about to buy a house. His Silver Membership level in the club, at $17,500 per year, is far less than the total of $3500 per month over the course of a year. And he can drive all different cars in addition to the club's McLaren, rotating through Ferraris, Lamborghinis, an Aston Martin, a Maserati, and others.
He loves the convenience of the home delivery when he feels like driving. "I get the car and hit the canyon. Or Mulholland," Kirakosyan said, referring to LA's straight-out-of-a-car-commercial high winding roads.
Revealing his driving habits, he added, "The yellow speed sign [on tight turns] is a suggestion. It's not really the law." But so far, so good: no tickets.
He also had a clean driving record before joining the club, a requirement to take the powerful exotics out on public roads unsupervised. So speed fanatics, be warned.
When Kirakosyan's first year is up next month, he'll upgrade to Gold Membership at $30,000 per year, still well below the $42,000 total of the $3500 per month he'd have spent leasing his McLaren.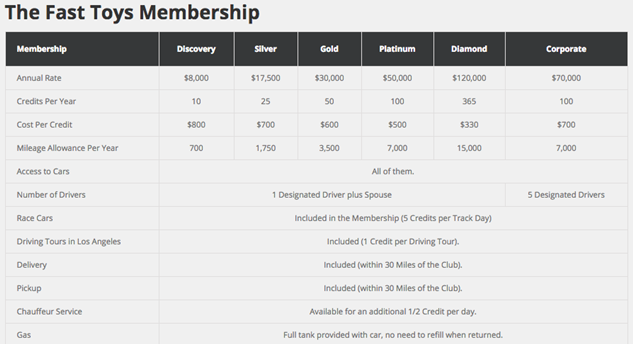 Screenshot from Fast Toys Club's official website, www.fasttoysclub.com. Printed with permission.
He's mostly in it to drive sweet cars he doesn't have to maintain. In his opinion, the best road car in Fast Toys Club's current collection is the Ferrari 488. But he'll take it out alone. "I don't take these cars on dates. I have a friend who does that," Kirakosyan chuckled. "If you're out with the kind of woman who's dating you for the car, you're attracting the wrong type."
He also attends the club's racetrack events, opportunities to drive on a closed track, and attend the banner events of F1, IndyCar, NASCAR, and USCC as a spectator. Co-owners Chris Carel and Lyon Kassab have become friends of his during such trips, and he meets like-minded car lovers in his new network.
Carel identified a niche for Fast Toys Club when looking around at his own eight-car collection in 2012. He got the thrill of buying a car he'd dreamed about, then taking it out a few times, but then was hit with the reality of a crowded garage and ultra-particular maintenance. Not to mention depreciation and the cost of insurance. Fast Toys Club opened for business in July 2014 in Los Angeles. Kassab, a growth and scaling consultant, joined as co-owner and marketing chief at the end of that year.
Carel, Kassab, and their member crew aren't alone in this asset sharing niche. Club Sportiva operates in the same Los Angeles and the Bay Area markets, also offering socializing plus opportunities. But Sportiva offers event space for unrelated occasions, in case you want to throw a baby shower adjacent to a luxury car showroom (an actual suggestion from the membership perks description).
Kassab believes asset sharing for all income levels is the way of the future, and car ownership will eventually become obsolete. He cites Cadillac's BOOK program, a $1500-per-month subscription service launched earlier this year, and Clutch, a service that allows users to change out cars. "People are finding that ownership doesn't work," Kassab said in a phone interview. "Now leasing is giving way to an asset sharing model." He's preparing to take Fast Toys Club to other cities this year, though he is not publicly naming the cities or associated investors just yet.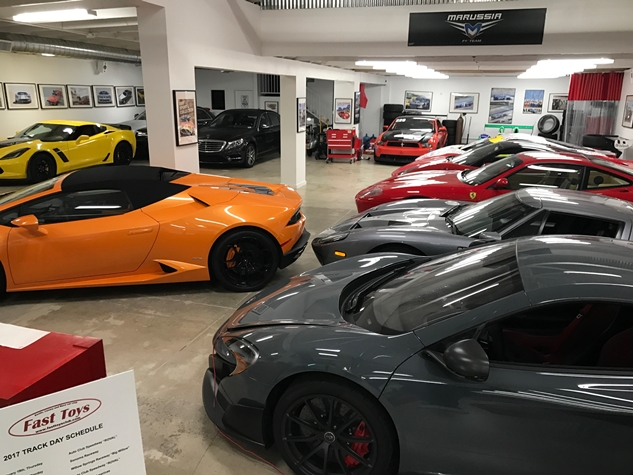 Inside Fast Toys Club Los Angeles. Photo Courtesy: Fast Toys Club
Kassab said his membership in both Los Angeles and San Francisco is distributed between the roughly 30 percent who, like Kirakosyan, can afford luxury but want to avoid maintenance and dinged credit, 50 percent with full two-car garages and no place to safely store an exotic, and 20 percent who just want cars they can't have right away because of waitlists for rare makes.
Even if you're prepared to shell out for a Ferrari or McLaren, you'll hit a waitlist at the dealer. Fast Toys Club has agreements with dealers to bypass waitlists and get the newest models out on the road for their members.
Driving the newest and best available was Frank DiMarco's reason to join the club last month. He knew Kassab from the gym and has long been a car fanatic. He has his own motorcycle and a Shelby Cobra in his Malibu garage, but loves driving. Like Kirakosyan, he'll hit nearby canyons after a new car is conveniently delivered to his house, but he'll also use the Lamborghini Huracán as his daily driver between home and his Pacific Palisades design-build firm. DiMarco said, "For me it's more of the experience, the joy of having all these cars at my disposal."