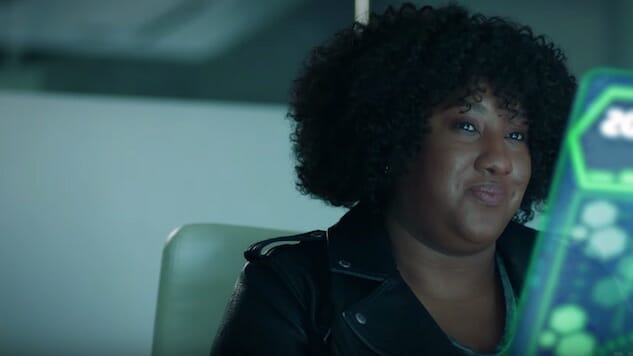 Robin Thede and Issa Rae's refreshing A Black Lady Sketch Show saw its premiere on HBO this weekend, and luckily for you, a handful of the first few featured sketches from the pilot have finally landed on YouTube.
The ensemble series is a quick-paced narrative sketch show set in a fantastical universe of weird, dynamic characters helmed by an all-black female core cast. Alongside series mainstays Thede, Quinta Brunson, Ashley Nicole Black and Gabrielle Dennis, the pilot featured Angela Bassett, Laverne Cox and Nicole Byers, the latter of whom appeared in the "Invisible Spy Part 1," perhaps the pilot's most memorable sketch.
Now available to peek on YouTube, "Invisible Spy Part 1" finds Black playing a CIA agent whose size and appearance renders her invisible in the workplace and allows her to discreetly infiltrate criminal doings without drawing attention to herself. When gaining access to an international crime syndicate's office, Black encounters the CEO's private security guard—played by Byers—who is "so off the grid the CIA has not been able to ascertain anything about him" and just so happens to be the spitting image of herself.
"Invisible Spy Part 1" encapsulates all of the recurring elements of the series that makes it—as our TV columnist LaToya Ferguson put it in her review—"an oasis from comedies that are actual half-hour dramas": offbeat, a little left-field and stupidly fun.
Check out the sketch below, then revisit our coverage of the series premiere here.