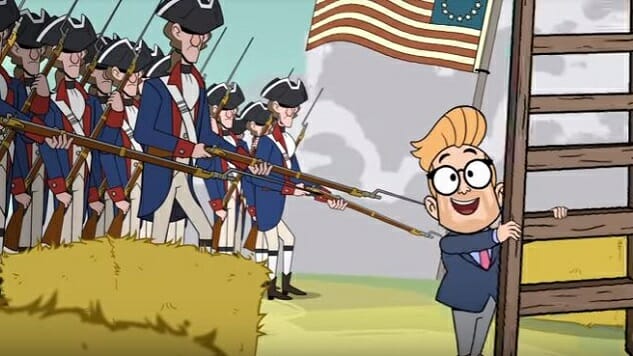 Did you know that everything you know is wrong?!?!?!?
Okay, maybe not everything. But a lot of it, particularly when it comes to history. Because, get this: sometimes a country lies about itself to seem stronger or more virtuous than it actually is. If you can't trust a country, who can you trust?
Well, Adam Conover, for one. The star of Adam Ruins Everything turns his myth-busting eye to American history in Reanimated History, a new animated show that launches on truTV on Tuesday, March 20, at 10:30 PM ET/PT. It's like a cartoon version of that book Lies My Teacher Told Me, clearing up the exaggerations and misconceptions that have clustered like barnacles around the history of this country of ours.
Next Tuesday's first episode targets the American Revolution, particularly some of the legends around a couple of jokers called George Washington and Paul Revere. Check out the show's intro below, which features the unmistakable voice of Chris Parnell, and if you want to have all your illusions shattered, remember to tune into this here show on the channel it airs on and such.