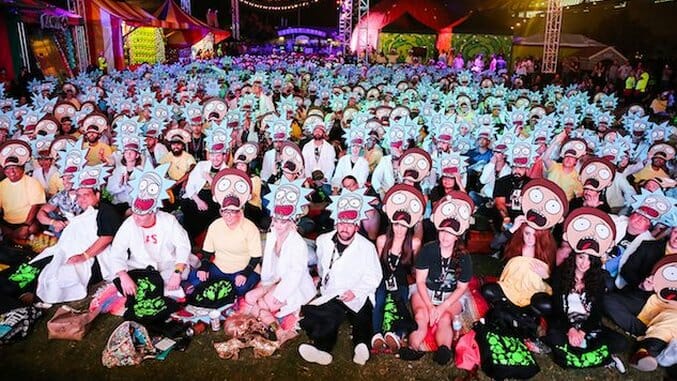 Look out, Adult Swim fans/people with tickets to Comic Con: TV's premier alt-comedy station is returning to San Diego, and they're coming with a massive amount of experiences for fans to be a part of.
Firstly, on Thursday through Sunday from 1-6 p.m, they'll be having "Adult Swim On the Green!" If you feel the need to relax after too many heart-stopping Batman sightings elsewhere during the convention, stop by this event to unwind. They'll have all sorts of fun (and free) games, prizes, fun, livestreams, motorized animals for riding, a tarot card reader, dart throwing and some highly important shade.
Some of those livestreams will include shows like FishCenter, Stupid Morning Bullshit, Williams Street Swap Shop, Development Meeting and more. Celebrity guests will also be stopping through occasionally for chats. Each night, fans will be treated to live screenings of some of the latest series and pilots. Also, be sure to be on the lookout for the "Rickmobile" to nab some Rick and Morty swag.
See below for information on all upcoming panels and signings, and be sure to check Adult Swim's site here to learn about other exciting offerings.
ADULT SWIM PANELS
FRIDAY, JULY 21 Hilton San Diego Bayfront – Indigo Ballroom
The Jellies!
12:15pm – 1:00pm
Show creators Tyler, The Creator (Loiter Squad) and Lionel Boyce (Loiter Squad), producer Carl Jones (Black Dynamite), and actor Phil LaMarr (Samurai Jack) invite you to preview an exclusive look at their brand new animated series The Jellies!, premiering this year on Adult Swim. Moderated by Walter Newman, vice president of comedy development, Adult Swim.
Rick and Morty
1:15 p.m. – 2:00 p.m.
Executive producers and co-creators Dan Harmon (Community) & Justin Roiland (Adventure Time), writer/producer Ryan Ridley (Community) and voice talent, Sarah Chalke (Scrubs) and Chris Parnell (Archer) invite fans to an inside look at the highly-anticipated third season, premiering this summer on Adult Swim. Moderated by Brian Q. Quinn (Impractical Jokers).
Robot Chicken
2:15 p.m. – 3:00 p.m.
Walkers and bawk-bawkers collide this year when the RC crew arrives with an exclusive sneak preview of the upcoming season…including The Robot Chicken Walking Dead Special: Look Who's Walking! Co-creator/executive producer Matthew Senreich, executive producer/co-head writer Tom Root, executive producer/co-head writer Doug Goldstein, actor/writer Breckin Meyer (Franklin & Bash), writer/director Tom Sheppard, creator/writer/executive producer Robert Kirkman (The Walking Dead), and showrunner Scott M. Gimple (The Walking Dead) will be on hand for the fun, and who knows which surprise guests might "walker" onstage? Perhaps a guest who can write better puns than that. Moderated by Keith Crofford, senior vice president of production for Adult Swim.
Mike Tyson Mysteries
3:15pm – 4:00pm
It was a unanimous victory last time, but Iron Mike Tyson is taking on Comic-Con again and this rematch is sure to live up to all the hype.  Currently in its third season of solving mysteries, the Mike Tyson Mystery Team has all-new episodes airing on Adult Swim. Join Mike Tyson, fellow voice cast member Rachel Ramras (The Looney Tunes Show) and producer Hugh Davidson (The Looney Tunes Show) for an exclusive look at upcoming episodes.
ADULT SWIM SIGNINGS
Wristbands required for all signings. A limited number of wristbands will be given out on The Green the day of.  First come, first served.
FRIDAY, JULY 21
1:30 p.m. – 2:00 p.m. 
Mike Tyson Mysteries
Warner Bros. Booth (#4545)
SATURDAY, JULY 22
12:00 p.m. – 1:00 p.m. 
Rick and Morty
Adult Swim on The Green
1:30 p.m. – 2:30 p.m. 
Robot Chicken
Adult Swim on The Green
3:00 p.m. – 4:00 p.m. 
The Jellies!
Adult Swim on The Green