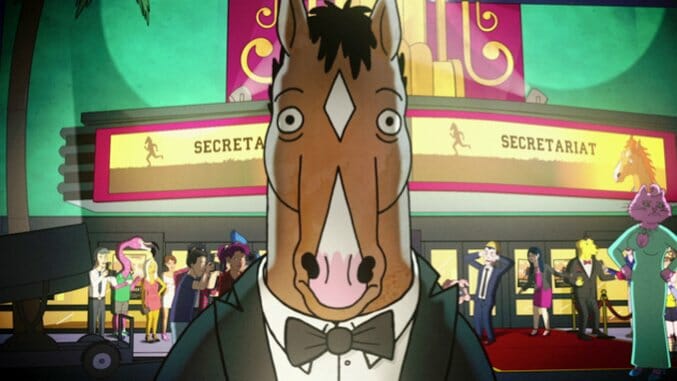 Netflix's key art for BoJack Horseman season three likens him to some of TV's most legendary antiheroes, and rightfully so. BoJack can dole out damage, emotional or otherwise, with the worst of them—he's been his own most ruthless saboteur since this brilliant tragicomedy's beginning. In the series' junior season, somehow, the washed-up Horsin' Around star finds himself resurgent, with his starring role in Secretariat delivering his dreams on a silver platter. But the brilliance of BoJack, as ever, is its insistence on a particularly harsh reality that flies in the face of traditional narrative: people don't change. Even when BoJack has everything he ever wanted, none of it satisfies. "Dream come true," he shrugs.
These new episodes find BoJack picking up the pieces after his brush with rock bottom in last season's devastating "Escape from L.A.," a prominent reminder of which graces his front lawn in the form of his yacht that bears that same name. BoJack's shame followed him home, and it poisons what little joy he might otherwise have been able to wring out of all the Oscar buzz that's also following him around after Secretariat. As if B.J.'s heart-rending struggles to live with himself weren't compelling enough, season three is as packed to the gills—animal jokes come with the territory here—with rapid-fire banter and animalian sight gags as ever. BoJack remains the most pause-worthy show on TV—fortunately for us all, it's on Netflix.
Here are five reasons BoJack Horseman's superb third season is worth savoring.
1. The voice talent is all kinds of excellent.
Star power has never been a problem for BoJack and its deceptively stacked voice cast. Will Arnett was born to voice this character, and his Emmy-level performance is shockingly easy to overlook in light of all that is working so well on this show. But Arnett is the foremost member of a bench that has gotten Marianas Trench-deep here in season three. Though old hands Aaron Paul, Alison Brie, Amy Sedaris and Paul F. Tompkins are all doing expectedly stellar work, a cavalcade of new voice actors brings a whole new level of excitement and variety to the show, including everyone from Angela Bassett and Abbi Jacobson to Dave Franco and Lorraine Bracco (voicing a therapist, no less).
Jacobson is a particularly welcome addition as Emily, an old friend of Todd's, whose warmth and endearing affection finally give Paul's tenuous character some solid ground to stand on. Veep's Diedrich Bader is a delight as Prince Carolyn's robotic bearded assistant, Judah, while Jeffrey Wright is terrific as Cuddly Whiskers, a self-important rodent screenwriter who unwittingly enables BoJack to torpedo his post-Horsin' Around career. But it's Bassett who shines the brightest as B.J.'s (figurative) bulldog of a publicist, Ana Spanakopita, as silky smooth as she is fierce. All told, BoJack Horseman has never sounded so good.
2. Sight gags for days—nay, weeks.
If you're not pausing BoJack at least five times an episode—conservative estimate, that—you're not watching it right. Fans of dense, quick-hitting comedies like Arrested Development and Unbreakable Kimmy Schmidt will feel right at home with this show, which is chock-full of astonishingly clever, blink-and-you'll-miss-them sight gags that come naturally in the anthropomorphic animal kingdom that is Hollywoo. A cat at a restaurant casually laps from a glass of milk; a dog walks around in circles before settling into bed; a school of sardine businessmen pack themselves into an elevator. If you're not charmed, I don't get you.
Despite their delirious silliness, these gags mean something far more important than just fun. They mean BoJack rewards repeat viewings in a way few shows, and fewer comedies, do. In the peak TV era, there's a certain bravery to going for broke in enriching a show's world, gambling time and effort on giving viewers someplace immersive. The risk pays off enormously on BoJack—I've never seen a show so rich in wittiness, so generous in handing out wacky gags that soften the emotional gut punches, so invested in nuanced comedy without ever sacrificing the intelligence and depth that audiences have come to expect from BoJack's journey.
3. Flashbacks that fill in some fun blanks.
In its third season, BoJack is hitting that TV series stride in which a show has built up its world enough to indulge in a little self-referentiality, and rewards abound for attentive viewers. We finally get to witness the infamous party, referenced in the pilot, during which B.J. ralphs cotton candy off his balcony. We get to watch BoJack effectively banish himself from show business after Horsin' Around, so afraid of failure that he can't bear to dedicate himself to a follow-up. And we get blasts from the pasts of supporting characters who are much more than just satellites in BoJack's orbit, including pretentious Starbucks cashier Dianne and clueless double-divorcee Mr. Peanut Butter, teen heartthrob Todd and corporate ladder-climbing Princess Carolyn. The strange, sad and frequently uproarious story of BoJack Horseman is that much more bountiful with every narrative puzzle piece, however trivial, that we can put together.
4. Social comments as far as the ear can hear.
Despite the vivid and engaging world in which BoJack takes place, there is no mistaking the power of its subtle and often scathing social commentary. The series holds a funhouse mirror up to modern-day pop culture, responding to everything from rape culture in entertainment to abortion shaming to mass shootings. At a glance, BoJack Horseman looks dismissible—frivolous, even. A talking horse named BoJack? Pshaw. But there are no more excuses for that lazy perception, if there ever were—few, if any, shows on television are as brutally real as BoJack. I'll be damned if I ever thought a pot-bellied, aging alcoholic horse could teach me so much about human nature, let alone Hollywoo(d).
5. Find out how low BoJack can go.
Season two was a huge leap forward (or downward, really) in terms of how sad BoJack Horseman could be. The last thing one might reasonably expect from a comedy about an anthropomorphic horse is profound poignancy, and yet that's exactly what S2 delivered, and in droves. Having not quite finished season three, I can't wait to see how low BoJack ultimately goes—not because I enjoy seeing him miserable, but because, despite his many flaws, I care about BoJack, and his often-gut-wrenching emotional journey is the most unexpectedly potent part of what would otherwise just be another quick-witted and irreverent, yet perhaps ultimately purposeless comedy. BoJack's perpetual struggle, far more human than equestrian (or "more man than a horse," as Grouplove puts it), is what gives this show its meaning. BoJack Horseman's broken heart is what resonates, long after the last of the laughs have faded out.
---
Scott Russell is Paste's news editor. He's on Twitter, if you're into tweets: @pscottrussell.