8 Weirdly Entrancing Moments from Conan O'Brien's 2008 Writer's Strike Episodes
Main images courtesy of Getty Images
Comedy
Lists
Conan O'Brien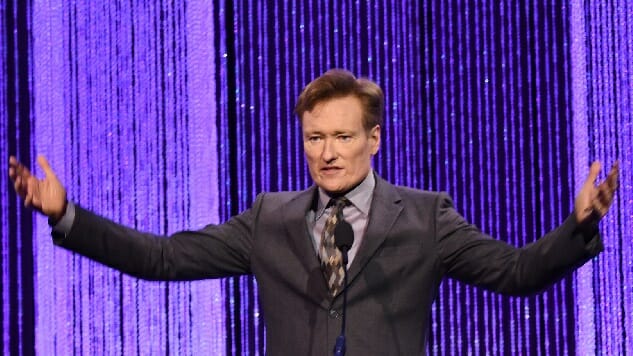 Last Monday, the Writer's Guild of America announced that 67.5% of its eligible members had voted 96% in favor of the ability to go on strike in the near future should it be necessary. The possible strike is still in negotiation but may begin as early as May 2. The previous strike, which began in November 2007 and ended in February 2008, had to do with payment for work in new media such as Netflix, so it's appropriate that we're about to show you a bunch of unsanctioned YouTube clips.
On Jan. 2, 2008, after almost two months off the air in support of the WGA strike going on at the time, Conan O'Brien, who had reportedly been paying his staff out of his own pocket, released a statement saying his show would resume, temporarily without its writers. "An unwritten version of late night," the statement read, "though not desirable, is possible—and no one has to be fired."
Thus began a series of episodes in which O'Brien mostly just killed time and goofed around during the parts of the show that would normally feature scripted segments. These bits, like much of O'Brien's best work, present a pointless diversion on the surface, then eventually allow for an undercurrent of mania, seething frustration or self-righteousness to explode in an over-the-top theatrical manner. They also paved the way for the post- Tonight Show iteration of Conan, Conan-as-curmudgeon, improvising a lot and messing around with his staff. Here are eight great moments from a late night show's strange limbo:
1. "That's Real Bitterness There on TV"
On his first night back, O'Brien gave a monologue in which he discussed his support for the strike, then joked at length about the beard he'd grown. He danced around, characterized NBC executives as Bond villains, and tried to see how long he could spin his wedding ring around on his desk. It's remarkable to see a performer who at this point had, over the course of fifteen years on the air every night, transformed from a famously awkward writer to someone so comfortable in his own body and in his own studio, so adept at riffing and mugging and conviviality. It's also a thrill to see a show that's already kind of a deconstruction of talk shows deconstruct itself further out of necessity: what will late night shows be like when the apocalypse comes?
---
2. Sunshine of Your Love
In this segment, O'Brien takes the viewer on a tour around his office, during which he shows off his Christmas cards from Cheap Trick, Pee-Wee Herman and Hugh Hefner; plays with action figures of himself and Abraham Lincoln ("Don't go to the theater!" "What do you know, idiot?"); and plays the electric guitar a lot, specifically the riffs from "Sunshine of Your Love" and "Purple Haze." Then he plays along on his real guitar to the staff's Guitar Hero rendition of "Creep." I don't know if NBC had to pay royalties for those or not.
---
3. "How Many Seconds Do You Have?"
Conan takes an enthusiastic young man named Chris around the NBC studios—his own studio, then Saturday Night Live, then MSNBC to heckle a visibly annoyed, yet patient, Brian Williams on the air. The time capsule quality of this moment is great because Williams is trying to discuss Mitt Romney withdrawing his nomination for Republican presidential candidate. By the end, O'Brien, Chris, and the camera operator are sprinting up and down stairs, with O'Brien stealing snacks to throw at the audience. It's delightful.
---
4. "Those Are Clementines"
Associate Producer Jordan Schlansky—on screen, anyway—is snobby, fussy, contrarian, apparently humorless, a habitual mansplainer: the perfect foil for O'Brien's rowdy, fraternal antagonism. Since this segment aired, Schlansky has gone on to be a popular and frequent feature of TBS's Conan show. Here, O'Brien goofs on Schlansky's uncharacteristically messy office, as well as his proclivities for protein shakes, wine-tasting, ballroom dancing, and secret Pop-Tarts.
---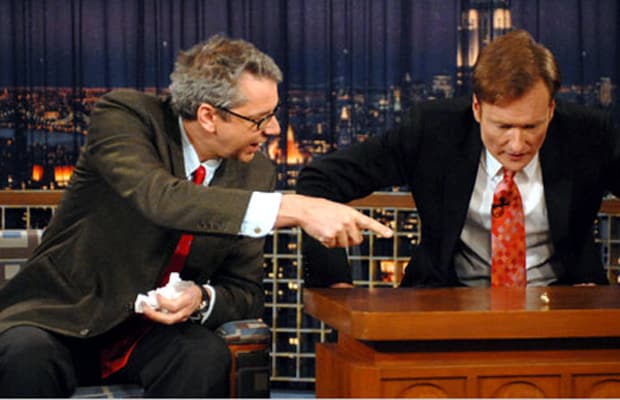 5. "You Can Do It but the Universe Explodes"
In a further effort to beat his own ring-spinning score, O'Brien invited MIT Physics professor Peter Fisher to speak on the problem in a fourteen-minute(!) long segment. O'Brien ended up coating the ring in Vaseline and spinning it on a Teflon surface, thereby achieving a 51-second spin. It's kind of O'Brien's "Andy Kaufman reading The Great Gatsby to the audience" moment. The video has been expunged from the Internet, but the MIT website has a partial transcript if you're looking for some real excitement.
---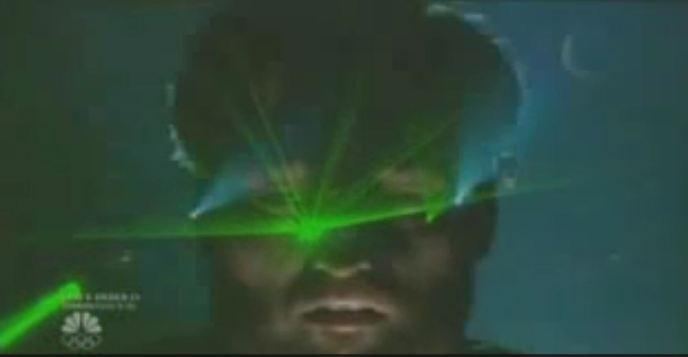 6. "…And It's All Going Very Badly"
O'Brien uses laser lights to turn his studio into a frightening German rave. He yells in a German accent and laughs maniacally as techno plays and the camera quickly zooms in and out. Another good time capsule moment in this clip: Donald Trump is here, ladies and gentlemen! What the future President might have thought of the countercultural, globalistic comedy bit is lost to history. Watch it on Daily Motion.
---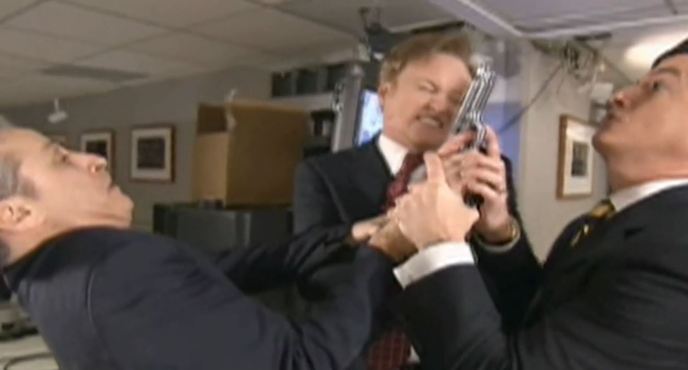 7. "I Wanna Settle This in a Civilized Way, with Violence"
This comic book crossover with The Daily Show and The Colbert Report, which lasted several nights and took up space on all three nightly comedy shows, is so full of deft comedic touches and golden gags. You might have forgotten, as I had, that the "feud" started over each man claiming credit for Mike Huckabee's campaign. Perennial open mic comedian Mike Huckabee later said, "None of these guys made me. This great nation made me. So vote for me. God bless America and forget these three idiots." Oh, brother. Watch it on Vimeo.
---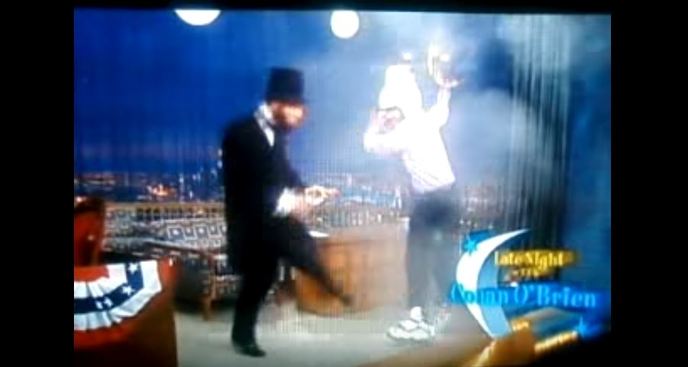 8. Conan in the Bardo
O'Brien put in a zip line and used it to rocket down into the audience; later he would get more elaborate, using the zip line as a means of saving Abraham Lincoln from assassination by John Wilkes Booth. The lanky Late Night writer Brian McCann naturally played Lincoln. McCann's other notable characters of the time included Preparation H Raymond and The FedEx Pope. You could argue that a recurring theme of Late Night with Conan O'Brien was the infinite possibilities that exist in our world—what a late night show can be, what it would be like if a mysterious, hot-dog-loving traveler stopped Lincoln's murder. In some of these sketches we get a chance to see what it would have been like if O'Brien had been able to go fully weird, like what a Conan O'Brien Adult Swim show might have been like. You can find GIFs of the full segment here.
O'Brien has referenced Lincoln in three of these moments—he seems even more fascinated than usual by the sixteenth president. It makes sense that the idea of a gawky leader, trying desperately to keep everything from falling apart while maintaining a sense of humor, appealed to him especially during these exhausting times.
---
Nate Waggoner is a writer, comedian and editor-in-chief of The Tusk.