Earwolf Celebrates 500th Episode of Comedy Bang! Bang!, Introduces Seven New Shows
Photo by Theo Wargo/Getty
Comedy
News
Earwolf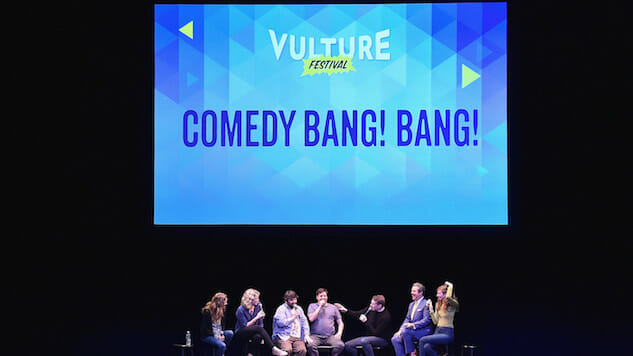 Since its launch back in 2010, Earwolf has expanded to become one of comedy's premier podcast networks. This summer, Earwolf will keep that success rolling by introducing a bevy of new shows alongside the 500th episode of their flagship program, Comedy Bang! Bang!
Kicking the summer off on July 25 will be Off Book—the first-ever improvised musical podcast. Featuring improvisational comedy stars Jessica McKenna and Zach Reino, Off Book will invite a musically gifted guest to bring the audience an original musical each week.
For a throwback to the past, on Aug. 2, Earwolf will also release episodes of the popular 1960s comedy radio show Chickenman. Listeners can enjoy each bite-sized episode of this superhero drama in just two minutes. The first 20 episodes will be free, while the remaining archives will become available through Stitcher Premium.
Next up is Homophilia—launching Aug. 11 —which will bring together former MTV host Dave Holmes, comedian Matt McConkey and a celebrity guest for candid conversations on pop culture and their romantic lives. From pop-culture favorites to coming-out stories, hook-ups and long-term relationships, no topic is off-limits.
Also new to the Earwolf network are two podcasts from leading digital-media humor brand Cracked: Cracked Movie Club (July 13) and Cracked Gets Personal (Aug. 16). Throwing Shade (July 6) and James Bonding (Aug. 1) have also joined the network.
Start mentally preparing yourself now for all the auditory hilarity coming your way soon. In the meantime, you can listen to Comedy Bang! Bang!'s 500th episode here. "I'm very proud to have done this show so often," said host Scott Aukerman. "I've never done anything else 500 times, and that includes exercise and sex!"