Comedy Central Announces New Ed Helms Special, The Fake News with Ted Nelms
Photo via Comedy Central
Comedy
News
Ed Helms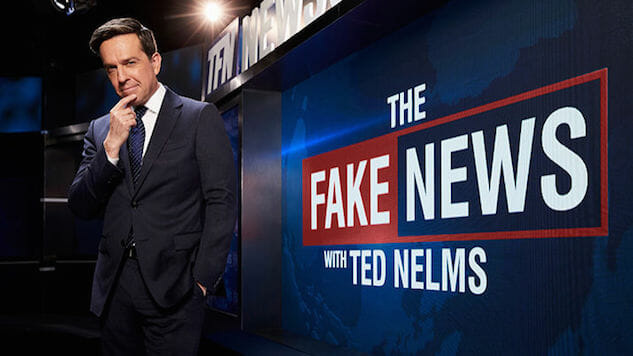 Ed Helms is returning to Comedy Central, and he's got an agenda.
Helms had a stint on Jon Stewart's The Daily Show more than a decade ago, and continuing his political satire, this time he's going to give us an hour-long comedy special: The Fake News with Ted Nelms.
From Comedy Central's press release:
The Fake News with Ted Nelms is exactly what it sounds like; ridiculous, made-up news that closely resembles actual news, delivered by a ridiculous, made-up anchor who closely resembles Ed Helms. It's a fast-paced one-hour special that looks like CNN with the volume off, but with the volume on is a constant stream of jokes delivered with such extreme deadpan gravitas it'll ruin viewers capacity to watch the real news ever again without laughing. Led by Helms as Nelms, the special skewers the way news is delivered by emptying out the format and refilling it with insanity, silliness, and absolutely no factual content, throwing all its resources into the ongoing national crisis of President Trump getting stuck in an abandoned well. Because this is The Fake News.
Said Helms, "Obviously there are lot of news organizations out there just making up a bunch of crap and calling it news. But unlike those others, we're doing it better, faker and stupider. And we're joking."
The Fake News with Ted Nelms premieres Dec. 13 at 10 p.m. EST/PST on Comedy Central.