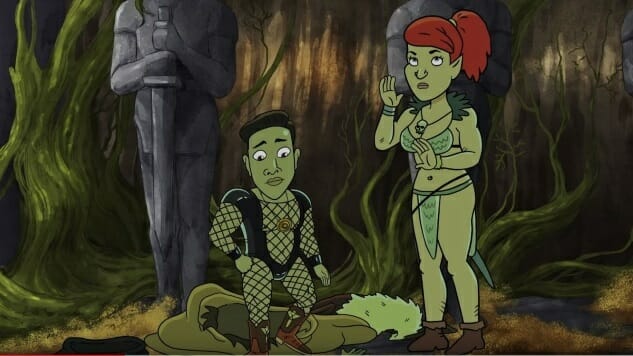 Joel Kim Booster has a secret skill: he's really good at dungeons.
Or at least his HarmonQuest character is. One of the best stand-ups in the business today is the guest in the latest episode of Dan Harmon's role-playing show, and his leather mesh-clad dwarf happens to be a master spelunker. It's just what Harmon's party needs during that crucial juncture of their adventure, and Booster is also just what HarmonQuest needs on this sleepy, late summer Friday afternoon. If you're feeling lost in the subterranean maze of the work week, let Booster and HarmonQuest guide you into a weekend of freedom.
Check out an exclusive clip below and watch the latest episode of HarmonQuest on VRV.