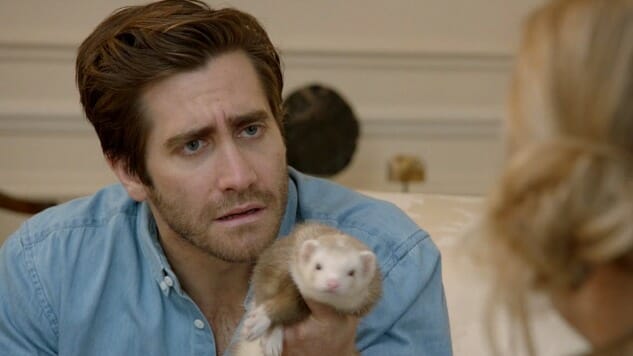 Do you remember season three of 30 Rock? You know, when the writers realized that their critical darling status and their enormous pile of Emmys gave them the power to land any guest star they wanted? Oprah, Jennifer Aniston and Steve Martin all appeared in three subsequent, mediocre episodes. Guest turns from Salma Hayek, Jon Hamm and Alan Alda were much better, but they still distracted from the relationships that made the show tick: Liz and Jack, Tracy and Kenneth, Jenna and herself. It must have been fun to work on 30 Rock that year but it wasn't always fun to watch.
That's exactly how I've started to feel about Inside Amy Schumer's fourth season. So far, in just eight short episodes, we've seen Lin-Manuel Miranda, Questlove (twice), Liam Neeson, David Spade, several NFL players, Julianne Moore, Maggie and Jake Gyllenhaal, Jennifer Hudson, Laura Linney, Patton Oswalt, Tim Meadows, Jessica Williams, Natasha Lyonne, Abby Elliott, Lena Dunham, Michael Ian Black, Chris Gethard, both famous Ambers—Rose and Tamblyn, as well as Jemaine Clement. At this point, it's all getting to be a little much. Guest stars have always been a vital part of Inside Amy's DNA but they are starting to overwhelm the show, just like they almost did with 30 Rock, and just like they can do to any show that gets a bit drunk on its own success.
Season three of Inside Amy hit a near-perfect balance between series regulars like Kyle Dunnigan and the stars that Schumer's crew could wrangle thanks to her rising star status. "Last Fuckable Day" used Tina Fey, Julia Louis-Dreyfus and Patricia Arquette to point out Hollywood's rejection of women over 40. And the legendary, Emmy-nominated, episode-length "12 Angry Men Inside Amy Schumer" brought in a bushel of Schumer's friends to fill out the cast, all of them perfect for their roles. But when I think back on season three, so many of the best sketches used the familiar performers that keep the show running. I'm thinking specifically about Josh Charles' pitch-perfect take on Friday Night Lights' Coach Taylor in "Football Town Nights" or Kyle Dunnigan's body-rapping boyfriend.
At this point in season four, though, it's hard not to feel like Schumer is hanging out with her friends at the expense of her audience. At no point did that become more apparent than at the end of last night's episode when Schumer spent three minutes fulfilling her childhood fantasy of singing Rita Moreno's Muppet Show song "Fever" with Questlove backing her on the drums.
"I've done four years of this show and I just feel like I've earned myself to live out this dream," she said.
Sure, the result is mildly amusing, especially when Schumer leans into the role of amateur vocalist, but this is the sort of stuff that works much better in its original context—a live show—than it does on television. She has indeed earned the right to live out her dream but that doesn't make her dream our ideal Thursday night. It's her show, and she can do what she wants with it, but we might not keep watching if it strays too far from what made the show great.
It's no coincidence that the best sketches this season have been the ones that avoid the big stars and stick to the show's core formulas: the music video parody "Closer to You," in which Amy Schumer scarfs spaghetti from the trash in her boyfriend's undershirt while he's at work; the instant classic "Madonna-Whore" featuring the reliably funny regular Dan Soder instead of a big-name actor; and the many spot-on commercial parodies like last week's skewering of "adorkable" mobile carrier spokeswomen.
At this point, the show would be better off if Schumer could somehow temporarily forget that she's famous, stop writing sketches about being famous, and avoid the completely understandable temptation to invite every other famous person she knows onto the show. What's happening to Inside Amy Schumer this season does makes sense when you think about it. If I had my own sketch comedy show, I'd want to play pattycake with Paul McCartney every night and I probably would. But eventually, the time comes to put your feet back on solid ground and get back to work.
For all of my critiques of this season of Inside Amy Schumer, I still have faith that its former glory can be restored. 30 Rock never quite returned to the quality of its first two seasons, and it always played host to a wide array of guest stars, but after that awkward third season it cooled down on the stunt casting. There was a James Franco episode in season four, a couple of Matt Damon appearances in season five, but never anything like that Oprah-Aniston-Martin triple play in season three. And as cartoonish as that show became, it was always at its best when it reminded people why they started watching in the first place. Inside Amy Schumer could stand to learn from 30 Rock's mistakes: put down the Rolodex, pick up the pens, and start writing.
May Saunders is a professional dog walker living in Minneapolis and an occasional freelance writer. In her spare time, she enjoys hanging out with her cat, who does not need to be walked. Follow her on Twitter.