Rory Scovel, Chris Gethard, 50 More Comics Are Throwing Shows for Jason Saenz
Photo by Mindy Tucker
Comedy
News
Jason Saenz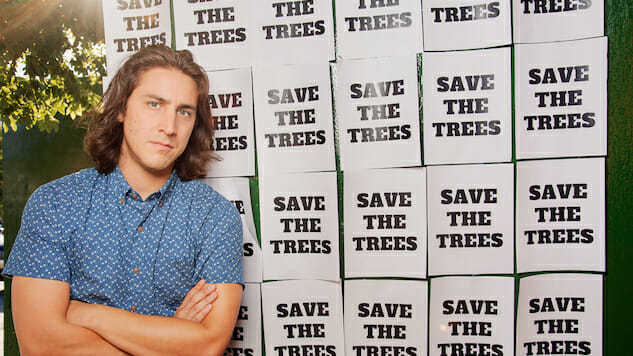 Under normal circumstances, we don't cover individual fundraisers, but when comedians across the country join forces for a good cause, we take note. On April 1, over 50 comics will be performing in Los Angeles, New York, and Washington, D.C., as part of benefit shows for comedian Jason Saenz. You may know Saenz from his Saenz Signs project.
Last December, Saenz was left paralyzed from the waist down after accidentally falling through a skylight. This already-tragic event was compounded by the fact that he was just a month away from the health insurance at his new job activating. Left with life-changing bills and medical issues, a GoFundMe page was set up to help cover Saenz's costs. To date over $187,000 has been raised.
On Monday, three benefits will be held for Saenz, each featuring the kind of lineup you could build a festival around. Aparna Nancherla, Chris Gethard, Rory Scovel, Adam Conover, Sasheer Zamata, Melissa Villaseñor, Jeff Ross and more are set to appear. All of the proceeds will be going to Saenz to cover medical costs and his continuing treatment. An auction? will also be held at each show, including items like tickets to SNL and the finale of Drag Race.
Here are the lineups for each show, along with ticket links.
LOS ANGELES
April 1 – 8 p.m. doors / 9 p.m. show
$20 in advance / $25 at door
Tickets: SaenzbenefitLA.com
Regent Theater
448 S Main St Los Angeles, CA 90013
(Main St Between 4th St & 5th St – Near The 7th St / Metro Center)
Sets by Jeff Ross, Jermaine Fowler, Adam Conover, Naomi Ekperigin, Rory Scovel, Sasheer Zamata, Matt McCarthy, Nick Turner, Adam Newman, Mara Herron, Amber Nelson, Nick Vatterott, Onassis Comedy, Brooke Van Poppelen, Grant Gordon, Eddie Della Siepe, with more to be announced.
Hosted by Ed Larson, Henry Zebrowski and Jackie Zebrowski of Murderfist!
NEW YORK CITY
April 1 – 8 p.m. doors / 9 p.m. show
$20 at the door
Tickets: rebrand.ly/Saenzbenefit_NY
Arlene's Grocery
(95 Stanton St, New York, NY 10002)
Sets by Aparna Nancherla, Chris Gethard, Ben Kissel, Melissa Villasenor, Jordan Temple, Ramy Youseff, Dan St Germain, Reformed Whores, Noah Gardenswartz, Alison Leiby, Holden McNeely, Sean Patton, Seth Herzog, Chelsea White, Julia Johns, Travis Irvine, Onassis Comedy, Rojo Perez, Selena Coppock, Doug Smith, and Robert Dean
Hosted by Anthony DeVito and Greg Stone
WASHINGTON, D.C.
April 3 – 7:30 p.m. – 9:30 p.m.
$20 pre-show; $25 at the door
Tickets: rebrand.ly/Saenzbenefit_WDC
Source Theater
(1835 14th St NW, Washington, DC 20009)
Performances by Brick Penguin (Sketch Comedy), iMusical (longform improvised musical comedy), ?Sean Murphy, Molly Murchie, Chris Ulrich, Mark Chalfant, Joe Randazzo, Ken Hays, Justus Hammond, Sean Ellis, Topher Bellavia, Catherine Deadman, Mike Bass, Daisy Rosario, Pete Bergen, and ?John F O'Donnell
Hosted by? Pete Bergen & Mikael Johnson