A24 Shares First Look at New Comedy Series Moonbase 8, Starring Fred Armisen, Tim Heidecker and John C. Reilly
Image via A24
Comedy
News
Moonbase 8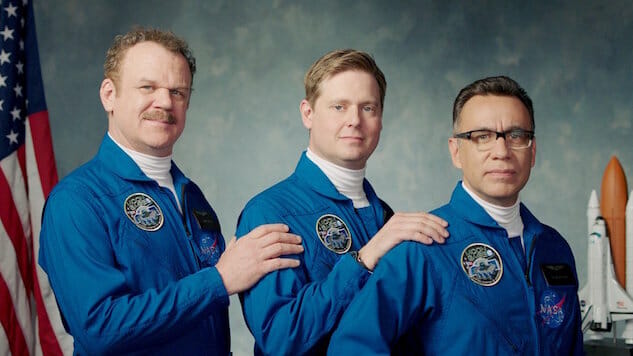 For some reason, Fred Armisen in a space suit makes total sense.
A24, the indie film studio behind movies like Lady Bird, Moonlight and The Lobster, thinks so too, and they've cast Armisen beside fellow funny guys Tim Heidecker and John C. Reilly in Moonbase 8, a new six-episode comedy series about lousy astronauts. The first photo from the show has surfaced—check out Armisen and co. in their galactic getups below.
Greetings from #Moonbase8pic.twitter.com/GvEputKMGP

— A24 (@A24) July 10, 2018
Portlandia co-creator Jonathan Krisel is teaming up with Armisen again for Moonbase 8. Krisel will assume the director's role and co-write alongside Heidecker, while Armisen stars as one of three astronauts stationed at NASA's Moon Base Simulator, desperate for a moon mission.
There's no word yet on a premiere date or a chosen network/platform. A24's most recent stab at television, Channing Tatum and Joseph Gordon-Levitt's Comrade Detective, premiered on Amazon. Moonbase 8 went into production earlier this year, reports IndieWire, and it marks A24's second independently financed series. With Armisen and Krisel at the helm, Moonbase 8 is likely to be a hilarious trip through space—er, a space simulator.
Armisen is also cooking up another TV series now that he's sans Portlandia, the Spanish-language comedy Los Espookys, coming soon to HBO.