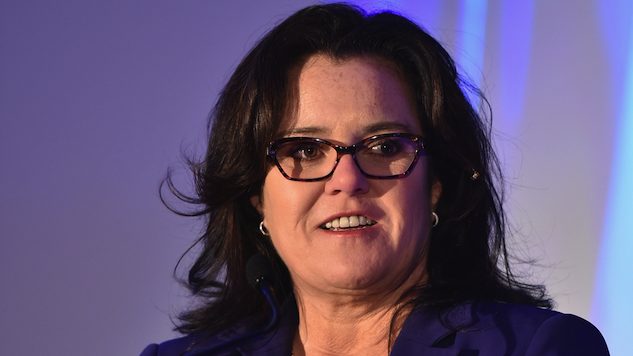 Looks like we weren't the only ones inspired by Melissa McCarthy's performance on SNL as Press Secretary Sean Spicer, which, if you haven't seen yet, you need to go watch immediately. Now, it looks like Rosie O'Donnell wants to be the next star to join the Trump administration parody troupe as Chief Strategist/Evil Overlord Steve Bannon.
O'Donnell, a comedian and long-time Trump foe, tweeted out that she would be "ready" if asked to play the part of Bannon, who is currently played by an actor in a skeleton costume.
@calvininsf – i am here to serve – alec has trump – melissa has spice – i would need a few days to prepare – so if called – i will be ready

— ROSIE (@Rosie) February 7, 2017
The public feud between O'Donnell and Trump goes back to 2006, when the two first argued on The View about a Miss USA winner, and things snowballed out of control all the way to now. In the first Republican presidential debate, when Megyn Kelly famously asked Trump about his use of derogatory language toward women, he responded "Only Rosie O'Donnell." It should be no surprise that O'Donnell wants to join SNL's Trump administration parody team, which currently includes Alec Baldwin as Trump and McCarthy as Spicer.
Politico reported that a source close to the president said Trump was most upset that Spicer was played by a women, as he "doesn't like his people to look weak." However, McCarthy's hilarious and spot-on performance is already being hailed as an SNL triumph, and we are already looking to see more from her. As far as O'Donnell goes, there are no official plans to cast her as Bannon, but considering the amount of positive feedback from the internet, we wouldn't be surprised if she was playing Bannon by next Saturday night.
Watch McCarthy embody Spicer here, find O'Donnell's other relevant tweets below and pray to the comedy gods (or Lorne Michaels, same difference) SNL takes Rosie up on her offer.
#BannoninChiefhttps://t.co/UVkK2D6byX

— ROSIE (@Rosie) February 7, 2017
available – if called i will serve !!! https://t.co/LT84EJjfsw

— ROSIE (@Rosie) February 7, 2017
@2020fight – no – that's an alternate fact – someone tweeted it as an idea – after Melissa was so brilliant … just a funny idea #truth

— ROSIE (@Rosie) February 7, 2017