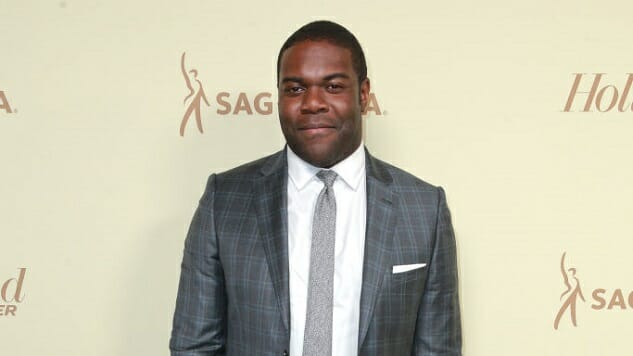 Calling Sam Richardson a rising star feels like a misguided choice. Sure, the actor is under 35 and still building his credentials, but said cred has put him onscreen for a half-dozen beloved franchises, where he steals every scene. From Veep to Neighbors 2, Richardson is running circles around the early career years of similarly aged comics. His mastery of character roles has lead him to headlining the excellent Detroiters on Comedy Central and now he's in a similar position, co-leading the new YouTube Premium series Champaign ILL opposite Adam Pally.
The series follows two members of a platinum-selling rapper's crew. When the center of their universe dies in a music video accident, both friends must move back home to Champaign, Illinois and attempt to rebuild their livelihoods, albeit from their parents' guest rooms. The series repartners Pally with Happy Endings co-creator David Caspe for a modern, dark, complicated adventure that mixes the Champagne Room with the Applebee's in central Illinois. It's a big serving of sincere bleakness and millennial ennui tied together by exceptional performances.
Ahead of the show's launch on Dec. 12, we talked to Sam Richardson about politics, hip-hop, toxic masculinity, and what it's like to make a show that isn't explicitly about the show.
Paste: What brought you to Champaign ILL and what excites you about it?
Sam Richardson: I read the first couple scripts and they made me laugh out loud. So I was in. I'm a big fan of shows that aren't about male toxicity. And this is a show about characters that are dabbling in this but, that's not the point? This is a show about toxic masculinity and how it claws its way out of that place.
Paste: What draws you to your character?
Richardson: He's a guy who sacrificed family for the show. Maybe I feel like I can identify with that in the professional choices I've made in my life. But it's also easy to just put blinders on and focus on your career. And part of this character was about choices leading to focusing on spending time with just your best friend, at the expense of the bigger idea of who your friend might be.
Paste: What kind of creative opportunities arise from doing this for YouTube Premium versus the other outlets you could have brought this to?
Richardson: I didn't write it, so I can't weigh in on that. But I do know that you can start in from a place of taking on bigger ideas and knowing that YouTube will be lax about the bigger ideas. The norms aren't established and so the rules aren't set when you come in here.
Paste: You're in several different shows right now—Veep, Detroiters, Champaign ILL—from pay cable to basic cable to streaming. What is this process like for you?
Richardson: I have a very unique perspective. I get to be part of one of the greatest comedies in the world, and then I'm on a show co-created by my best friend about our home town, and then I'm on a show about an American experience that I know to be universal. Richard is well meaning as a person and the rest of these guys can be good but maybe with a bad streak—
Paste: Well. We know that you're not a bad person. My wife and I have been next to you at our neighborhood's grocery store before. You're good to everyone at Albertsons. Anyway, when I interviewed you about Detroiters we got into how important it was for you to set and film your show about Detroit within Detroit. And hire a film crew from Detroit to work the show. I talked to Adam Pally about this show and how the community wished that it had been shot here and he didn't think that was something that would've been possible. Is it weird to be caught up in this kind of debate? Or is this a non-issue because Detroiters is actually about Detroit whereas Champaign ILL is about Anytown, USA.
Richardson: Exactly. That's the idea. My show is about Detroit but this show is about guys returning to their home. It's blue collar but also the name Champagne is presenting an idea and an allure that is not in line with what you'd find there. We came up with the title after the show. We were trying to come up with other names, to be perfectly clear. The show is about origins. Whereas Detroiters is about… there have been so many negative portrayals of Detroit. It's a national joke. We were actively trying to counteract that. No one is using Champaign, Ill. as the butt of their jokes. It wouldn't work as a joke because you're using the word champagne. This is perhaps a garbled explanation.
Paste: You're on Veep which is explicitly political but you're also on a number of shows that are political in different ways. You've got a show about redeeming the concept of Detroit but also doing that culturally for the characters on this show. Is it complicated to always be taking on characters with greater or lesser political motivations while also making them funny?
Richardson: Everything is political, obviously. On different shows we're inspired by our own beliefs and usually we're based on the point-of-views of the people we're talking about. I haven't had a show where I can play a character that matches my own political point of view. Well, that's hard to say because it's impossible to say what Richard Splett's politics are. You don't know what side of politics the Selina Meyer campaign is on—sorry, I'm rambling again and talking in circles. I think real politics now are so different than they were ten years ago. Now, it is politics for politics' sake but it used to be about solving problems and trying to survive. That's not what American politics are now. It's simply a game.
Paste: What do you think Richard Splett's solution to American politics would be?
Richardson (in character): Okay. Haha. Let's all do a fun camp where we can do a rope course and get to know each other? We'll pass around a talking stick and everyone can say things and take their turns. We'll play board games, and these board games are lessons! You have to talk but you also… have to listen. Everyone has to listen and that's how we win.
Paste: In this new show, you and Adam Pally both have jobs within a rap crew but you both serve real human jobs. You aren't cartoons. How do you bring realism to a very cartoonish career option?
Richardson: My point of view was to focus on how does the work of others keep people propelled into the limelight. Movie stars or other celebrities—they're corporations. They're something that keeps other people in their orbit employed but those supporters do the work to keep their centered focus in the spotlight. Those on the periphery are equally important. This support is important but no one is telling the stories of those in support positions. Maybe without those support positions, these huge stars also remain nobodies. Equally, what if you explore what it's like to be in a complicated position? In this case, what if it is about someone that doesn't really deserve everything they've earned. Or. Let me take that back. What I really mean is what is it like to be someone who plays support but thinks they should be the focus? That's not wrong either.
---
Champaign ILL premieres on YouTube Premium on Dec. 12.
Brock Wilbur is a writer and comedian from Los Angeles who lives with his wife Vivian Kane and their cat, Cat. He is the co-author (with Nathan Rabin) of the forthcoming book Postal for the Boss Fight Books series.