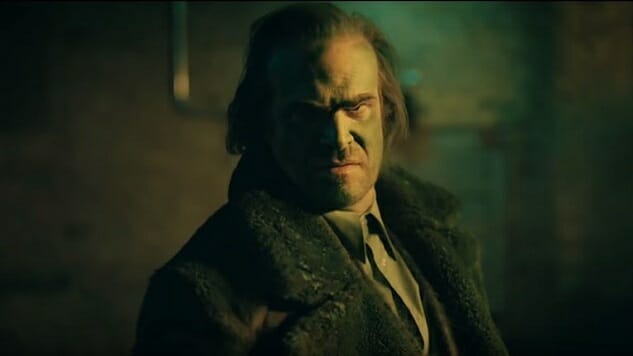 Before Saturday Night Live returns this weekend with its first episode of 2020, let's look back at its best sketches from last year. Why not, right? People like this kind of stuff. And even though the show itself is still mired in a long slump, there have been more than enough bright spots to point to during the second half of season 44 and first half of season 45. Those are the sketches you'll find below—our favorites from the 22 episodes that aired throughout 2019.
One of the weirder things I noticed while putting this list together: Eddie Murphy was easily one of the best hosts of the year, and his Christmas episode would rank as probably my second or third favorite of 2019. It was consistently good in a way that almost no episodes of SNL ever are, but surprisingly its best sketches still didn't peak high enough to make this list. Don't take that as an implicit criticism of the episode—it absolutely needs to be watched, if you at all care about watching this ancient show.
12. "Space Mistakes"
The Joker-parodying sketch "Grouch" was SNL's most celebrated movie parody of 2019, and you'll see that sketch coming up on this list very soon. Even though "Space Mistakes" takes a lower spot on the list I personally prefer it to "Grouch"—it's broader and sillier, sending up not a specific movie, but an entire genre of space disaster films where the smallest problem has the most dramatic results. The blunt, formulaic way it uses language, with multiple characters repeating some version of the refrain about space mistakes, drives this video, but some solid special effects and good performances from Chance the Rapper and Ego Nwodim certainly help out a lot.
---
11. "Grouch"
There's a lot to like about this sketch. David Harbour is great as the antisocial Oscar the Grouch, and the production values are among the best seen on the show this past year. And it clearly resonated with audiences, making a larger mainstream impression than most recent SNL sketches. I have a few hang-ups about it—the expanded view of a seedy Sesame Street is obvious and overly cynical, and the whole nonsensical framing of this as a movie that exists in the same world as Joker and completely adopts its aesthetic and plot beats is another example of SNL not trusting its audience to get a reference. Still, there's a lot to like about it, and based on the reaction we're pretty sure it'll wind up on SNL compilations and clip shows for years to come.
---
10. "Apple Picking Ad"
Aidy Bryant and Kate McKinnon have thoroughly established themselves as one of SNL's all-time top duos. They have an unbeatable chemistry and are clearly on the same comedic wavelength, smoothly playing off and with each other with style. "Apple Picking Ad" offers a new backdrop for their sharply observed silliness, alternating their absurd jokes with stereotypical scenarios that anybody who's been apple picking will recognize. It's not Bryant and McKinnon's best work this year—that will come later on this list—but it's still one of the show's funniest sketches.
---
9. "Romano Tours"
I get to travel a lot, and can confirm the central conceit of this great Adam Sandler sketch: you will still be the same person on and after vacation that you were before. Traveling somewhere like Italy is not a catch-all cure for mental illness or insecurity. Here's another sketch that really sings because of its precise wording and keen observations.
---
8. "Mid Day News"
SNL doesn't have a great track record on race issues with its sketches, and I can understand why some might be turned off by this sketch. It works for me not just because it highlights a very real phenomenon of people hoping a criminal suspect doesn't reflect or encourage the kind of division that's so common in America today, but because of the increasingly joyous performances of Kenan Thompson, Ego Nwodim and Chris Redd. SNL's politics have been tiresome for years, but this is one of 2019's political sketches that hit its mark.
---
7. "The Duel"
SNL has a long, rich history of busting guts through graphically busted guts, or at least other scenes of bloody and grotesque violence that arrive out of nowhere. "The Duel" might not be as gross as "Farewell Mr. Bunting" or Phil Hartman's weightlifter at the All-Drug Olympics, but Sandra Oh is still a bloody mess well before the end. Although the violence is shocking and subverts expectations, it's still not really the point of the sketch; its criticism of how women are traditionally expected to be apologetic and subservient gives this one a truly memorable bite.
---
6. "The Actress"
Emma Stone gives her all in his pretape, playing a struggling actress who is serious and committed to her craft, even when it's a background non-sex role in a porn film. The porn director's complete disregard for Stone and her character lets her construct her own detailed backstory, finding the kind of depth and nuance that's hard for working actresses to find from a role. That gap between how much Stone cares about this job and how little everybody else in the production does is solidly within what the most astute comedy observers call "the chuckle zone."
---
5. "PowerPoint"
What makes this sketch so good isn't just the absurd incompetence of the PowerPoint presentation made by Aidy Bryant and Kate McKinnon's receptionists. It's the extreme lengths they both go to to apologize for that incompetence, along with how well these two play off of each other. The stereotype of an older person getting completely bewildered by modern tech is a stereotype, but one rooted in reality, and between that familiarity, Bryant and McKinnon's chemistry, and the building expectation of each new ridiculous slide, this is one of the funniest sketches of season 44.
---
4. "To Have and Have Not"
This wasn't Kate McKinnon's most memorable year on the show, but she did get one of her best showcases yet in this sketch from John Mulaney's latest excellent hosting gig. In her best physical comedy of the year, McKinnon plays Lauren Bacall in To Have and Have Not, and reveals that she has absolutely no idea how to actually whistle. Her increasingly awkward farewell becomes funnier as it goes. Almost as impressive as McKinnon's performance is Mulaney's ability to maintain both a straight face and his classic Hollywood accent while all this is happening around (and on top of) him.
---
3. "Sara Lee"
It might be easy to get laughs by contrasting a family-friendly brand's public image with a graphic discussion of sex, but there's more to "Sara Lee" than just that basic concept. Harry Styles and Bowen Yang are both tremendous in this sketch, with Styles playing the humble but unapologetic social media editor responsible for the posts, and Yang playing one of his stern but surprisingly patient ads. Yang has been the breakout player of the current season, making the kind of instant impact rarely seen on a show that tends to ease its talent into the job; this isn't even Yang's best performance, but it's the best sketch in which his consistently strong characterization makes a presence. Too often SNL sketches lack either a strong point-of-view, a good central idea, or notable performances; "Sara Lee" is one of the few to boast all three.
---
2. "Chris Farley Song"
The past loomed large over Adam Sandler's first hosting gig since being fired from the show in 1995, and it was never more powerful than in this episode-closing tribute to Sandler's old friend and cast mate. It's a touching tribute to one of the show's best and most popular performers, who died way too young over 20 years ago. It's not funny, per se, but it's one of the most heartfelt moments in the show's history, and one that never feels cloying or overly saccharine. The emotional high point of the season would probably rank higher if we hadn't already seen it on Adam Sandler's recent Netflix stand-up special.
---
1. "What's That Name"
John Mulaney has been the host of SNL's best episode for two straight seasons now. He's a big part of why those episodes were so good, of course—he's a fantastic sketch performer who knows exactly how to play every scene he's in, without any of the awkwardness or poor cue card-reading skills of some other hosts. He's also a great writer, though, and that's even more important—between his own work and his eye for sketches written by others, his two episodes have been nothing but sharply written comedy from start to finish. "What's That Name" is another sketch that quickly subverts the audience's expectations, starting off as a trivial celebrity-recognition game before abruptly becoming a scathing mockery of how little interest we take in the lives of people we actually know. Bill Hader as the smug host and Heidi Gardner as Mulaney's friend's girlfriend sell it perfectly with the right amount of contempt in their delivery. This wasn't the first time SNL has done this sketch, but the last time was several years ago and so it felt new and fresh when they brought it back this year.
---
Senior editor Garrett Martin writes about videogames, comedy, travel, theme parks, wrestling, and anything else that gets in his way. He's also on Twitter @grmartin.