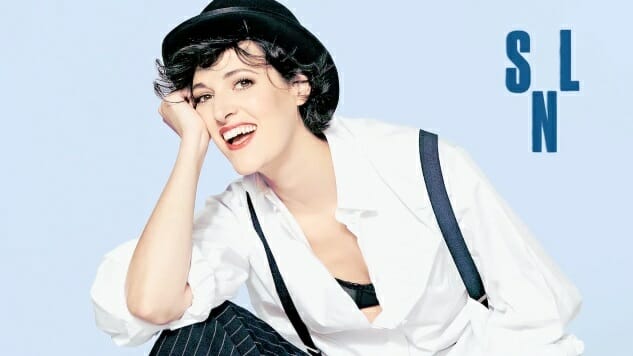 If you somehow weren't aware that Phoebe Waller-Bridge was British, Saturday Night Live was determined to let you know. The Fleabag creator and recent Emmy winner hosted this past weekend's episode, and SNL made sure to pull out what have apparently become standard sketches whenever a Brit hosts the show. If you were hoping Waller-Bridge's sharp eye for character-based comedy would somehow rub off on SNL you'd be disappointed, outside of a monologue in which her voice was noticeable.
The first Brit skit (sorry, sketch—I'm a sucker for lazy rhymes) was a repeat of a sketch from last season's Claire Foy episode. It's the one where Mikey Day plays a British soldier at the front line (last time it was World War I, this time World War II) writing letters back home to his wife. His letters are long and sincere, her replies are short, emotionless, and increasingly absurd. The Foy sketch worked much better than the one this time, and not just because it was new and original. The specific scenarios in that sketch were more absurd and thus funnier, and also Foy was better at playing her character—she seemed utterly sincere about her increasingly ridiculous replies, genuinely in love with Day's character even as she described what was clearly an affair with Kenan Thompson. Waller-Bridge didn't have the same level of material to work with, but she also didn't seem as fully committed as Foy, and that hurt the sketch overall.
The other British standard was a sketch about the Royal Family. Fortunately it wasn't a repeat of the lazy "home video" sketch the show has done about them a few times, where multiple cast members trot out their hit-or-miss accents in a sketch that's usually aimless. This time the sketch was framed as a documentary about a scandal that rocked the family in the '70s, as a low-ranking member married an American who happened to be a Rudy Ray Moore parody played by Kenan Thompson. With his dirty rhymes, flashy suits, "party records" and kung fu blaxpoitation movies, Thompson is clearly playing on the Dolemite star's persona, and if the juxtaposition of that stereotype with the reserved and serious British nobility sounds like a lazy set-up, rest assured that Thompson makes the whole sketch work with his typically excellent performance. Thompson is excellent at portraying men who are being giddily inappropriate, and between his timing, delivery and physical comedy he can get legitimate laughs out of even the most predictable jokes.
Waller-Bridge was just a bit player in the episode's standout sketch. Local news sketches are so common on SNL that any new one immediately has to deal with audience fatigue about the set up, but "Mid-Day News" cuts through the mass of similar concepts by focusing on the country's current racial climate in a way that's neither uncomfortable nor overly preachy. The local news parody is hosted by two white anchors and two black anchors, who report a series of local crimes and turn it into a contest over which race commits more of them. It starts with Thompson and Ego Nwodim hoping a suspect in a story isn't black, and from there turns into a back-and-forth competition with each set of anchors openly rooting for their race. It doesn't judge either race more than the other, and when it uses stereotypes it's as likely to refute them as reinforce them. It helps again to have Thompson at the center of the action, with Nwodim and Chris Redd (as the show's meteorologist, who notes an upcoming storm is clearly white because of its name) also playing their parts perfectly.
The show felt a little light this week, with only six sketches, one pretape, and Weekend Update. NBC's posted two unaired pieces from it to YouTube this week, which is one more than usual—clearly something ran long and they had to cut more than expected. That was noticeable while watching it live, and added to the general lifelessness of the episode. Still, nothing was actively bad, other than the cold open, which still wasn't as terrible as usual—instead of Alec Baldwin's interminable Trump impression, we got Matthew Broderick showing up as Secretary of State Mike Pompeo, in another pointless bit of political stunt-casting that had more than one reference to the 33-year-old movie Ferris Bueller's Day Off. The cold opens have been so bad for so long that something that's merely boring feels like an improvement, and that's the case with this sketch.
For more thoughts on this episode of Saturday Night Live, watch the video below.