Here's What Late Night Made of the First Day of Impeachment Hearings
Images via NBC, CBS, TBS, Comedy Central
Comedy
News
Seth Meyers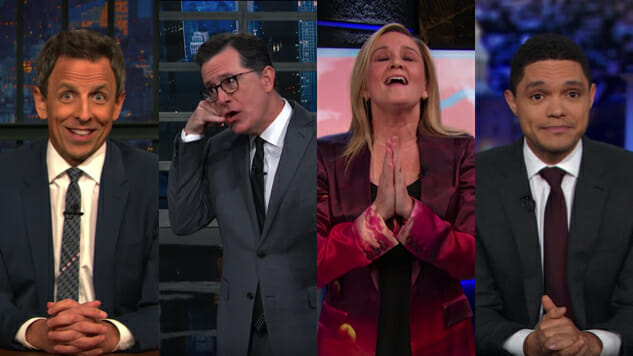 The historic impeachment inquiry into Donald Trump kicked off its first day of public hearings on Wednesday, with Ambassador William Taylor and State Department official George Kent delivering testimony that even Fox News called "very damaging" to the top tangerine. Needless to say, the many talking heads of late night (even Jimmy Fallon!) had plenty to say about the proceedings, riffing on everything from Trump's utterly careless blunders to his pretending to ignore the hearings. Catch up on all the jokes about this very serious matter below.
Late Night with Seth Meyers
The Late Show with Stephen Colbert
Jimmy Kimmel Live!
The Tonight Show Starring Jimmy Fallon
Full Frontal with Samantha Bee
Conan
The Daily Show
The next impeachment hearing is set for this Friday, Nov. 15, per Vox, with testimony from former U.S. Ambassador to Ukraine Marie Yovanovitch. We have a feeling late night will have more jokes to go with it, so be sure to check back. And if you enjoyed this post, we have a feeling you might like these tweets.