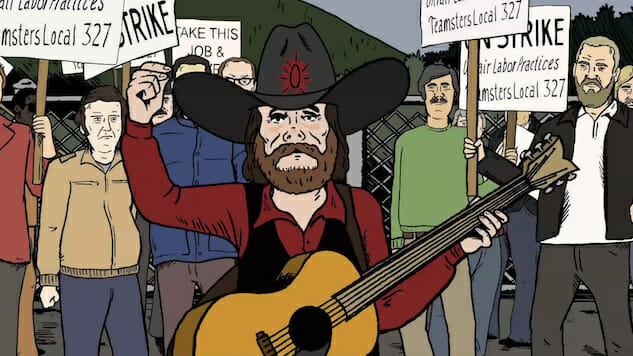 The animated interview series Mike Judge Presents: Tales from the Tour Bus is getting a funk-focused season two, out later this year, Cinemax announced on Wednesday. The show, which humorously and creatively documents the various blunders, adventures and enterprises of legendary touring musicians, debuted last September to warm reviews from a number of outlets, including Paste. An exact premiere date for season two has not yet been set.
Season one focused on the misadventures of country artists, but the second season will turn its attention to funk, highlighting artists such as James Brown, George Clinton and Bootsy Collins. With fortified groove legend Clinton of Parliament-Funkadelic also at the producer's helm, round two of Tales from the Tour Bus is poised to offer a seamless look at funk on the road.
Tales from the Tour Bus recruits a camp of knowledgeable talking heads—mostly former band members, friends and other hightailing tour-mates—to discuss the good ol' days. The interviews are then plattered as animated vignettes, matched with archived photos and footage, and stitched together for a humorous cartoon experience. Season one shared detailed stories on lots of country conductors, such as George Jones, Jerry Lee Lewis and Tammy Wynette.
Both a musician and animator, co-creator Judge is known for his work on popular animated series like King of the Hill and Beavis and Butt-Head. He also co-created HBO's live-action comedy Silicon Valley and directed 2006's accidental documentary Idiocracy. He returns as executive producer and narrator of Tales from the Tour Bus season two.
You can revisit our feature about the comedic genius of Mike Judge Presents: Tales from the Tour Bus right here.