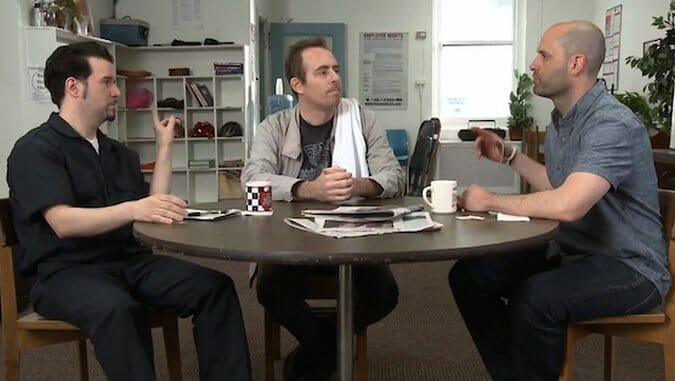 Independent film hub SnagFilms recently launched their new comedy site Thundershorts. Showcasing short-form, ad-supported comedy content, they introduced seven series at the time of their launch this past June—one of these being their laugh-worthy short Teacher's Lounge. With a new episode coming out Friday, Thundershorts has given us a sneak peek, and it's with no other than Ted Leo of punk rock outfit Ted Leo & The Pharmacists.
The episode, in which Leo stars as his "rock star" self, features a money-hungry musician gearing up to play the students' morning assembly. But, of course, Leo is not only a funny man. Recently, the musician teamed up with Aimee Mann, forming a new project titled The Both. The duo released their self-titled debut back in April.
Leo is also behind the catchy theme song for Thundershorts' Gabe & Max Need Help, which follows two best friends (Gabe Delahaye and Max Silvestri) as they go through relationship counseling.
You can watch a sneak peek of Leo's episode of Teacher's Lounge, and snag a download of the Gabe & Max Need Help here. After all, everyone deserves a good laugh.
Teacher's Lounge will officially air this on Aug. 15.