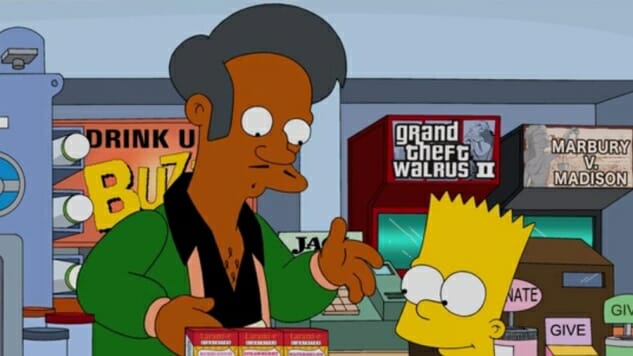 According to Indiewire, The Simpsons has quietly dropped the world's most dependable Kwik-E-Mart owner, Apu Nahasapeemapetilon.
Apu, of course, is an Indian-American caricature who has been a prominent Simpsons character since the show's first season in 1990. Last year stand-up comedian Hari Kondabolu made a documentary about how Apu, as the most visible Indian-American character on TV, reinforced hurtful stereotypes about South Asian-Americans. It's a thoughtful examination of the impact such racist depictions can have on real people, no matter how unintentional or unwitting it was on the part of Apu's creators. Unfortunately Simpsons producers have generally had a disappointing and dismissive response to Kondabolu's film.
Indiewire's Chris O'Falt reveals that Adi Shankar, a producer who had hoped to crowdsource a Simpsons script that would've addressed the Apu controversy, claims to have been told by "multiple sources" that Apu was quietly being dropped by the show after almost 30 years. O'Falt reached out to a Fox representative, whose response was simply to point out that Apu's most recent appearance on the show was as wordless background character in a large crowd shot. O'Falt also points out how Simpsons writer Matt Reiss told Vanity Fair this past May that Apu has "barely had a line in the past three seasons."
If Simpsons producers did decide to put Apu on the backburner three seasons ago, it makes you wonder why they went to the effort of mocking Kondabolu's argument in an episode earlier this year. Quietly eliminating the character, or converting him into a wordless background character, might prevent any embarrassing or uncomfortable Apu moments in the future. It's not the best way to address the problems that Kondabolu pointed out, though, or to show that they even understand what Kondabolu and other critics of Apu have been saying.
Nobody from Fox or The Simpsons have confirmed that Apu has definitely been retired, but based on what Shankar told Indiewire, it definitely seems possible.