Tom Cruise Raises the Bar in Latest Lip Sync Battle on The Tonight Show
Image via YouTube
Comedy
Video
Tom Cruise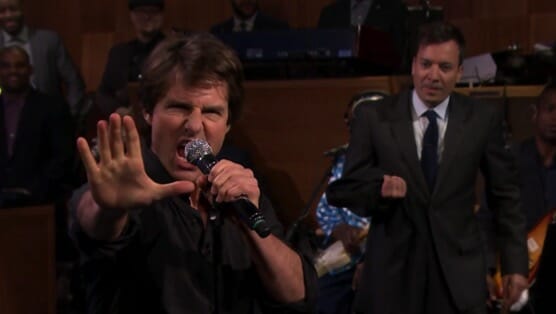 We've gotten used to seeing Jimmy Fallon's famous lip sync battles on The Tonight Show, but they're still as entertaining as ever.
This time, Tom Cruise stops by to take the lip sync challenge — and he knows how to work an audience. In the beginning of their second round of the lip sync battle, Cruise manages to psych up the audience and make Fallon tremble in the anticipation of one particular song that Cruise teases everyone with, a song that only Tom Cruise would be able to so masterfully lip sync.
Both Fallon and Cruise bring their A game and prove that after quite a few lip sync battles on The Tonight Show, there's still plenty of fresh performances to be found in this classic Fallon segment.