Batman '66 Meets Wonder Woman '77 is the Bright, Giddy, Joyous Crossover the World Needs Right Now
Main Art by Alex Ross
Comics
Reviews
Batman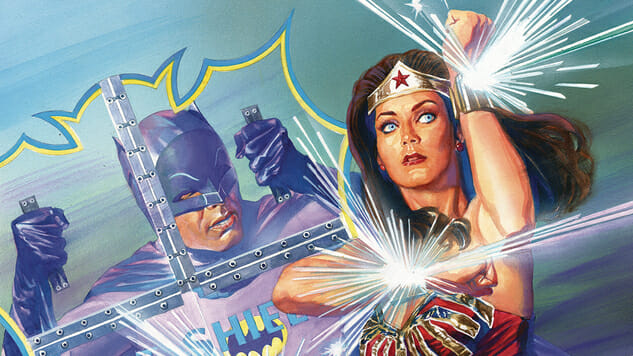 Writers: Marc Andreyko, Jeff Parker
Penciller: David Hahn
Inker: Karl Kesel
Colorist: Roberto Flores
Publisher: DC Comics
Release Date: January 25, 2017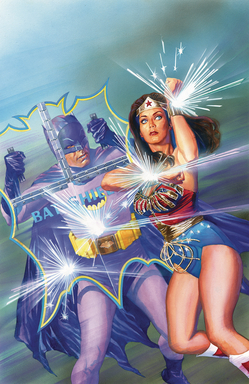 Though he's been featured in oodles of movies, TV shows, videogames, underoos and, of course, comics, there still may be no Batman more famous—or at least endearing—than the one portrayed by Adam West throughout the late '60s. Interpretations of Wonder Woman have been sadly less plentiful, but even if they were, Lynda Carter's 1970s TV portrayal would still shine. In the spirit of keeping these legacies alive, DC has preserved both characters in Batman '66 and Wonder Woman '77.
You don't have to be a numerologist or an old-school nerd to see the logic in teaming up these two classic iterations of DC's "trinity" members, and thank Hera the publisher has done so. This six-issue arc, written by individual series stewards Jeff Parker and Marc Andreyko with art by David Hahn and Karl Kesel, is what experts call "a blast" and will only be disliked by the chronically fun-averse.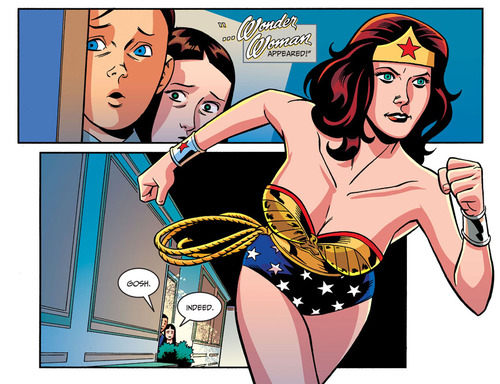 Batman '66 Meets Wonder Woman '77 Interior Art by David Hahn, Karl Kesel & Roberto Flores
One of the benefits of putting the TV versions of these characters into comics is that budgetary limitations no longer exist: anything can happen, and anyone can be cast. That freedom allows the creators to tell a story across multiple time periods—a fitting approach for the immortal Wonder Woman, whose deep history opens oodles of narrative possibilities, much like Marvel counterparts Captain America and Thor.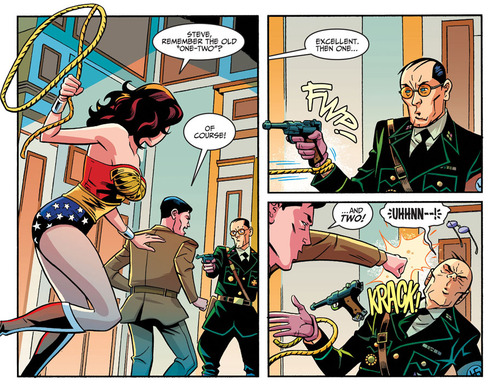 Batman '66 Meets Wonder Woman '77 Interior Art by David Hahn, Karl Kesel & Roberto Flores
The first print issue, which collects two of the original chapters released first on digital platforms, has everything you'd want from such a (forgive me) batty, wondrous team-up. Batman corrects a villain's metaphor. Lots of people say "Gosh!" Wonder Woman fights Nazis. Batman, Robin and Alfred's banter is a mix of deadpan and bombastic. Wonder Woman realizes her friendship with the Minotaur is handy when encountering a maze. Every page packs a joke or scenario that will make you smile. Besides the fun irreverence, the authors unfold a meaty story involving the most important Batman characters of the '70s, neither of whom ventured into the original Adam West TV show: Ra's and Talia al Ghul. The father/daughter villains are a perfect choice to match wits with Bruce and Diana.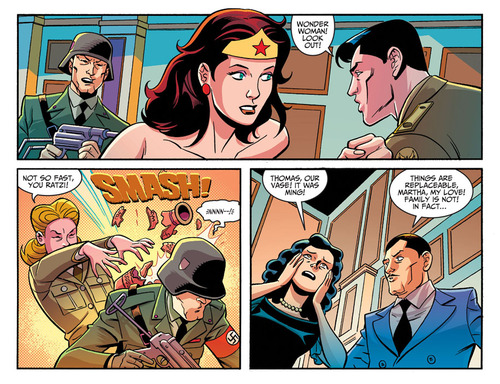 Batman '66 Meets Wonder Woman '77 Interior Art by David Hahn, Karl Kesel & Roberto Flores
Hahn and Kesel's art sports a candid cartooniness perfect for the source material—it's very easy on the eyes. The dazzling transformation of Diana into Wonder Woman is gorgeous and mysterious, a perfect translation of the TV show's iconic spin. Everything Bat-related, from Alfred to the atomic pile, is spot-on. Few art teams match their material this well. This first issue is about as fun as a comic can be: it will return you to your childhood and improve that childhood by a factor of awesome. Batman '66 Meets Wonder Woman '77 is exuberant, fast-moving and escapist in the best way possible. Until they make a safe version of heroin, this is our best option, folks.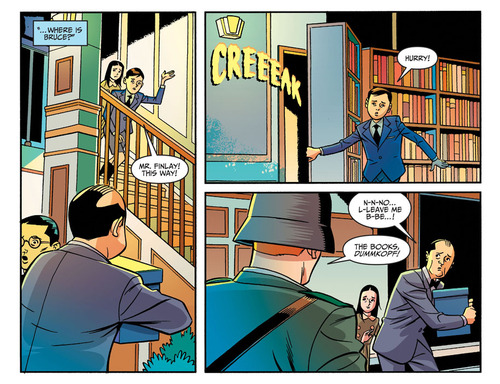 Batman '66 Meets Wonder Woman '77 Interior Art by David Hahn, Karl Kesel & Roberto Flores