Cover Reveal: Two Dead Explores Crime, Conspiracy, Racism & Insanity in the Post-World War II Deep South
Van Jensen & Nate Powell Team Up for the Gallery 13 Graphic Novel
Art by Nate Powell
Comics
Features
Gallery 13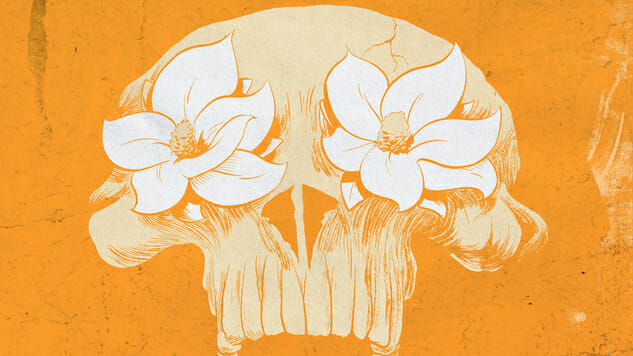 Both Van Jensen and Nate Powell have carved out multifaceted careers in comics, the former with long runs at DC Comics as well as offbeat creator-owned books like Cryptocracy; the latter with both nuanced, personal stories like Swallow Me Whole and with the award-winning John Lewis biography trilogy, March. This November, Jensen and Powell unite for a project that should play to both of their strengths: Two Dead, an exploration of "crime, conspiracy, racism and insanity in the post-World War II Deep South." Two Dead hits shelves courtesy of Simon & Schuster's Gallary 13 imprint, which is also home to projects by Jeff Lemire, Alex de Campi and Michael Kupperman. Paste readers can enjoy an exclusive first look at Powell's cover, as well as an interior excerpt and statements from both creators. Find all of that below, and be sure to check back between now and November for more on Two Dead.

Nate Powell:
Van and I started collaborating on Two Dead before I began drawing the March trilogy, believe it or not, shifting focus over the years and evolving past its genre parameters. Finding the right approach for this story was in part thanks to those years re-imagining its format, scope, historical relationships, and how it speaks to the world of 2019. Along the way, each book I drew concurrently with Two Dead helped pave the way for its final form—Come Again allowed me to embrace the power of genre, just as March better equipped me to finding the personal focus within a larger historical context. I'm always eager to bring my home state to life through comics, and each book doubles as a love letter to Arkansas in all its contradictory beauty.
Van Jensen:
In 2005, I moved to Little Rock, Ark., to become the crime reporter at the Arkansas Democrat-Gazette newspaper. My days started with turning on a police scanner and calling the coroner to see if anyone had been murdered overnight. My days often ended reporting gruesome details from crime scenes. One day, I noticed a curious detail in the halls of the Little Rock Police Department, on the plaques commemorating fallen officers, a forgotten and macabre incident from the mid-1940s. I dug into departmental records, archived newspapers, obsessed with the history. This history included organized crime, systemic racism, mental illness and unhinged policing. I first attempted to write this as a comic book a decade ago, and then began collaborating with Nate a few years after that. In the years since, the book has only felt more necessary and urgent. It's a story that digs into cycles of violence, the lasting damages of racism and the incredible pain caused by bad police. Above all, I'm so glad to have gone on this long journey with Nate. He's one of the all-time cartooning greats, as well as one of the most conscientious and impactful people I know. And now, finally, the book is real, and we can share this mystery with the rest of you.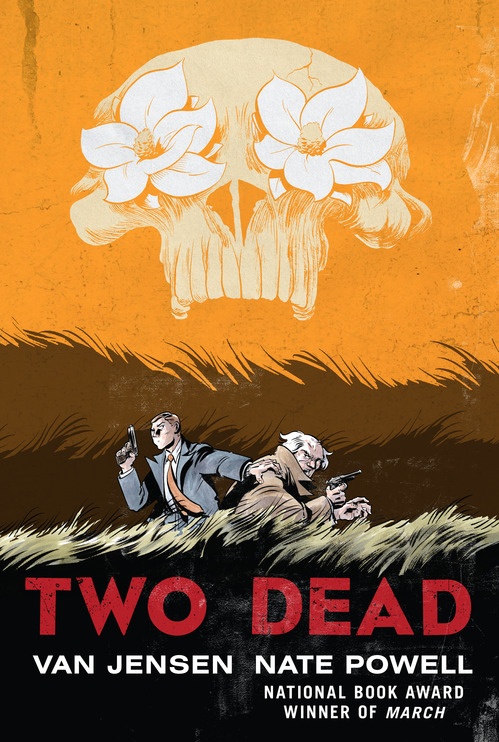 Two Dead Cover Art by Nate Powell
Two Dead
Writer: Van Jensen
Artist: Nate Powell
Publisher: Gallery 13
Release Date: November 19, 2019
After World War II, tensions rise in a Southern city ruled by organized crime, touching countless residents as they struggle to make sense of the new world. A sudden act of violence sets off a series of bloody events between the police and mafia as they lash out against one another. As the violence worsens, desperation grows to stop it, by any means necessary.
Told in multiple perspectives—from a seemingly untouchable mafia don, to a gun-happy seasoned detective succumbing to the depths of his schizophrenia, to a newly minted police lieutenant haunted by his recent service in the war, and two African-American brothers, one mired in corruption and the other leading a local militia in an effort to see that justice is served—Two Dead is at once a white-knuckled and unputdownable thriller, a roman à clef inspired by true events, and a book about post-traumatic stress disorder and the underlying social traumas of how war and segregation affect their survivors on all fronts.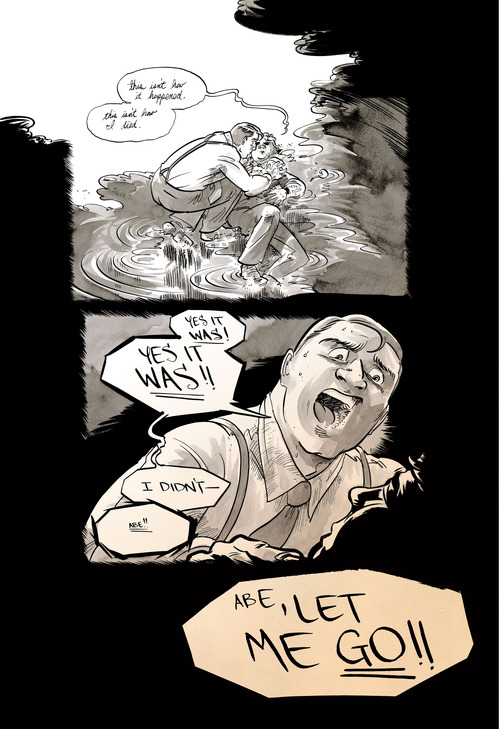 Two Dead Interior Art by Nate Powell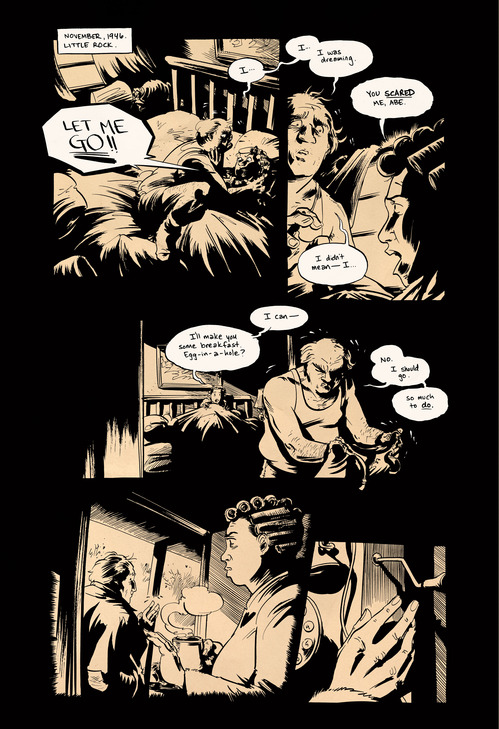 Two Dead Interior Art by Nate Powell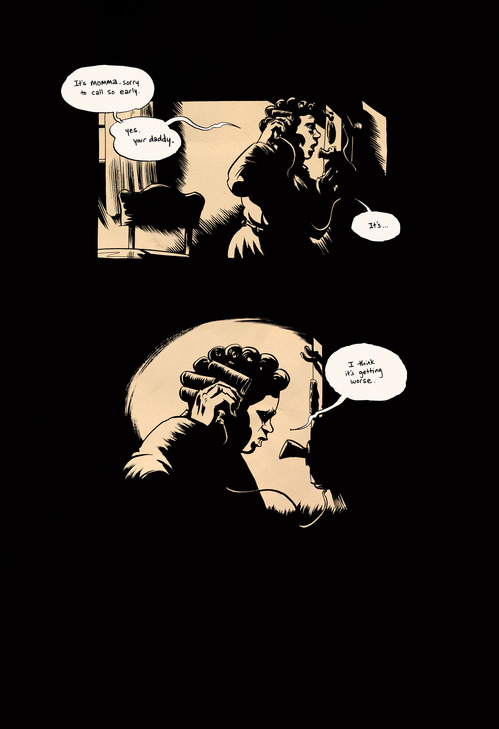 Two Dead Interior Art by Nate Powell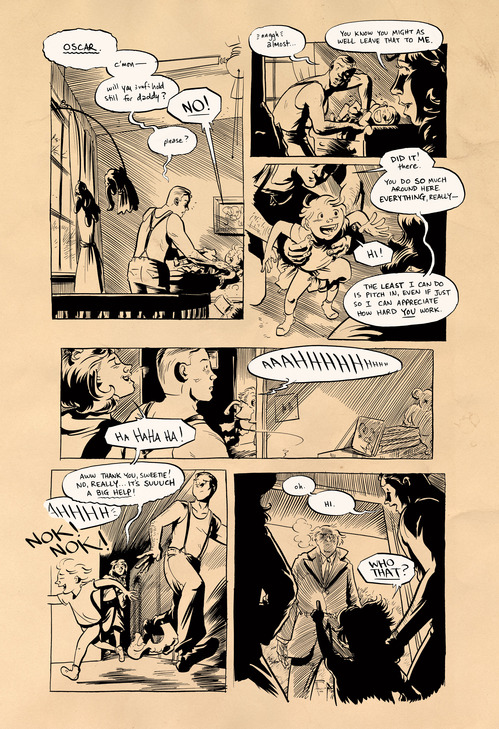 Two Dead Interior Art by Nate Powell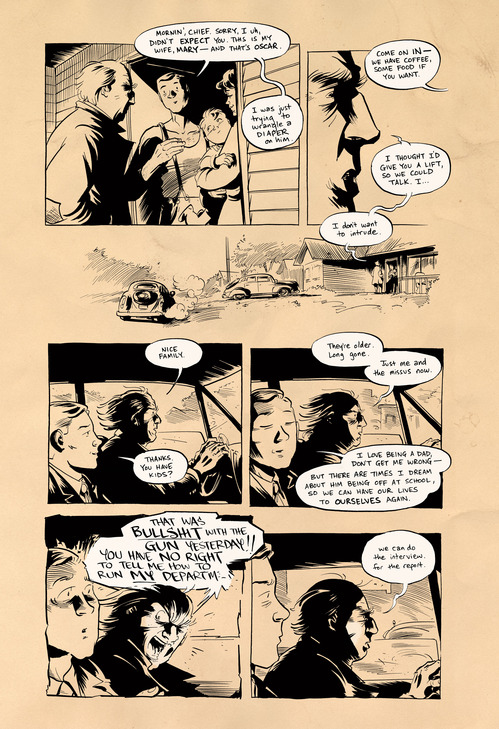 Two Dead Interior Art by Nate Powell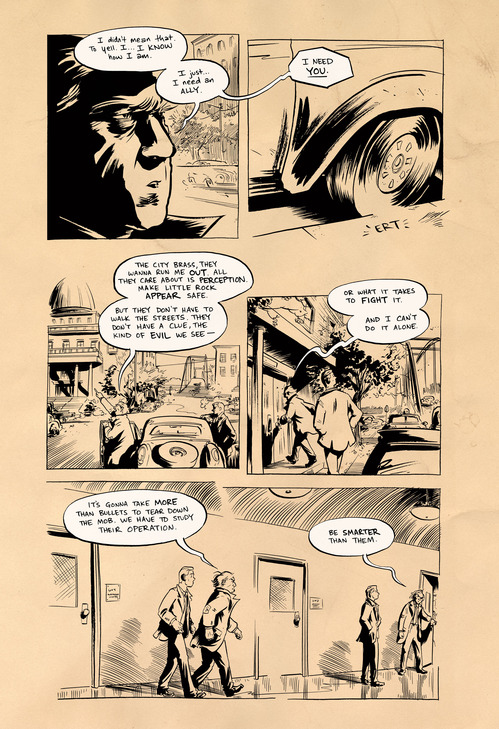 Two Dead Interior Art by Nate Powell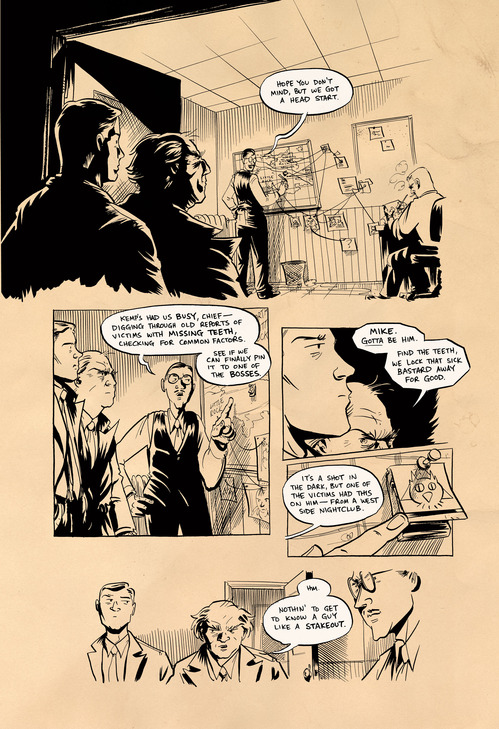 Two Dead Interior Art by Nate Powell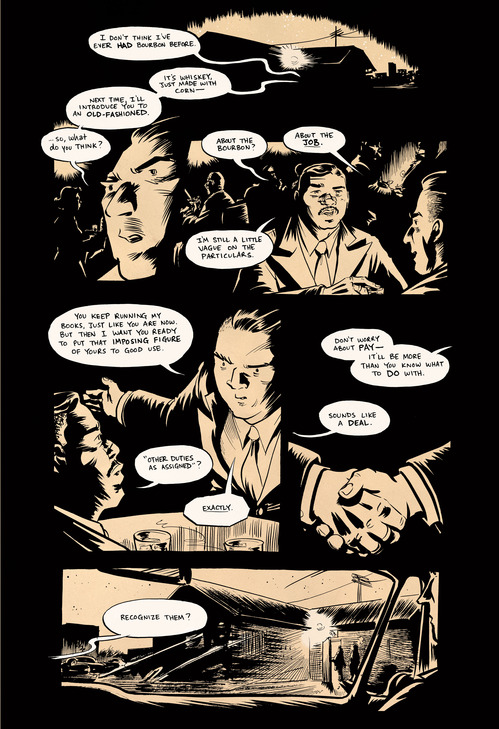 Two Dead Interior Art by Nate Powell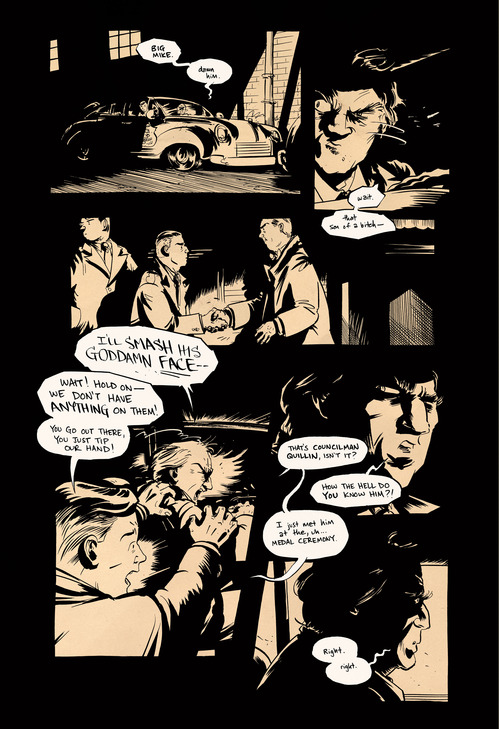 Two Dead Interior Art by Nate Powell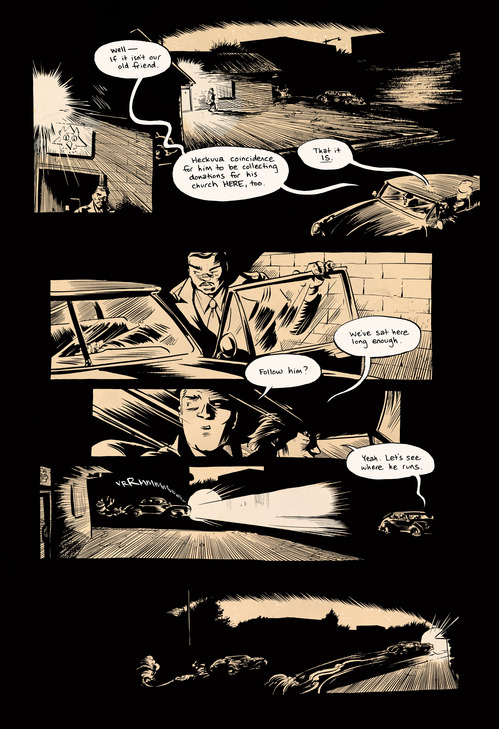 Two Dead Interior Art by Nate Powell