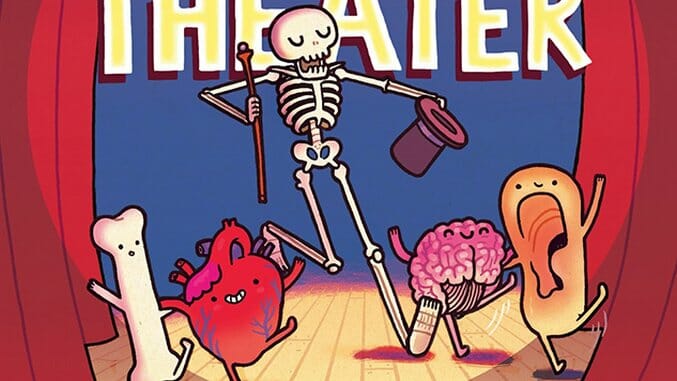 Writer/Artist: Maris Wicks
Publisher: First Second
Release Date: October 6, 2015
Bendy, blobby, squishy and stretchy, if there's one thing you can say about the characters Maris Wicks creates, it's that they're never paragons of perfection. Her art on Primates was notable not only for the shifting lettering and stylistic approaches she employed to articulate Jim Ottaviani's story, but also for the thoroughly realistic bodies of the three main characters. No one has ankles that wouldn't support her weight. That commitment to biology and its beauties remains on full display in Human Body Theater, which Wicks wrote as well as drew.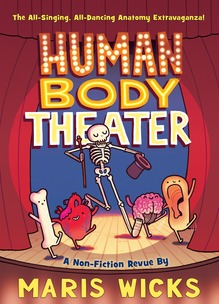 A journey through the body's systems (sensory, digestive, immune, etc.) in 11 acts plus an intermission, the graphic novel lays out a lot of information in its 234 pages. And although its audience is primarily younger, even older folks (who have not had biology class in a long, long time) will learn something. As a narrative read, it's not entirely satisfying, but as an overview of how the body works, it is no doubt far more entertaining than Gray's Anatomy.
Wicks doesn't shy away from technical and medical terms. She explains uncomfortable subjects (pooping! sex! farts!) with a wonderful matter-of-factness, making the book especially well-suited for adolescents. But her great strength remains her visuals. Google's image search will tell you what a norovirus or rubella looks like under a microscope or modeled in 3D, and Wicks' versions are accurate, but they are also extremely cute. Taste buds express a variety of reactions to spicy food, an oxygen atom hoists two hydrogen atoms onto its shoulders to represent a molecule of water, and the hormone adrenalin frantically waves its tiny arms and bugs its eyes to convey its stimulating function. All of these pictures are as adorable as they are educational, and the latter is somewhat dependent on the former. Wicks' ability to imbue hormones, bacteria, viruses and more with personality helps distinguish them far better than a drier approach would. Ultimately, Human Body Theater offers a progressive step in making science education fun and accessible without dumbing it down.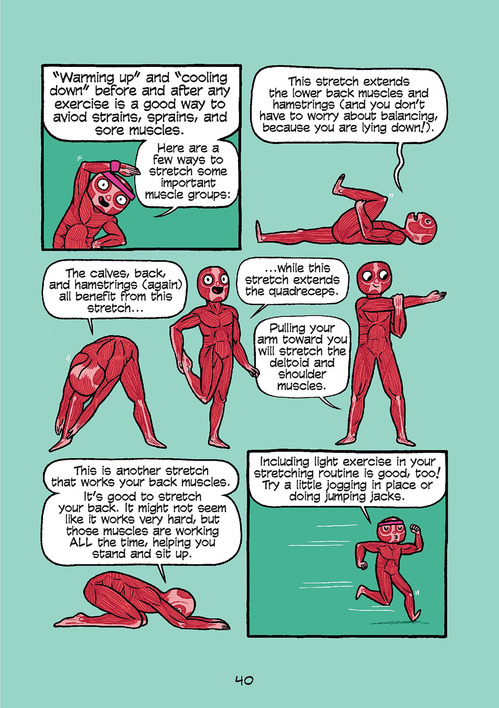 Human Body Theater Interior Art by Maris Wicks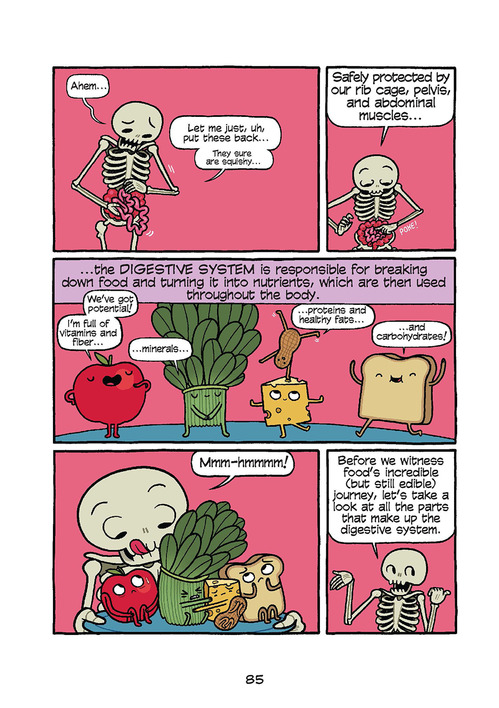 Human Body Theater Interior Art by Maris Wicks