The Customer Is Always Wrong's Mimi Pond on Turning Diner Drama into Period Piece Comics
Art by Mimi Pond
Comics
Features
Mimi Pond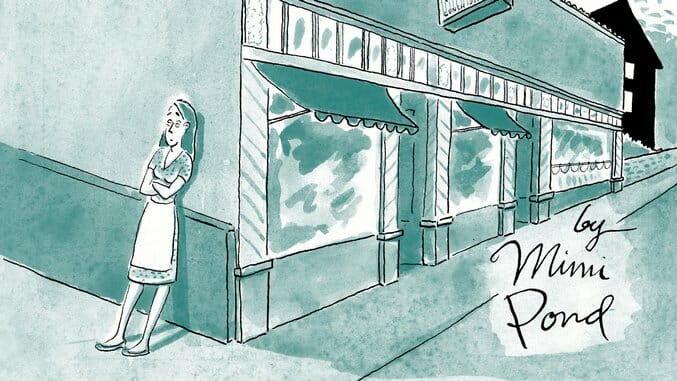 The Customer Is Always Wrong, the second volume of Mimi Pond's lightly fictionalized memoir about the cartoonist's days working in an Oakland diner throughout the 1970s, picks up right where previous volume, Over Easy, left off. Pond is known for her short-form comics that appeared in the Village Voice, National Lampoon and other publications, as well as for writing the first full-length Simpsons episode and a slew of Pee-Wee's Playhouse episodes, and both of these lovely, fat graphic novels show the creator at the height of her wit and storytelling prowess. In much the same way that Roz Chast made the leap from shorter to longer comics with great success, Pond seems like she's been making phone-book comics forever. Her sense of narrative, in particular, has been honed over decades, with plot beats and foreshadowing weaved masterfully over nearly 450 pages. The tale follows an ensemble of eccentrics and drug addicts rotating around a small Oakland eatery, the Imperial Cafe, managed by a paternal figure, Lazlo, desperately attempting to keep his employee's theatrics from overwhelming the business. Pond remains an elusive calm spot, striving to be a career cartoonist as the chaos grows.
You could read The Customer Is Always Wrong without reading Over Easy first, but you would be denying yourself some pleasure and you might be a little confused. They're really two pieces of the same work, not repeated trips to the same well. Paste emailed with Pond to dive into her process and recreating her pivotal shift from blue-collar dreamer to acclaimed artist.

Paste: I know you had said that the first volume of this memoir, Over Easy, was huge in scale. This book is almost twice as long. Did it take you that much longer to draw?
Mimi Pond: It actually took less time to do because my children had grown up and moved out, so I was finally able to make it my full-time job instead of just grabbing whatever time I could here and there.
Paste: How did you remember so many details about these events, especially considering all the drugs you all were on?
Pond: Honestly, I really wasn't on drugs much at all. Everyone else was! I only partook of cocaine a handful of times that people offered it in real life. It was too expensive and it really was, and is, a stupid drug.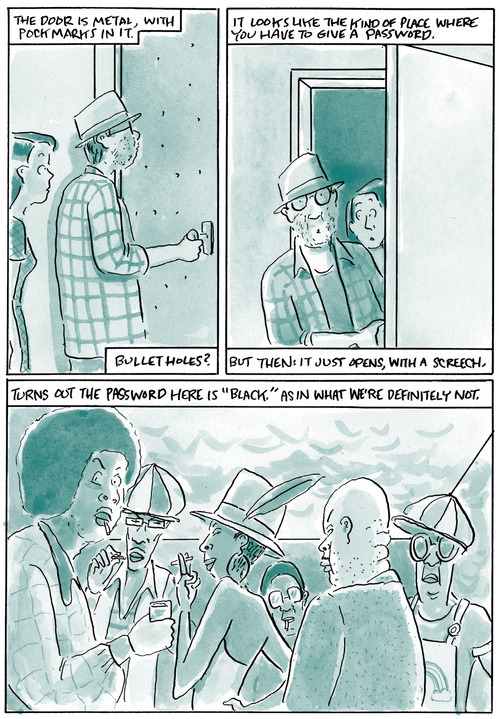 The Customer Is Always Wrong Interior Art by Mimi Pond
Paste: How much did you have to make up?
Pond: I'm not going to tell you!
Paste: Did you use photo references?
Pond: I was very fortunate that one of my co-workers had the presence of mind to take photos and keep a scrapbook of them during that time, that he allowed me to borrow. It was a wonderful artifact and a tremendous tool to have at my disposal. Back then I was more of a snob about photography, as someone who drew pictures. Also, back then you really had to be committed to photography to do it—a good camera, the cost of film and developing, all that. I did make many trips back to Oakland while working on the book and took a lot of photos that I drew from, and also I can't emphasize enough the value of Google Street View as a tool.
Paste: Are there things you changed because doing so made for a better story?
Pond: I changed a great many things to make a better story. That's what fiction is!
Paste: I understand not doing the book(s) in full color (it's way too many pages for that!), but why duotone as opposed to straight-up black and white? And why that particular shade of green?
Pond: I just liked that shade of green. I like working with washes, and I think you can get a lot of depth with just one color. Straight-up black and white can be even more work than working with tones when you start having to think about balancing the lights and darks. It's easier to overthink just black and white.
Paste: Do you think you were lucky to fall into this specific service-industry job that supported your artistic ambitions as opposed to grinding them out of you?
Pond: I think I was very lucky, but also it was the only place I really ever applied for. I had actually become acquainted with some of the people who worked there before I got the job. It seemed from the get-go like it would be really fun. And it was fun, up until the point where it stopped being fun. And that's when you really have to knuckle down and remember what it is you really want out of life.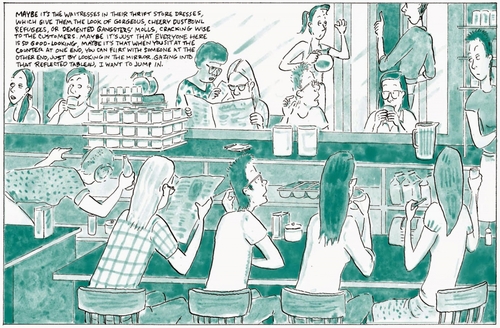 The Customer Is Always Wrong Interior Art by Mimi Pond
Paste: Are there any artistic lessons that you took from your waitressing?
Pond: Endurance and patience and hard work. Also you can't discount the people who discount you, the ones who only see you as a dim outline. I think every artist has "I'LL SHOW YOU" tattooed on their heart.
Paste: Do you think it's helpful for your own artistic practice being married to an artist [Wayne White]? Do you think you've learned anything from him? Or taught him anything?
Pond: My husband is a very disciplined and prolific and very talented artist whose energy motivates me constantly to keep my game up! I think our personalities balance one another.
Paste: I'm going to assume that you never did see the cartoons of the drug enforcer who beat you up, or it would have been in the book. What do you think they would have looked like?
Pond: They probably would have been in a really awkwardly drawn superhero-type style.
Paste: Tell me about your working process as an artist. What materials do you like to use? What does your workspace look like?
Pond: I always start with a script. This one was different because I had already written the book as a piece of conventional fiction, so I had to go back and edit out a lot of carefully crafted descriptions in favor of drawing them. I had to cut down the dialogue. Generally speaking when I do a cartoon I write out the script in longhand, panel by panel. This makes it harder to overwrite it the way I would on a computer. It's easy to clog a panel up with too much dialogue or captions that are too long and you don't want that. Then I do pencil roughs on tracing paper, with a soft pencil. It's easier to erase, it's cheaper, faster and makes it easier to get into a flow with gestural drawing. My workspace is a crawlspace just big enough to stand up in in our basement under the kitchen. It's dark and cocoon-like, and I like it like that.
Paste: What happens after the pencil roughs? How much do you use a computer?
Pond: I don't use a computer at all. After I do pencil roughs on tracing paper, then I do pencil finished drawings on Bristol board and then I ink those.
Paste: How do you package up all that Bristol to send it to the publisher?
Pond: It's just paper! I just stacked it up and wrapped it tight and send it FedEx because they won't fuck it up like the USPS and the evil Brown One, UPS. I didn't send it in all at once. I usually would send in a chapter or two at a time.
Paste: I just remember hearing Ben Hatke talk about how nervous he was sending the original art so he brought it in person. On the other hand, Canada is far away…
Pond: I wish I'd had that option.
Paste: And did they send it back to you when they were done?
Pond: They still have the artwork for both books. I'll get it all back eventually.
Paste: Anything you would do differently after writing and drawing and mailing all these pages?
Pond: I would like to make it my new year's resolution to learn Photoshop.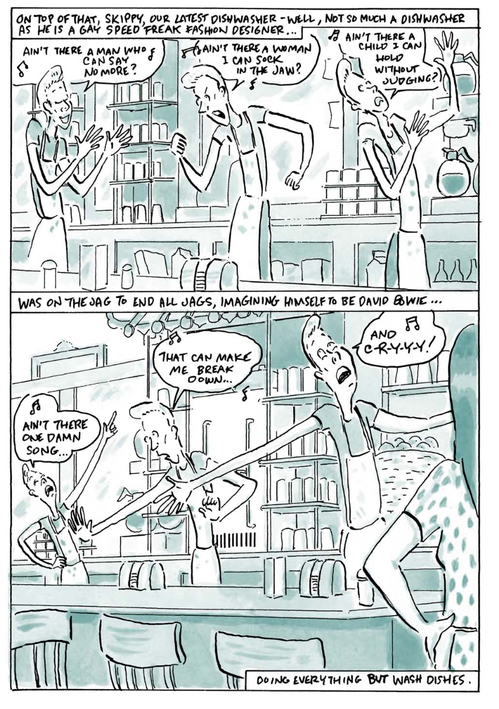 The Customer Is Always Wrong Interior Art by Mimi Pond
Paste: I feel like there's something about your visual style that's characteristic of your generation. I would never see your pages and think they were done by a 25-year-old. Do you think that's accurate?
Pond: I think every artist is a product of their time.
Paste: As a West Coast-born person, do you think you were destined to return there from New York?
Pond: Not necessarily. I still miss New York desperately. I lived there for 8 years.
Paste: I've read that you're obsessed with the Mitford family. In some ways, I can see a parallel between them and the world of the Imperial: just this messy, artistically competitive, smart, funny group of people. What's your own family like, and is that kind of environment something you think you've sought out?
Pond: That's an interesting parallel. I hadn't thought of it that way. My own family is pretty oddball. My parents were blue-collar autodidacts in a way, and we were raised to worship books. One book that set my parents on fire when I was a kid was Jessica Mitford's The American Way of Death, but I really didn't know anything about the family until long after I left the restaurant. One of my brothers is a librarian. The other works for the Alcoholic Beverage Control. He's a liquor cop! He busts underage drinkers and the people who serve them. Part of my fascination with the Mitfords is all the sisters (I have none) and how smart and articulate they all were, how they managed to really stand out and have a voice in their time (not easy), and even though they had bitter ideological differences, they remained close.
Paste: Do you read a lot of comics? Which ones?
Pond: I read a fair amount. Nothing mainstream, no superheroes, ever. I loved Emil Ferris' My Favorite Thing is Monsters. I love Peter Bagge. His comic bio of Margaret Sanger, Woman Rebel, is amazing though it may seem absolutely hilarious. I just finished The Best We Could Do by Thi Bui, and that was very good. Tom Hart's Rosalie Lightning is a real heartbreaker. Hostage by Guy DeLisle is a real page-turner. Derf Backderf's My Friend Dahmer and Punk Rock and Trailer Parks are excellent. I prefer literary graphic fiction and bio and autobio. I think Vanessa Davis is the absolute queen of autobio comics.
Paste: Is there going to be another volume, now that Madge is out of the Imperial and on her way to bigger things?
Pond: We shall see.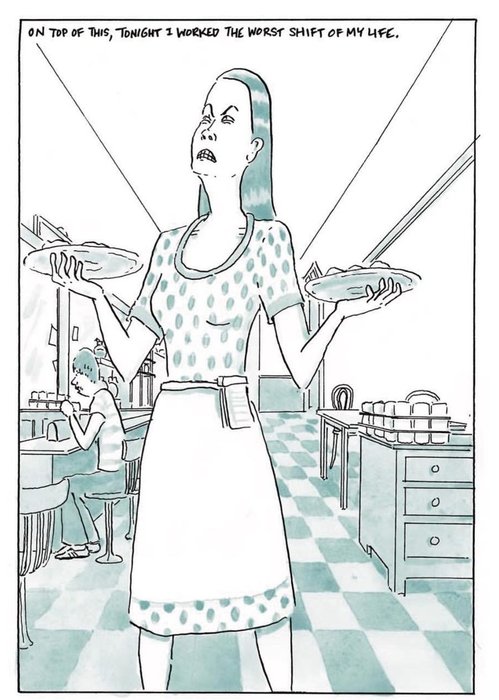 The Customer Is Always Wrong Interior Art by Mimi Pond