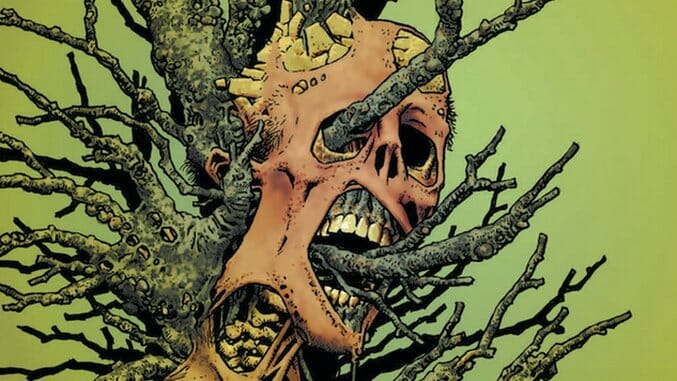 Horror icon Richard Corben has been terrifying comic readers for decades, from classic fright-and-fantasy rags like Eerie and Heavy Metal to haunting adaptations of H. P. Lovecraft and Edward Allan Poe and, in recent years, chilling collaborations with Hellboy creator Mike Mignola. The living legend's latest creeptastic project is the eight-issue Dark Horse miniseries Shadows on the Grave, a one-man anthology showcasing Corben's well-honed short story skills. With the exception of a Greek tragedy serial running throughout the eight issues, Shadows on the Grave sticks largely to a bygone Americana setting rife with perversions of innocence, rendered in Corben's distinctly grotesque signature style.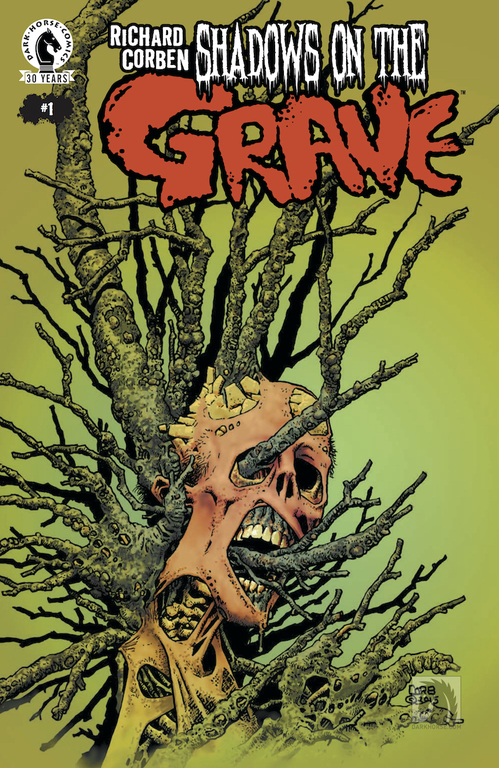 In advance of Shadows on the Grave's debut on December 14, Paste chatted with Corben to dig up his inspiration for the anthology, discuss his storied career and tease what may be next for the auteur. We've also got an exclusive—and utterly disturbing— short story from the first issue entitled "For Better or Worse?"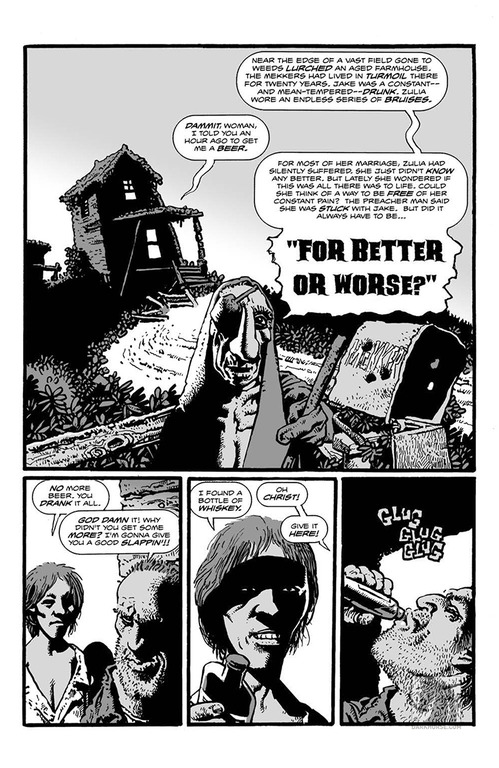 Shadows on the Grave #1 Interior Art by Richard Corben
Paste: Aside from Rat God, most modern readers likely know you best from your collaborations with Mike Mignola and your adaptations of Poe, Lovecraft and other classic horror stories. What made now the right time to jump back into writing and drawing your own tales?
Richard Corben: My career goes back much further than my association with Mike. Way back further I'm afraid. My very first fanzine efforts appeared in an EC Horror imitation; I contributed several horror stories to the underground comix, Skull, before trying to be accepted into Warren's B/W horror comics, Creepy and Eerie. So, I have a long history of doing horror comics. I felt now was the time to return to that ever-present genre mainly because I felt a strong desire to go back to my roots. And I've reached a point in my career where I find if I really want to do something, in particular, I'd better get on with it while I still have the will and energy.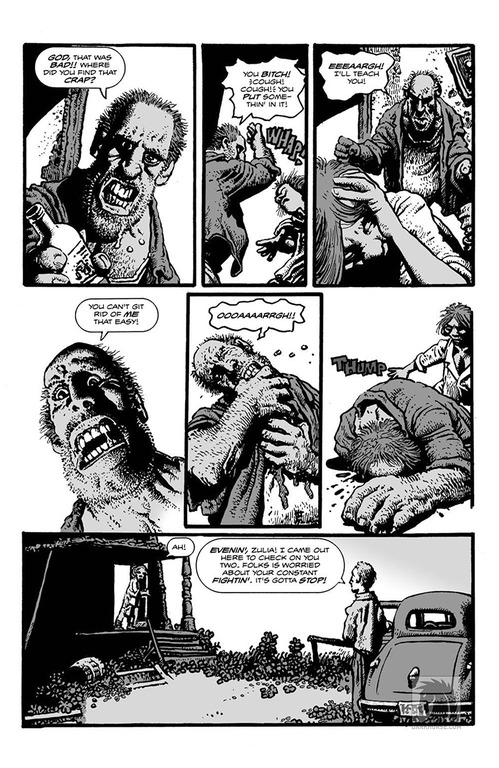 Shadows on the Grave #1 Interior Art by Richard Corben
Paste: Shadows on the Grave skews toward shorter tales—how long have you been shoring up ideas to bring to (after)life in this series? Have some of these terrors been kicking around in your head for years?
Corben: These short stories are just short thought fragments that have been highly elaborated. Maybe a news item gets the ball rolling; or, I might have a contrary idea about a theme used somewhere else. Such thoughts are very transient and I have to write the germ of that idea down quickly or it's lost. Some ideas are timeworn, but with age it's more likely the idea has metamorphed into something different, maybe several times over. These simple thoughts are just perfect for very short stories.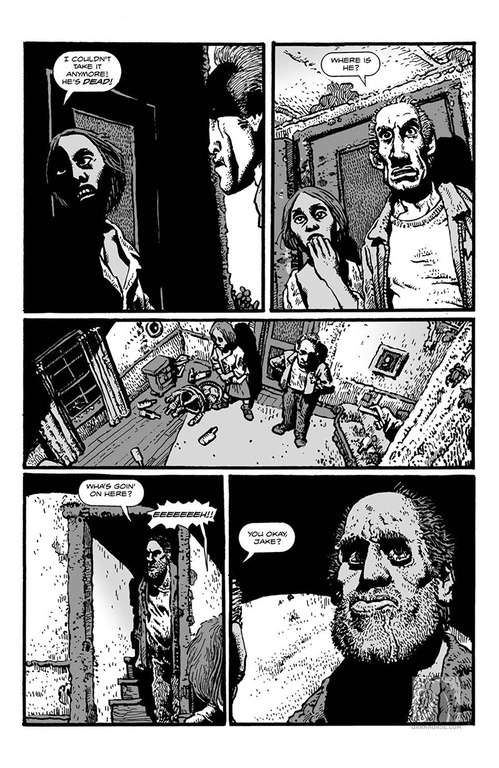 Shadows on the Grave #1 Interior Art by Richard Corben
Paste: Most of the stories seem to take place in a rural, 1950s-ish American setting. Is that consistent throughout? What attracts you to that era and setting for these chillers?
Corben: It was during the '50s in a very small town that I was affected by the EC Horror comics, Tales From the Crypt, The Vault of Horror and The Haunt of Fear. It's taken all this effort to work out that affectation! In my memory, that was a simpler, more peaceful time. Probably not in reality, but it was a starting point for me. At the time I thought, What do I want to be when I grow up? And, the answer of course: A comic book artist. I've kept pretty much to that era in this series with a couple of shifts in location.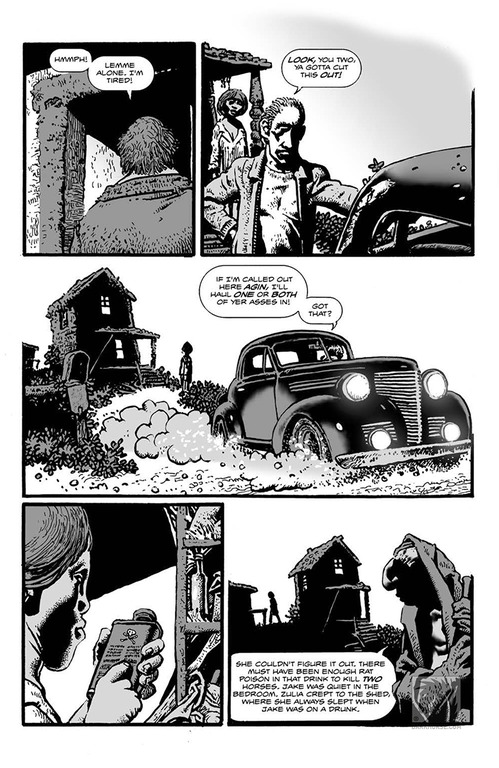 Shadows on the Grave #1 Interior Art by Richard Corben
Paste: You've landed on several signature styles over the years, and seem to be putting the full range of your talents on display here. How do you decide what visual approach best suits a story? Are you trying anything new for Shadows on the Grave
Corben: I normally keep certain goals in mind when writing and drawing my comics, such as seeing the story played out as a short movie. Everything is done to serve the stories' continuity. This is certainly not the only way to create comics, but it has been my way through most of my career. That final interface between me and the blank comic page is always in flux. I've spent years producing comics, but I'm always working on developing my drawing skills—or finding and presenting a visual style that is simple, direct and attractive but can portray diverse, complex situations with clarity. These are big goals, ones that I constantly think about as I'm drawing.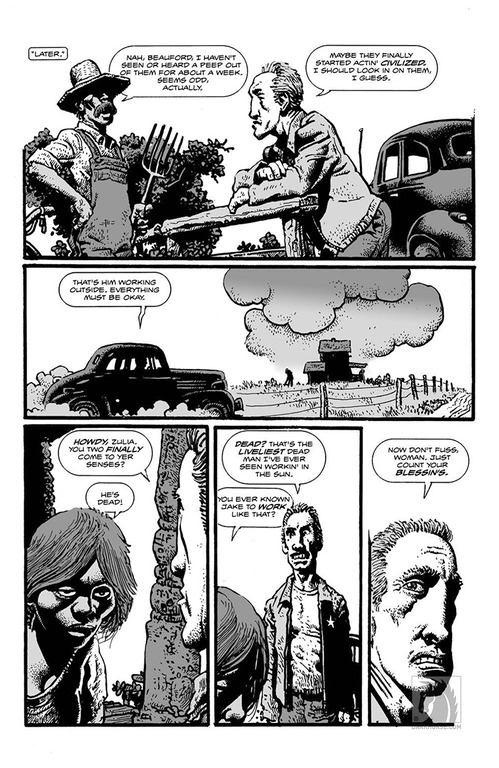 Shadows on the Grave #1 Interior Art by Richard Corben
Paste: Alongside the short tales, you're telling an ongoing story set in ancient Greece. How did Denaeus' tale end up tucked into Shadows on the Grave next to farmhouse horror in the American south?
Corben: Denaeus is an imitation of ironic Greek tragedies where a character tries to stop a dire prediction, but actually, inadvertently causes it. This is a theme I've wanted to do ever since I became aware of the Greek tragedy form. As I said earlier, at this point in my career, I had better get on with these unfulfilled goals without delay—or just drop them. Even though Denaeus is different than the other stories in setting, there is a strong similarity in mood.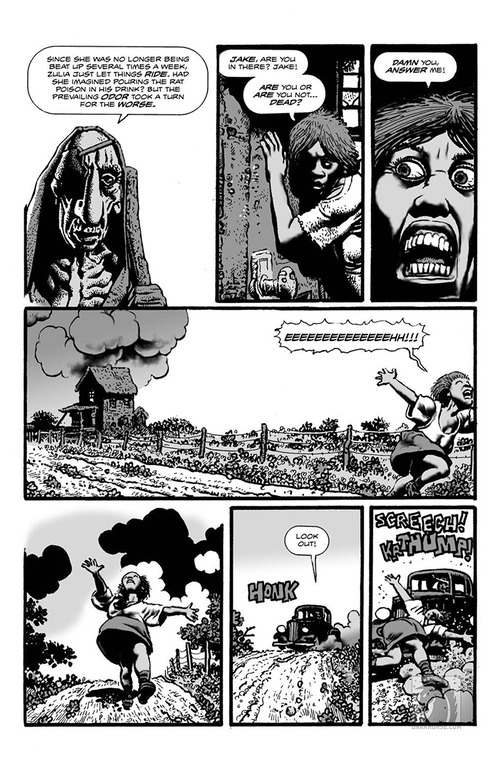 Shadows on the Grave #1 Interior Art by Richard Corben
Paste: You've contributed to anthologies across multiple decades, ranging from Heavy Metal to Flinch to Creepy. What's the enduring appeal of the anthology format, especially anthology horror? What keeps drawing you back to short stories?
Corben: With an eight-to-12-page story, the reader is briefly engaged to a quick entertainment fix. Many story ideas can easily be developed in that small number of pages. I don't like stories that are obviously padded with irrelevant subplots and walk-on characters that don't add anything substantial to the plot, other than to produce a lengthy form. Many continuing features don't even have a pretense of a story but describe a "story arc" where nothing really important changes. I suppose there is an attractive quality to this situation because a reader might view some continuing characters as their friends and they don't want them to die or have their lives ruined in some way. But characters in short stories can have their lives changed in profound ways. They always do in Shadows on the Grave.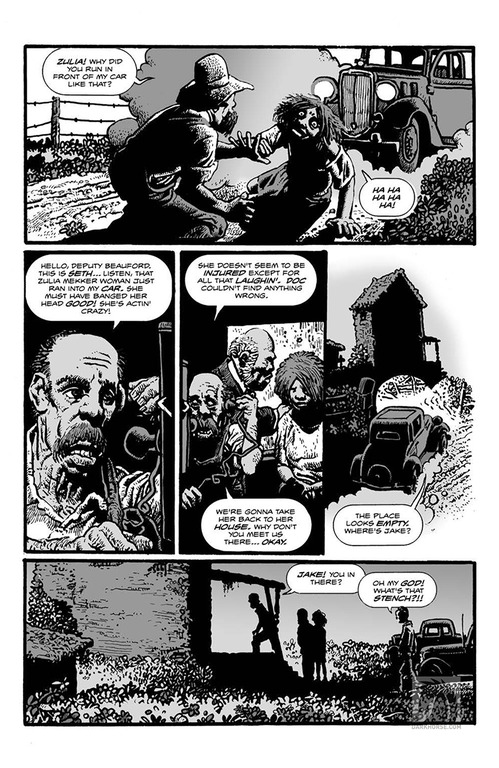 Shadows on the Grave #1 Interior Art by Richard Corben
Paste: Once you've wrapped up Shadows, what's next? Can you tease any new original work or future collaborations coming down the pipeline?
Corben: At this moment I am completing issue six of eight. With only two books to go, my thoughts do drift to some new possibility. A fantastic adventure series would be fun. So would something with a weird setting and a horror theme. But I haven't settled on any particular project yet.