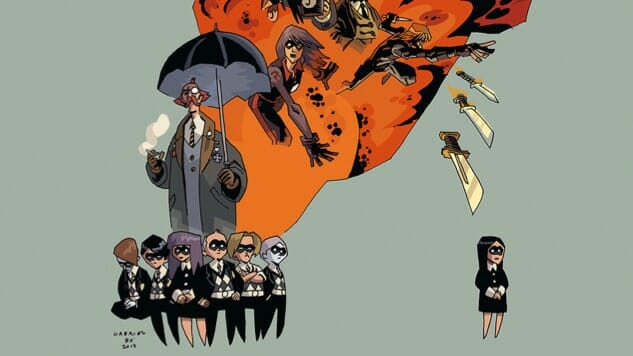 Even before his seminal emo rock band, My Chemical Romance, broke up, frontman Gerard Way was writing and publishing graphic novels. The Umbrella Academy—put out by Dark Horse Comics and illustrated by Gabriel Bá—focuses on an alternate history world wherein JFK was never assassinated, and several superpowered babies were inexplicably born to random women sometime mid-century. The seven children that survive to 1977 are adopted by Sir Reginald Hargreeves, aka The Monocle, who trains them as the "Umbrella Academy." As one might expect, the comics employ a similar, gothic visual style as My Chemical Romance's own album art. It's like the Avengers, if each looked like that kid that was really into My Chemical Romance in high school.
Netflix has announced that they'll now adapt the Eisner award-winning comic for the small screen. The live-action show will focus on the dysfunctional family of superheroes—The Monocle, Spaceboy, The Kraken, The Rumor, The Séance, Number Five, The Horror, and The White Violin—as they work to investigate their father's mysterious death.
Way, who will serve as co-executive producer on the project, said in a press release:
I am thrilled that The Umbrella Academy has found a home at Netflix. I couldn't think of a better place for the vision Gabriel Bá and myself had when creating the comic, and cannot wait for people to experience that world as a live action show.
Hopefully, we'll learn more and get a teaser soon. If nothing else, the show promises to be a unique twist on the well-worn superhero genre.
The Umbrella Academy launches in 2018 with a 10-episode first season. Check out the series' uncropped key art, illustrated by Bá, below.