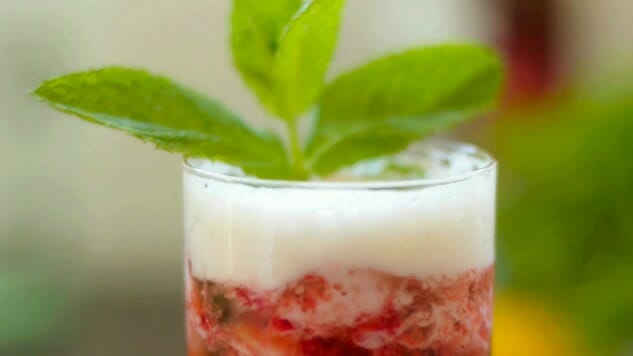 While I'm typically a beer girl, sometimes there's nothing like an awesome handcrafted cocktail. Picking a cocktail; however, doesn't necessarily mean ditching beer entirely.
No one knows that quite like my good friend Ashley Routson, aka The Beer Wench. She literally wrote the book on beer (no really, here's her book on beer) and in it she has a whole chapter on beer mixology.
"In its most basic definition, beer mixology is the art or skill of crafting and mixing cocktails that use beer as an ingredient," says Routson. "One of the newest and most innovative trends in both the spirits and beer industries, beer cocktails have begun to appear on the most prestigious of bar menus, and some unexpected places, in many of the major metropolises — especially in the cities boasting the largest craft beer cultures."
So what exactly is a beer cocktail?
"When it comes to types of beer cocktails, there are essentially two types—those with spirits and those without. I like to call the spiritless category beer blends since they constitute a blend of beer with something else," Routson says. "Spiritless beer cocktails are pretty easy to make, since they typically only have two or three ingredients. Beer cocktails with booze are typically more complicated because they require the same caress and balance of flavors that 'normal' cocktails demand."
While all that might sound complicated, Routson says it actually pretty simple, as long as you do a little planning.
"In my opinion, the most difficult part about constructing beer cocktails is deciding whether or not you want the beer or the spirit to be the star," she says. "Ideally, both are extremely well made and are delicious and intriguing by themselves—which makes picking the lead actor role extremely hard."
If you're not quite ready to come up with a beer cocktail on your own, Routson was nice enough to share recipes for a few of her favorites. Check them out, below, and snag a copy of her book on Amazon for even more, plus some solid beer knowledge.
---
Liquid Pie
Ingredients
1 oz. bourbon
.5 oz. lemon juice
.5 oz. agave nectar
2 blackberries
6 blueberries
3 oz. Bohemian Pilsner
Directions: Muddle the berries, agave nectar and lemon juice until berries are completely macerated. Add bourbon and ice, shake vigorously & strain into a Champagne flute. Slowly add the pilsner, being careful not to let the foam get too out of control.
---
Strawberry Blonde Brewjito
Ingredients
1 oz. Light Rum
½ oz. fresh lemon juice
¼ oz. agave nectar
5 oz. Maui Brewing Bikini Blonde Lager, Blonde or Pilsner
1 strawberry, quartered
5 mint leaves
Sprig of mint, garnish
Strawberry, garnish
Directions: This is the one pictured at the top of the page! Muddle strawberry, mint & agave nectar until strawberry is completely pulverized. Add lemon juice, rum and ice and shake vigorously for 5-10 counts. Add beer, shake lightly, strain over ice into glass of choice. Garnish with halved strawberry and sprig of mint.
---
Berlin Mule
Ingredients
2 oz. vodka
1 oz. ginger simple syrup
1 oz. fresh lime juice
4 oz. Berliner Weiss
Lime wheel, garnish
Directions: Shake the vodka, lime and ginger syrup and then strain into a Moscow Mule copper cup, over ice. Top with the beer until the cup is full. Garnish with a lime wheel.
---
Witty Fizz
Ingredients
1 ½ oz. gin
½ oz. fresh lemon juice
½ oz. raw agave nectar
1 egg white (or ¼ oz. pasteurized egg whites)
4 oz. Belgian Witbier
Directions: Vigorously shake gin, lemon juice, syrup and egg whites with ice. Strain mixture into a Collins glass over ice, top with beer and garnish with a lemon peel.
---
Smokin' Hops
Ingredients
1 oz. Mezcal
1 oz. lemon juice
¼ oz. minced Serrano chiles*
½ oz. agave nectar
3 oz. West Coast IPA
Directions: In a shaker glass, muddle the serranos with the simple syrup. Add mezcal, lemon juice and ice. Shake and strain into a Collins glass over ice. Top with IPA. Garnish with lemon peel.
*For less heat, substitute with a few dashes of your favorite hot sauce.