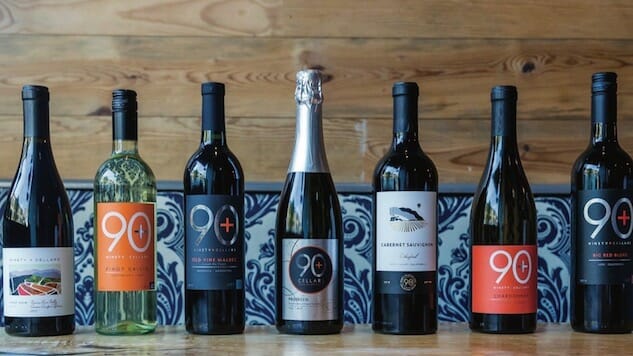 Unless you're a serious oenophile, the wine you buy is typically dictated by price. We all want to drink a $50 bottle of Italian Barolo, but more often than not, we settle for a perfectly respectable $13 Pinot Noir. Boston-based 90+ Cellars is looking to change that.
It all started in the spring of 2009 when Kevin Mehra grabbed a handful of issues of Wine Spectator and listed out the independently-owned vineyards with wine that rated above 90 points. His plan: to contact the wine-makers and see if they'd be open to selling some of their wine to him in bulk, so he could rebottle and sell them at a discount under his own label.
The timing proved serendipitous. It was the peak of the recession, and wine sales—especially in the States—had cratered, leaving wine producers with a vast overstock of bottles that were more than $20, and a tricky predicament: either sell the wine off at a steep discount, effectively eroding the high-cost brand credibility they had built, or retain that prestige and let the excess wine turn to vinegar.
Mehra said about half of the vineyards responded to his cold-call inquiries, and about 30% sent him samples. Since the initial release, the brand has grown exponentially, offering bottles under their 90+ Cellar line as well as the Magic Door and Iron Sides labels; the former offers super-premium, small-production wines from places like Champagne and Oakville in the Napa Valley, while the latter brand lets his wine experts craft custom blends from California reds. Bottles from these brands range from $12 to $45, about $10 to $15 cheaper than the same wine from the actual vineyards. 90+ Cellars also produce Lila Wines, cans of sparkling rose from France and Vino Frizzante and Pinont Grigio from Italy. And Mehra's team have also branched into creating their own product with their Mija Sangria, a bottled Spanish-style punch crafted in New York City, made from 100% unfiltered fruit juice that's heat-pasteurized to retain the pulp and thus deliver more flavor that filtered versions.
"People like to think that wine is a really romantic business," Mehra says. "But it's a big business, much like the soda industry. An independent is going up against big national brands—three distributors control 65% of the market. Retailers have consolidated, and small family wineries can't find the shelf space."
90+ Cellars offers those vineyards a lifeline to continue to produce their top-shelf bottles without worrying about what to do with the excess. And, in the process, Mehra can offer high-quality wine at a more approachable price point.
And though the origin wineries themselves aren't mentioned anywhere on the bottle (unless you encounter one of the rare moments when they only relabel the bottles—then the cork might reveal the stamp of the origin vineyard), the wine-growing regions from where the wine originates are always listed. And that, paired with 90+ Cellars' solid reputation for delivering on taste, serves as a solid guidepost. Think Sauvignon Blancs from Marlborough, New Zealand; Pinot Noirs from California's Russian River or Oregon's Willamette Valley; a rose from the Languedoc region of France or the remarkable Lot 126 Sancerre from the Loire Valley.
Wine nerds often try to unravel the origin vineyards, and often get it wrong as much as they get it right. But blind tasting tests have reinforced the wine's overall quality. Their hometown paper The Boston Globe corralled five somms to test five of 90+ Cellar's wines against higher-cost bottles, and their $25 Barolo beat out a $75 bottle.
Their current distribution covers 15 states, including Virginia, Chicago, Colorado, and most of the Northeastern U.S. They also run a monthly wine club, and sell bottles on online. Here are five to try.
Lot 137 Reserve Pinot Noir, Willamette Valley ($19)
A step up from their regular line, this Reserve Series bottle hits all the right notes for an Oregon Pinot. Smooth, even bodied, and flavorful, with a velvety smooth texture.
Lot 143 Cotes de Rhone ($12)
Part of their Classic Series, this wine blends Syrah and Grenache grapes from France's Rhone Valley from vines planted more than 30 years ago. The flavors—bright bursts of fruit that float over a layer of dried herbs—punches well above its price point.
Lot 26 Collector's Series Barolo ($35)
One of the higher-priced wines, the grapes originate from vineyards south of Alba, Italy, slowly fermented before aging for two years in oak and bottled for an additional 12 months before release. Lean, powerful, and dry, with hints of cherries and leather. One of the best prices for what may regard is the king of Italian reds.
Iron Side Cabernet Sauvignon ($15)
One of their own blends—a Cab and a Syrah from Mendocino, along with a Paso Robles Malbec—this one drinks far lighter and more approachable than other big wines typified by a Cab Sauv.
Lot 126 Sancerre ($17)
Priced at the very low end for a Sancerre, this one originates from the France's Loire Valley that perfects the style: crisp, bright, citrusy, with a silken texture typically to bottles that run in the high $20s.