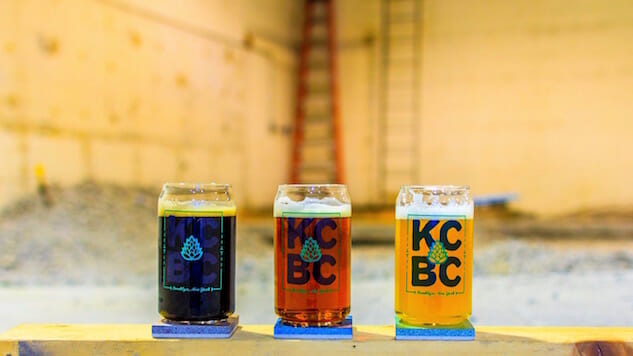 Comparing the list of the top breweries today to 10 years ago, it's clear there has been a changing of the guard, but that shouldn't come as a surprise. With new breweries popping up, and old breweries looking to expand to meet the demand of all us neckbeards, the bar is constantly being set a little higher. But let's pause and think back to that time 10 years ago when there were no breweries like Hill Farmstead or Toppling Goliath, back when these brewers were homebrewers, learning to perfect their craft so that, one day, all of us could experience their creations. Now we look to usher in a new class of homebrewers looking to make that transition. While their locations and styles may vary, they all have the same goal in mind; producing quality beer for all of us to enjoy, one day.
3 Sons Brewing Company
Dania Beach, Florida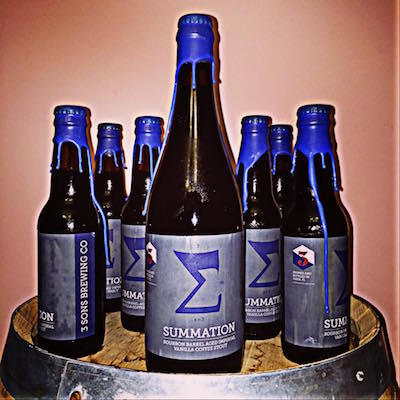 Background: For true neckbeards, it isn't a surprise to see 3 Sons on this list. Led by co-founder and brewer Corey Artanis, 3 Sons has had a following within the craft beer community for a few years now. For many of us, we have continued to ask the same question over and over "when can we finally get 3 Sons' beer." Well 2016 is that year, as 3 Sons is targeting to open its doors in Dania by the end of this year. Like many homebrewers, Corey began homebrewing on a kit. What started as brewing beers for family events, as well as his own wedding, led Corey to offering his beers at local events, and eventually at Huna Day where he has brought home the gold for best beer and brewery the last two years running.
Beer Portfolio: While Corey has become known for his big three stouts, JBM 35, Lumberjack Morning Break, and Summation, the last few years he has been brewing at locations such as the Brewers Tasting Room, Brass Tap, and Cycle, allowing him to hone his skills and master a wide variety of styles. Most recently Corey released Boysen Tha Hood, a glistening red boysenberry sour that tastes like fresh jam.
---
Jukes Ale Works
Elkhorn, Nebraska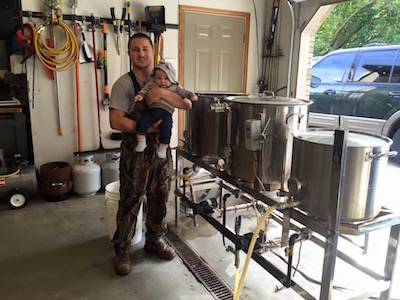 Background: Jukes Ale Works takes the phrase "family business" to another level. Founded by Kyle Jukes, his father Guy, and his brother Brad, Jukes is making a name for itself within the craft beer community. Kyle, who has been homebrewing for the last six years, has recently been gaining a lot of attention due to his barrel-aged stouts. Not many homebrewers can say one of their beers held its own amongst some of the best in its style, but Kyle can. For those of you like me who are fans of the site "Don't Drink Beer" that was Kyle's barrel-aged Vanilla Stout that held its own with beers like Derivation 2 from Side Project and Fundamental Observation from Bottle Logic in his blind barrel aged vanilla stout tasting. Look for Jukes in early 2017, when he will make an appearance at Nebraska's Extreme Beer Fest.
Beer Portfolio: Jukes' lineup doesn't follow a particular theme; it's all over the board. Kyle notes, "I've been told I need to brew the same beers over and over again but I like formulating new recipes to keep things interesting." And that's good for all of us. With a variety of styles ranging from IPAs like Ninja Juice (named by his son) to saisons like The Peche Node, to big barrel aged maple stouts like Oil, one thing remains consistent; Kyle is brewing some of the best beers out there—home or commercial level.
---
Marto Brewing
Sioux City, Iowa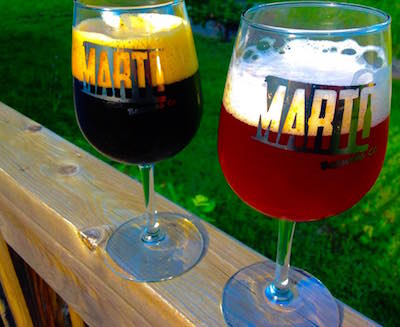 Background: Founded by Erik Martin and his wife Rachael, Marto Brewing will be in downtown Sioux City in the spring of 2017. While Erik has only been homebrewing for five years, he has plenty of hardware to show for his effort, including multiple regional awards. This past year, Erik took home best beer at the Great Nebraska Beer Fest in Omaha for "Ticonic," his sour blonde with raspberries. This bright red jammy delight is packed with over 50 lbs. of raspberries per barrel, making it a dream for any fan of fruited sours.
Beer Portfolio: The regular lineup will include a variety of styles. According to Erik, the variety is on purpose. "I like to have fun with beer names, but at the same time, I like to pay homage to a tradition or a local connection." The homage he is referring to is his Loess Hills Farmhouse Series, which will feature saisons and tart sours aged in a wood barrel, tipping his cap to the Loess Hills of Western Iowa. All of the wild and sour beers in this series will be brewed with a mix of microbes collected in the Loess Hills by Erik himself. He likes to say the mix has reached a happy symbiosis.
---
Garagiste Meadery
Tampa Bay, Florida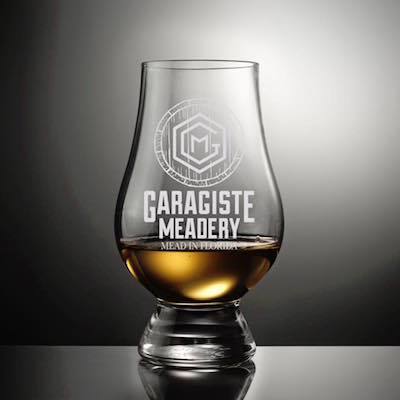 Background: Founded by Chad Wiltz and his wife Sarah, Garagiste is quickly becoming a popular name for both craft beer and mead lovers. Chad, who began making mead as a hobby to enjoy for himself just two years ago quickly realized he had something special as festivals quickly began calling his name. Just a year later, Garagiste decided to make the push to open up to the public, launching a successful Indiegogo campaign this past March. While the location has not been locked down, Garagiste plans to open at the beginning of next year in the Tampa Bay area. Most recently Garagiste took home the gold at one of the largest mead competitions, Mead Free or Die with their Goober Grape 2.0.
Mead Portfolio: With Garagiste, Chad is looking to bring a farm to table experience with each of his meads. "Our honey is from local beekeepers. Our water is Florida spring water. To the extent possible the fruits we use are from local farms and often picked by ourselves or our children." As far as themes for his meads, Garagiste takes the approach of a culinary standpoint, using relatable flavors like peanut butter and jelly, strawberry rhubarb pie, key lime pie and others. Chad notes that "most of our meads fall in the semi-sweet or even dry end of the spectrum and I think this catches people by surprise as well."
---
Rowley Farmhouse Ales
Santa Fe, New Mexico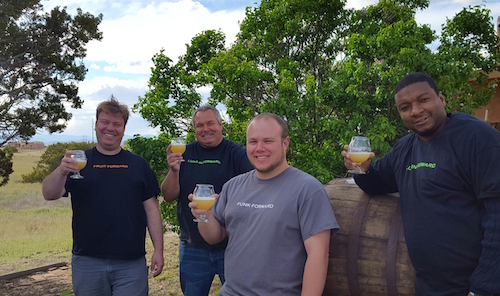 Background: This summer, Santa Fe will have a new brewery as John Rowley, Jeffrey Kaplan, and Tyler King look to inject some needed life into the Santa Fe craft beer scene. John, who is the head of his local homebrew club, The Sangre de Cristo Craft Brewers, first got a taste of homebrewing in 1989 when he started homebrewing with a drunken neighbor in Vermont, not knowing this would shape his career. While John has won a number of awards throughout his homebrew career, he's most recognized for his American Lambic aged on apricots, "The Armenian" which won bronze at Nationals.
Beer Portfolio: Rowley will focus on mixed fermentation based farmhouse and sour ales. While he notes, "there are many beers we can brew within this theme, saisons will take the forefront to start." When the group moves into their new brewhouse, John is planning to spray down the brewhouse with a mixed culture he's developed using both lab and wild yeast. John notes that he's "excited to see how it progresses at a larger level of brewing. I've seen it progress at the homebrew level, but I suspect things may act differently on a larger scale." In addition to his farmhouse classics, John plans to also brew Brett variants on popular beers, fruited sour beers, and other off the wall variations.
---
MAZURT Brewing
Atlanta, Georgia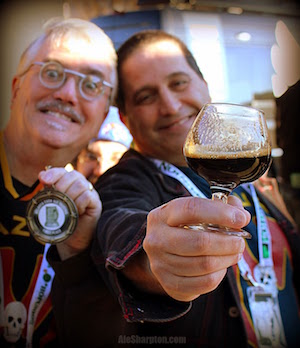 Background: Founded by Dan Rosen and Hamp Covington, MAZURT Brewing is looking at a number of buildings in the Atlanta area and is planning to open summer 2017. With 25 years of homebrewing experience between them, the two teamed up when Covington offered Rosen a chance to brew with him on his Sabco brew system. While MAZURT has won a number of awards over the past few years, beer nerds first became acquainted with MAZURT in 2015 when they took home silver for "best beer" at Cigar City's Hunahpu's Day. They followed that up at Huna this year with a bronze for both "best beer" and "best brewery."
Beer Portfolio: MAZURT will create "big beers that are full of flavor and complexity that challenge drinkers' palettes and minds." Beers will include barrel aged English and American barleywines, barrel aged Russian imperial stouts, and IPAs. One thing that Huna attendees have become familiar with during the last few years is that MAZURT ages some of their beers in coconuts. This original concept received notice from Jeppe Jarnit-Bjergsø of Evil Twin, who suggested MAZURT apply for a patent, which they did.
---
Northpark Beer Co.
San Diego, California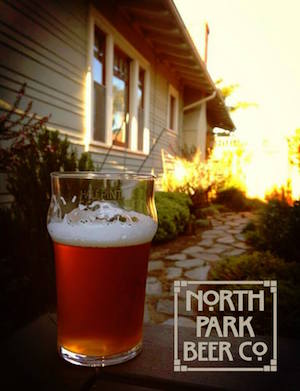 Background: What started as a dream on a Mr. Beer kit 12 years ago for Kelsey McNair, has quickly turned into a reality. In 2010 Kelsey won Gold at Homebrew Nationals and at Stone's Homebrew competition. Stone granted Kelsey the chance to choose one brewer to collaborate with to brew his beer for beer lovers to enjoy. Choosing Colby Chandler of Ballast Point, Kelsey was able to brew his session IPA, which to this day sits in the top 20 session IPAs on RateBeer. Kelsey proved his 2010 gold at Nationals was no fluke by following it up with Gold in 2012, Silver in 2013, Gold in 2014, and Bronze in 2015 (habanero infused variant) all with his "Hop-Fu!" American IPA.
c
Beer Portfolio: Being on the West Coast, Kelsey acknowledges that his beers have a west coast slant. Despite this, he notes "the brewery will also be a neighborhood focused establishment, so I am aiming to please many palates. For the most part, my core offerings will be dry and focused on drinkability. However, our patrons will see a wide range of styles ranging from the palest golden pilsner to the darkest jet black viscous imperial stout and everything in between." Kelsey has coined the phrase, "Ales and Lagers, Friends and Neighbors" as the tagline for his brewery, noting that, "we'll aim to make the former for the latter."
---
Lil Beaver Brewery
Bloomington, Illinois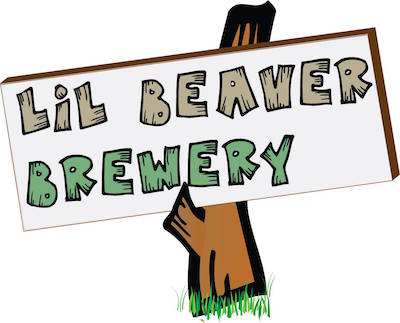 Background: After years of demand, the people of Bloomington can finally rejoice that Lil Beaver Brewery will look to open its doors to the public in 2016. Led by Chad Bevers and Dale Thomas, Lil Beaver looks to bring their out of the box style and push the boundaries for craft beer enthusiasts of every level. Chad, a prolific homebrewer was last year's runner up for the Sam Adams Longshot Competition with his chocolate coconut milk stout. He also took home the silver at Nationals for his imperial stout with ancho chilies, cocoa nibs, cinnamon, vanilla beans, and coffee beans, think Abraxas.
Beer Portfolio: Lil Beaver looks to stray from the traditional styles of beer, focusing on extreme flavor, and anything but ordinary with mainly stouts and sours. Chad notes that when he brews a beer, he tries to twist and turn it into three or four different beers, none which resemble the original. Chad has developed a following for his variants of his Liquid Mounds Bar beer which is brewed with chocolate malt, bakers cocoa, and then aged with cocoa nibs and toasted coconut. While this beer will be available on site as a 13% imperial stout and a 6% milk stout, look for his rye whiskey barrel aged imperial version which is an almond joy in a glass to drop in bottles.
---
Kings County Brewers Collective (KCBC)
Brooklyn, New York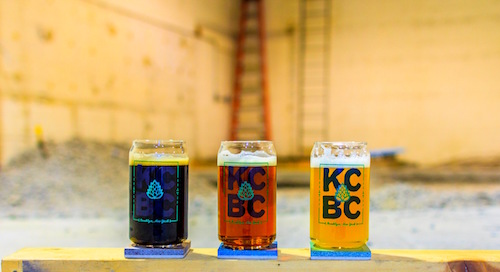 Background: It's been 40 years since a brewery stood in Bushwick, however this summer, KCBC led by Pete Lengyel, Zack Kinney, and Tony Bellis, will look to put an area that was once considered the beer capital of New York City back on the map. The three founders, who come from very different backgrounds, all met through the local NYC homebrew scene. While each of them have beers they have become known for locally, the three look forward towards collaborating with one another on their hoppy beers, as well as introducing their funky wilds to the public through their barrel program. Look for their beers to start dropping around NYC as well as their tap room summer 2016.
Beer Portfolio: While there is no specific theme for KCBC's beers, they like to focus on three things which solidify their identity; quality, variety, and community. With a motto of "Work Together, Drink Together," they like to say, "we're like Voltron, except we make beer." The group plans to brew beers individually to show off each of their personal tastes and brewing techniques, as well as "Collective" beers. You can also expect to see a "Local Talent" tap at the brewery, which will feature collabs with homebrewers, professional brewers, chefs, musicians, artists, and others. Their initial lineup will feature eight styles; IPA, single hop/single malt (SMASH) beer, double IPA, lemon zest saison, gratzer (Oak Smoked Wheat Beer), fruited berliner weiss, brett saison, and a hop forward pilsner.
---
Jason Stein is a New York-based beer nerd. You can find more of his writing on NYC Beer Society.