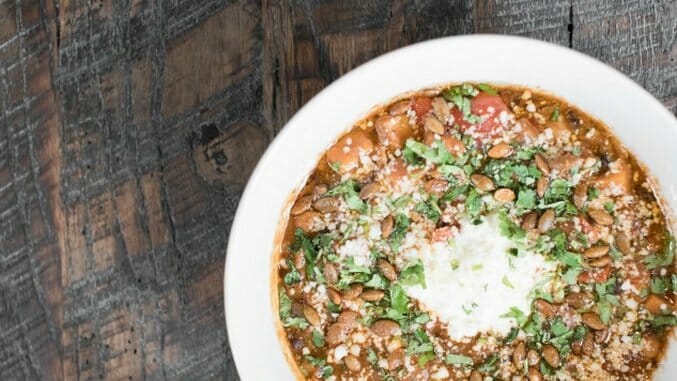 One of my favorite parts of fall is the influx of fall beers and the fact that chili is once again socially acceptable to eat. I'm a huge chili fanatic, and almost always have a crock pot of the stuff in my fridge ready for lunches, last-minute dinners, and the all-important chili late-night snack.
The folks at Elysian recently sent over this chili recipe that I'm going to try out in the rotation this year, a pumpkin chili made with its Spiced Pumpkin Ale. I almost always put beer in my chili already, but I tend to lean towards brown ales or the occasional chili ale. Pumpkin beer is an interesting idea. It sounds like a delicious one.
Here's what they suggest doing:
Ingredients:
Yields: approximately 6 servings
Total time: 45 minutes
2 tablespoons (1oz) rice bran oil
6 cloves of garlic, minced
2 medium red bell peppers, diced
3 jalapenos, seeded and diced
1 yellow onion, diced
1 cup diced butternut squash
1 4oz can diced green chilis
4 tomatillos, diced
1 tablespoon (.5oz) tomato paste
1 15oz can black beans
1 15oz can garbanzo beans
2 tablespoons (.5oz) cumin powder
2 tablespoons (.5oz) pasilla powder
1 tablespoon (.25oz) chipotle chili powder
1 12-oz. bottle Elysian Brewing Night Owl Pumpkin Ale (recommended, or other Pumpkin Ale)
2 cups (16.5oz) vegetable stock
2 cups of crushed tortilla chips
Optional
Lime crema
Pepitas
Corn salsa
Preparation
1. Open the bottle of Pumpkin Ale and pour out half for yourself.
2. In a medium saucepan over medium-high heat, drizzle the rice bran oil and saute the onions, bell pepper, jalapeno, and butternut squash until they begin to soften.
3. Add the garlic and diced tomatillo and saute until tomatillo begins to break down slightly. Add the cumin, pasilla, and chipotle chili powder and saute briefly until the spices become fragrant.
4. Pour in the remaining half of the beer and the rest of the ingredients (tomato paste, diced green chili, black beans, garbanzo beans, and vegetable stock). Bring the chili to a simmer and cook for 15 minutes at low heat.
5. Strain 2 cups of liquid from the chili and place in a blender or food processor with the crushed tortilla chips. Blend at high until smooth.
6. Return the blended "chiparoux" back into the chili and cook for an additional 20 minutes until done.
7. Top with lime crema, spicy pepitas, and corn salsa. The chili can be served in a roasted pumpkin or halved acorn squash.