It's hard to imagine what the holidays would be like without our little traditions. Sure, you've got the big ones like the tree and taking the kids to see Santa, and the kiss at midnight on New Years…but I have a soft spot in my heart for some of the smaller, more personal traditions; The little ceremonies that are unique to you on the holidays. When I was living alone in my 20s, far from home, every Thanksgiving I'd take my dog for a long trail run, then I'd sit on my couch and eat boiled shrimp and mixed nuts while drinking martinis and watch the parade until I passed out, er, fell asleep. A few years later, I developed a similar Christmas tradition. I'd have a couple of martinis, then my wife and I would walk to the tree lot down the road to hunt for the cheapest tree we could find. We'd carry the tree on our shoulders back home, trudging through the snow. Then I'd drink more martinis while stringing lights on the tree only to pass out, er, fall asleep on the floor, staring up through the branches while my wife finished the decorations.
I've since cut down on my holiday martini intake, but I still have a nostalgic fondness for the tiny traditions surrounding those martinis. My wife has her own holiday traditions, like staring at her husband passed out drunk under the tree and wondering where she went wrong in life. That's a tradition. Also, every Christmas, her family gathers around the dining room table, taking turns opening Christmas Crackers before digging into the traditional feast. If you're not familiar with Christmas Crackers, they're small paper tubes that you crack open by pulling the ends apart. Inside those crackers are little plastic toys, paper crowns and jokes. Bad jokes. Really bad jokes. So you pop open your crackers and take turns telling the really bad jokes.
Here's an example:
Why does Santa have three gardens?
So he can "ho, ho, ho."
Yeah, and that's the best one I've ever seen. Essentially, the person who cracks the worst joke earns the admiration of the entire family. Apparently, it's a British tradition. The UK-based Drinks by the Dram, which specializes in selling tiny bottles of booze in fun, gift-worthy packages (they do the Whiskey Advent Calendar each year), has developed a boozier version of the traditional Christmas Crackers. Instead of cracking open the tube to find a crappy toy and joke, you find a tiny bottle of liquor. The crackers are stocked with either Scotch, gin or a variety of liqueurs. It's good booze too. We got the gin crackers and reveled in tiny bottles of FEW American Gin, St. George Terroir Gin and Bathtub Gin.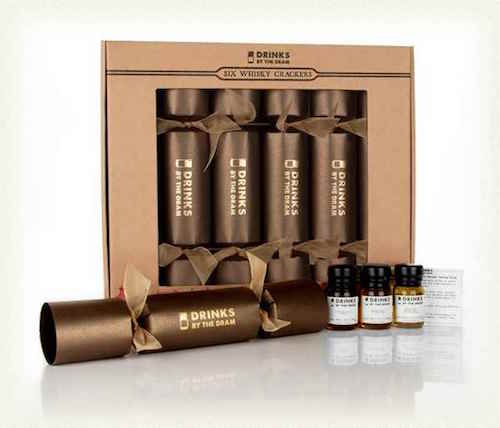 Because booze is better than toys, we've decided to alter the family tradition a little, and hand out these Drinks by the Dram Crackers to the adults and let the kids handle the toy crackers. Maybe after a few tiny bottles of gin or Scotch, the jokes will seem better.
Of course, these gin Christmas Crackers have revived another holiday tradition—me drinking too many martinis and passing out under the tree, while staring up at the twinkling lights. My wife gets to revive her holiday tradition of questioning her life choices too. As John Lennon said, "so this is Christmas."
Okay, one more bad Christmas Cracker Joke.
What do you get when you cross a snowman and a vampire?
Frostbite.