Tasting: 2 Bottled "Twist & Mix" Cocktails From Glenlivet (Old Fashioned, Manhattan)
Photos via Glenlivet, Pernod Ricard
Drink
Features
cocktails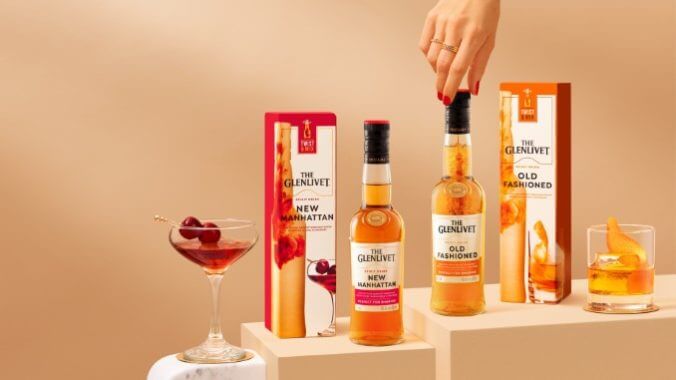 As spirits consumers, we are entering an era when bottled cocktails and ready-to-drink classic cocktail creations aren't just ubiquitous, but increasingly being held to higher standards. There are finally high quality canned and bottled cocktails out there on the market, some of which I've tasted in the last few years from brands such as Golden Rule or Barrelsmith. At the same time, I'm still most likely to recommend that consumers learn how to make their own quality cocktails, considering that these drinks will be better and more satisfying than any bottle or can you're likely to open, but at the very least I can acknowledge that there are some quality brands on the market these days, ones that don't lean too heavily on gimmickry or novelty in their approach. And this latest brand from Glenlivet? Well, unfortunately I can't say that same for these new "Twist & Mix" cocktails.
Pernod Ricard's The Glenlivet is of course one of the world's most instantly recognized whiskey brands, and is the #1 selling single malt scotch whisky brand in the United States, being second worldwide behind only William Grant & Sons' Glenfiddich. These two "Glens" are naturally locked in a perpetual rivalry to be the dominant Speyside single malt, but this proxy war spills out across all other products that are connected to the brands. And perhaps unsurprisingly for 2023, that now includes ready-to-drink (RTD) bottled cocktails. William Grant & Sons struck first, releasing their Batch & Bottle series of bottled cocktails (with an old fashioned and Manhattan featuring Glenfiddich) last year. Now Glenfiddich is stepping into the fray with its new "Twist & Mix" cocktails, but I'm afraid that these have gotten rather hopelessly tied up in one of the more pointless marketing gimmicks the RTD field has seen to date.
The "twist," you see, is held within the cap itself. Each of these is essentially a 375 ml bottle of Glenlivet's single malt scotch whisky, until the moment you twist the cap–when that happens, a small stream of flavorings is forcefully shot into the bottle, which you can then dutifully give a little mix. The selling point, theoretically, is that you're getting the "freshest" possible cocktail by waiting until moments before consuming it to "mix" the drink.
So … can we all agree that this is a particularly uninspired bit of marketing babble? For one, this method of assembling these drinks more or less guarantees that the company has to use flavorings in place of traditional ingredients such as simple syrup, real citrus, vermouth, etc. The tiny bit of liquid contained inside each bottle cap has to have enough flavor potency to turn the entire bottle's contents into "old fashioned" or "Manhattan" cocktails, and therefore this concentrated liquid presumably is quite potent (and artificial) stuff. Nor is it actually necessary to wait to mix these drinks until right before serving for the sake of freshness–if the freshness of a bottled alcoholic drink can't be maintained, then how would any of us ever be able to consume vermouth in general? This concept isn't even trying to be anything more than a gimmick for the sake of aesthetics.
At the end of the day, it's a disappointing focus on presentation first and foremost, rather than making the selling point the quality of ingredients in each bottle. But with that said, we'll still give each one an objective tasting as we always do. So let's get to it–each of these Twist & Mix cocktail brands has an MSRP of $22 for the 375 ml bottles.
---
The Glenlivet Twist & Mix Old Fashioned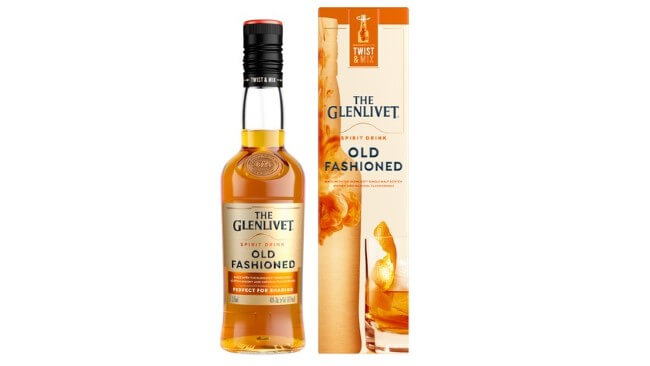 One plus to these cocktails is that with just a squirt of flavoring being added to a standard strength (40% ABV, 80 proof) bottle of single malt scotch whisky, you're certainly not being cheated in terms of alcoholic strength and assertiveness of flavors, which can sometimes be the case in watered down bottled/canned versions of cocktails such as the old fashioned and Manhattan. The only dilution here is the dilution you'll be adding yourself when you stir this over ice, which will be lessened even more if you chill the bottles before opening them. That's a pretty stout cocktail you're left with.
On the nose, this one is indeed quite perky, with big orange sweetness and bright citrus zest, merging with traces of honey and baked biscuits. It's a friendly, pleasant sort of profile, although not exactly what the average American whiskey consumer might associate with old fashioneds, although this was always going to be an inevitability with the attempts to bolt scotch whisky onto more recognizable American craft cocktails that usually call for bourbon or rye. On the palate, this one gets overtaken a bit by the sweetness and intensity of the orange flavoring, merging with cookie-like sweet graininess (digestive biscuits, or shortbread) and sweet hazelnut nuttiness. The scotch fills in pretty naturally, and it actually is extremely easy to drink despite the more than respectable proof point.
All in all, a totally passable old fashioned scotch riff, as long as you don't find the intensity of the orange flavoring to be disconcerting.
---
The Glenlivet Twist & Mix New Manhattan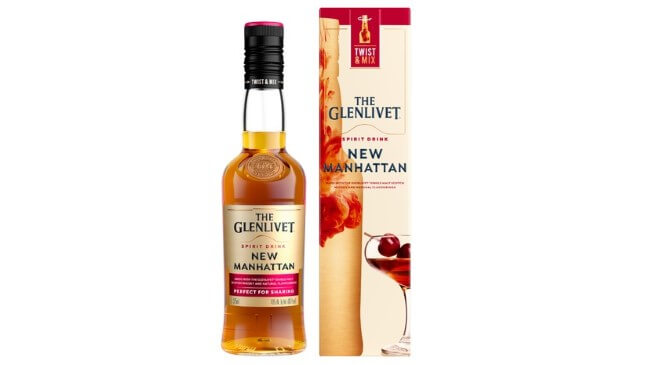 The so-called "New Manhattan" is where the Twist & Mix concept really starts to strain against what would obviously be more practical: Mixing a regular Manhattan with whisky and vermouth in advance, rather than trying to create one with a squirt of flavoring from inside a bottle cap. The company says this one is "a testament to the timeless classic featuring notes of cherry and ginger," because who among us doesn't associate the Manhattan cocktail with ginger, right? Right?
On the nose, this one has an interesting malty quality, but also traces of herbal and floral influences in a way that is not unpleasant–it puts me in mind of bitter herbs de Provence, or the herbaceousness of some amaro. On the palate, this one arrives with intense and off-putting red fruit flavors that quickly take center stage–it's reminding me of artificial raspberry and strawberry more than cherry. This Twizzler-esque note leads into more genuinely whisky character of sweet malt and toasted bread, before transitioning into what is actually a significantly bitter and herbal dimension that does a good job of balancing things out. It does seem a tad hot in terms of alcohol, but that makes perfect sense, because this is arguably the strongest bottled Manhattan you're going to find anywhere at a full 80 proof, sans vermouth.
In the first few seconds of tasting the New Manhattan, I thought this was going to be a full-on disaster, but subsequent sips aren't dominated by the artificial fruitiness to the same degree, and I actually like the more bitter herbal dimension. However, the fruit flavors are undeniably distracting, and as is so often the case with these bottled cocktails you'd be best off just taking the time to mix your own, regardless of which base spirit you're using.
In the end, these Twist & Mix cocktails are by no means the worst bottled cocktails I've sampled, but they're hamstrung by their focus on a gimmick that doesn't add anything to the experience other than a momentarily fun novelty of cracking the cap. As I returned on the second day to sample these again, I noticed that the Manhattan cap seemingly hadn't even fully emptied–it was still dripping some of the brightly dyed flavoring mixture. Now tell me: Is that really more convenient than just buying a bottle of vermouth?
---
Jim Vorel is a Paste staff writer and resident beer and liquor geek. You can follow him on Twitter for more drink writing.