AB InBev Is Experimenting with Augmented Reality Advertising via Devils Backbone Packaging
Drink
News
craft beer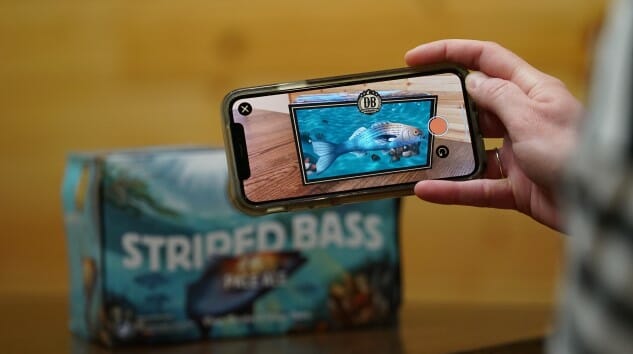 When Anheuser-Busch InBev purchased Roseland, Virginia's Devils Backbone Brewing Co. back in 2016, it was a curiously muted announcement, all things considered. Certainly, the beer geek masses didn't rise up to spew venom as they did a year later when Wicked Weed announced its sale to AB InBev, in a wave of vitriol stronger than anything we'd seen since the initial purchase of Goose Island in 2011. Perhaps it could be said that there were simply fewer beer geeks with an emotional attachment to Devils Backbone as a brand, or perhaps the company just seemed like a more obvious fit for AB InBev—they do have a lager flagship, after all. But whatever it was, the news seemed to elicit shrugs rather than howls of betrayal. In the years since, parent company AB InBev has focused on steadily expanding the brand, which is now available in 13 states.
This latest marketing tool, though, is something decidedly on the modern side: Devils Backbone is experimenting with "augmented reality" in its packaging. In conjunction with a new app, the augmented reality images on three Devils Backbone beer packages—Vienna Lager, Stripped Bass Pale Ale and Gold Leaf Lager—will make the packages appear to come to life when viewed through a smartphone camera. For example, the Vienna Lager packaging features a talking barn swallow who holds discourse on Austrian lager brewing, while the Striped Bass Pale Ale is fronted by "a soul-singing bass who's as entertaining as he is philanthropic."
Is it an impressive piece of technology? Sure. You have to wonder how many customers would ever bother going through the trouble of downloading an app just to see if these augmented reality images will actually work on their phones, but you can't deny that it's a quality piece of brand engagement if you can convince them to do that. You can see more detailed instructions about how to view the augmented reality images on Devils Backbone packaging by clicking here.
"I'm extremely excited to introduce our new augmented reality packaging because it's a technological solution to an analog challenge," said COO Hayes Humphreys. "Craft beer built its reputation on frequent and exciting innovation inside the bottle, but shakeups specific to the physical bottle, can, and box have been fewer and further between. Augmented reality technology significantly upgrades our ability to tell consumers about our beer in a fun and engaging way. Additionally, it does so without requiring any additional effort from our retailers and wholesalers; it literally turns regular shelf space into a walking, talking billboard that highlights the beautifully illustrated packaging we recently rolled out."
Ultimately, it's a gimmick, but it's a notable use of new technology employed in beer advertising. Check out the brewery's introductory video for the concept below.