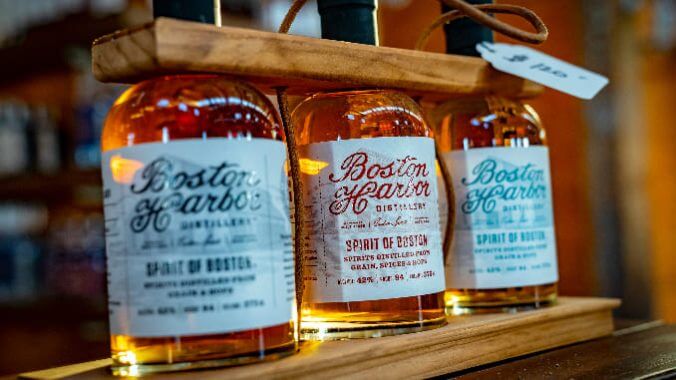 Turning beer into whiskey isn't new. But it is a growing—if highly complex—and exciting niche that many see as the future of craft spirits.  
"I think of it as a whiskey for beer lovers and a beer for whiskey lovers," says Rhonda Kallman, who co-founded the Boston Beer Company with James Koch in 1984 and decided to bring that craft know-how to the spirits industry. She has been creating whiskeys, some of which she chose to distill from beer, since launching the Boston Harbor Distillery in 2012 and has personally witnessed the explosive interest in and growth of the whiskey-from-beer market since. 
"It is the future," Kallman says. "Both beer and whiskey enthusiasts have been looking for the next thing for a while, and whiskey distilled from beer offers so much room for innovation. It's the wild, wild west right now."
In some ways, whiskey made from beer has existed as long as whiskey has existed. The process of turning grains into a fermented mash that is destined for distillation is analogous to the process of creating beer. It's even called "distiller's beer." Generally though, you wouldn't want to drink a pint of it. That mash is not intended to be a finished product—it would be like sitting down to a bowl of mirepoix. Sure, it's edible, but wouldn't you rather wait until it's incorporated into a decadent Bolognese sauce? 
Many distillers look at distilling whiskey from beer like a Michelin-starred chef might consider a pile of interesting ingredients. What to do with it? Let's see. 
"We have been working with Sierra Nevada for 26 years on various collaborations," says Dave Smith, head distiller and blender at St. George Spirits in Alameda, California. "They're good friends of ours, and sometimes they'd call us and just say, 'we've got a whoopsie beer.' Bad for them, great for us. We'd bring it down to our distillery and look at it as a grand experiment and an opportunity to work with essentially a mash bill that we'd never otherwise get to work with."
Releasing a finished product was never really the point, until Sierra made way too much Ruthless Rye IPA. "We tasted it and realized we could create something that was too good to not share with the world," says Smith. 
Producers of whiskey distilled from beer also see the product as a link in the craft spirits chain. "Our projects sell out very quickly," says John Kinney, who founded Sidewinder Spirits Company in 2016 as an offshoot of his Livermore, California, winery, Occasio. "They're a bridge between craft beer and spirits, and they are also appealing to younger people, who are interested in local sourcing, reducing waste, innovation and new flavors. Whiskeys distilled from beer, by its nature, offer all of those things."
---
Renewing Interest in Beer While Bringing More to Whiskey
Between the record brewery bust-ups and slumping sales, it's clear that a market realignment may be necessary. 
Craft beer showed 0% growth in 2022, with a 2% decline in sales in 2023, according to the Brewers Association. The reasons are as numerous as the craft breweries that have proliferated across the country—about 9,552. But a few themes have emerged, and it boils down to: There may simply be too many craft breweries given the increased number of alternatives (we're looking at you seltzer and RTDs) on the market, and the younger generations' focus on healthier lifestyles (which includes a lot more yoga and kale and a lot less booze).  
Whiskey producers, meanwhile, are enjoying strong growth, despite the headwinds. For the first time, spirits surpassed beer sales in the U.S. In 2022, spirits grew for the 13th year in a row, gobbling up 42.1% of U.S. market share, versus beer's 41.9%. 
But many producers are seeing a thirst for something beyond the classic ryes, bourbons, single malts, et al. 
"We are always looking for new ways to blend tradition with a modern desire for provenance, purity of expression and sustainability," Kinney says. "When we started shaking things up with our first release of the Maui Wowie spirit, an IPA from Altamont in Livermore turned into whiskey then aged in barrel for two years, I knew we were onto something when I saw the enthusiastic response."
During the pandemic, Boston's GrandTen Distilling, which had released its first spirits from beer with Trillium Brewing in 2014, dove deeper into the market in a bid to help out brewers and reduce waste. 
"Beer on tap couldn't be sold, so those kegs were being returned," founder and president Matt Nuernberger says. "That left brewers like Lord Hobo in a pickle. They didn't want to throw out the beer, but they had no way to sell it. They reached out to us and offered their surplus inventory."
Nuernberger jumped at the idea and recently released the resulting spirit, Meat & Potatoes. 
---
Challenges for the Market
While there is a lot to celebrate in this category, there's also plenty to bemoan. 
"Labeling our finished product so that it is clear what its inside is very challenging," says Jon Kreidler, founder and chief officer of Tattersall Distilling in Minneapolis. "Because we're making whiskey from beer with hops, the TTB [Alcohol and Tobacco Tax and Trade Bureau] doesn't want us to call it whiskey. But it really depends on what agent you talk to. There is no clear, set policy at the agency, which means different labels say different things."
That is, obviously, very confusing for casual whiskey shoppers who might shy away from "flavored whiskey" or "bierschnapps," two definitions that often get affixed to products in the category, the latter being a reference to the tradition of turning beer into whiskey in Germany breweries. "Because of labeling challenges, it's more of a hand sell," Kreidler says, "which isn't necessarily a bad thing, because these products tend to be more expensive."
Kallman, who has several lines waiting in barrel—"six years and still going, not quite ready"—agrees that these products have multiple layers of cost built in.
"You need to buy super fresh beer if you want a great product," Kallman says. "Some people use old or spoiled beer, but I wouldn't do that. Then you need to pay for it to be moved. Then you have to go through the normal production process, but the aging process can be quite long, and it's not always clear going in how long it will need to age to get to where it needs to be."
---
Guidelines + Bottles To Try 
This category of spirits is, Kallman notes, the "wild, wild west." What should curious sippers keep in mind?
"It's a giant, unexplored category, which makes it really exciting," notes Caitlin Bartlemay, head distiller at Hood River Distillers in Portland, Oregon. "After making several products myself in R&D [research and development], I can say that lagers don't tend to perform well. IPAs are some of my favorites because you get the creaminess of the head along with the strong hop flavor. Pale ales create a finished product with a lot of white wine characteristics—there's lime, lilac, a crispiness. Stouts and porters give off roasty, dark, malty flavors."
Barrel aging, Bartlemay adds, offers additional complexity. "I find that American oak offers those coconut and lime flavors," Bartlemay says. "Oregon oak offers burned orange peel and Madagascar vanilla. Hungarian and French can deliver baking spices and subtle structure. If you put the same product in two different barrels, they would emerge as very different spirits." 
Because almost all of these releases are micro (generally a few hundred bottles, and often 50 to 100), and novel, they frequently fly out of the distillery door quickly. That said, there are a few that are widely available, and as this growing niche transforms into more of a viable category, the number and size of releases will surely increase. 
"We definitely plan to get a few more collaborations out there," Dave Smith, head distiller at St. George Spirits, explains. "We have a very high-concept one in the works now, but I can't say anything else about it."
Yet. In the meantime, there are a few more bottles of Ruthless.
---
St. George Spirits Sierra Nevada Ruthless Rye IPA
A collaboration between master distiller Lance Winters, Smith and Sierra Nevada founder Ken Grossman, the limited-edition Rye was distilled in 2013 and released in 2021 after aging in American oak. The result is notes of chocolate, turmeric, pistachio, marmalade, roasted pineapple and Tootsie Roll. 
Almost all of the 1,000-bottle run sold out on the day of release, but if you visit the distillery, they'll likely be able to scare up a bottle. 
Spirit of Boston Samuel Adams Merry Maker 
"I love this one after dinner, because it hits on all cylinders, with complexity, sweetness and spice," Kallman says. 
The spirit is distilled from Samuel Adams stout, and the distillation process delivers the smooth sweetness of the roasted malts, set off by gingerbread cookies, crème brulee, sea salt and roasted oranges. Dessert in a glass. 
Buy it here. 
GrendTen Distilling Meat & Potatoes
Distilled from Lord Hobo's Dinner Stout, this whiskey was aged in oak for three years. The end result is bold, with notes of dark chocolate, coffee and citrus. An ideal pairing for? Meat & Potatoes. 
Buy it here. 
Still thirsty? Paste has reviewed several other great whiskeys distilled from beer.