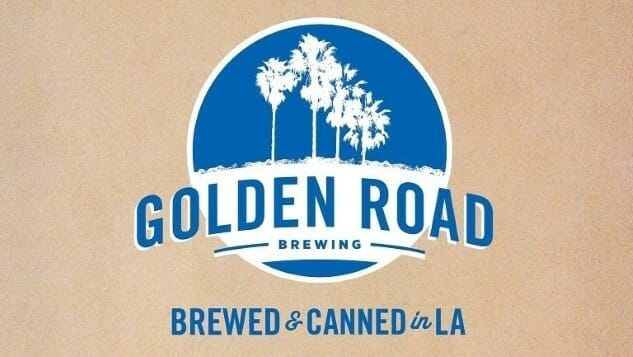 The Los Angeles craft beer community has a lot to be happy about these days—the city has become a craft beer destination after years of playing second fiddle to the likes of San Diego and San Francisco, and their native L.A. Dodgers are in the World Series, facing the Houston Astros. But there's one thing rankling them at the moment: Their mayor's beer-related bet with the mayor of Houston.
L.A. Mayor Eric Garcetti tweeted the contents of his personal wager with Houston Mayor Sylvester Turner on Wednesday, promising to deliver "a uniquely L.A. meal" if the Dodgers lost the series. Turner, in return, will send Houston BBQ and beer if the Dodgers win. But it's the choice of brewery by Garcetti that is contentious: Golden Road Brewing, which was acquired by Anheuser-Busch InBev in 2015.
If the @Astros win the series, we will send over a uniquely L.A. meal from our friends at @KogiBBQ & @GoldenRoadBrew.

— Mayor Eric Garcetti (@MayorOfLA) October 25, 2017
Local craft beer fans and breweries did NOT take kindly to that choice, arguing that a brewery owned by a multinational, Belgian-based brewing conglomerate was hardly a proper representative of the city of L.A. In a community that now has more than 70 breweries either in operation or planning, practically any of the others would have made a better choice if Garcetti was looking to actually represent a locally owned business.
The response from the city's brewers guild was pretty swift, although fairly cordial. "We're not trying to pick on the mayor," said Frances Lopez, executive director of the brewers guild, speaking to the L.A. Times. "We want to encourage people to support local businesses."
You should let @LABrewers send the #beer vs. supporting a brewery that sold out to an international megacorp. #labeer#independentbeer

— Todd Alström (@ToddAlstrom) October 25, 2017
Happy to help, @MayorOfLA! We have 69 independent breweries who are not owned by AB-InBev. Let's #shopsmall#drinklocal!

— LA Brewers Guild (@LABrewers) October 25, 2017
One commenter made the excellent point that Golden Road's beer is ALREADY distributed in Houston, meaning the mayor isn't even bothering to send a product that Houston residents wouldn't normally be able to access.
Isn't the point to send them something they can't get in their city? @goldenroadbrew is distributed to Houston… @LABrewers got it right

— BeerGuyLA (@BeerGuyLA) October 25, 2017
Even some of the local breweries, such as Smog City Brewing Co., voiced their displeasure:
Take your pick! 69 INDEPENDENT craft options pic.twitter.com/cTETE3MxRY

— Smog City Brewing Co (@SmogCityBeer) October 25, 2017
Alex Comisar, a spokesman for Garcetti, defended the mayor's choice to the L.A. Times and called the bet something done "in the spirit of fun and friendly competition, and to celebrate the excitement over the Dodgers' historic World Series run. Mayor Garcetti is proud to support local businesses that create jobs in our city and tell L.A.'s unique story."
You know what might be the best way to support local businesses, though? To support businesses that are owned locally, rather than ones operated half the world away.