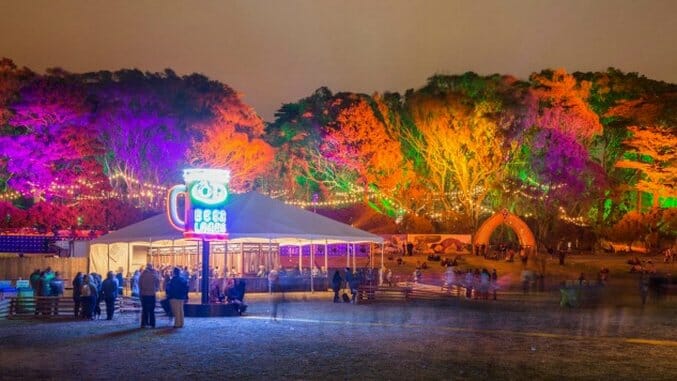 This weekend the Outside Lands music festival takes over Golden Gate Park in San Francisco. More than just for music, the three-day festival has quickly turned into a huge food and drink festival as well.
This year's festival will include 11 unique food and drink experiences, with 42 wineries, 30 breweries, five cocktail bars, and 80 restaurants all bringing their "A" game to the festival, which also stars bands like LCD Soundsystem, Radiohead, and Lionel Richie.
Beer Lands is always one of the highlights for us. The mini beer festival is curated by Dave McLean, the owner of San Francisco's Magnolia Brewing Company, and offers a taste of some of the amazing brews made by Northern California breweries, including Magnolia, 21st Amendment, Almanac, Drake's, and Sierra Nevada.
We were able to score the beer list for this year's festival a little early. Below are a few of my personal suggestions on beers you definitely want to check out while you're there (or enjoy from your couch while watching the livestream), as well as the full list of available options so you can plan your lineup of beer stops between sets accordingly.
Our Picks
Anderson Valley's Briney Melon Gose
The day's are going to be warm, and Anderson Valley's Briney Melon Gose is the perfect way to cool off without getting too intoxicated early in the day. The watermelon gose is one of my favorite beers of the summer, in part because of how absolutely perfect it is on a hot day. At just 4.2%, you can grab one of these between each band you go see while the sun's out, and still be standing come headliner time.
Sierra Nevada's Outside Lands Saison
Sierra Nevada brews this one up just for Outside Lands, so you have to try it, right? Come for the Untappd checkin, but stay for what promises to be a pretty solid Saison. Even better, Sierra Nevada's Beer Ambassador, Terence Sullivan, will be hosting the pouring of the festival brew from Sierra Nevada's awesome solar-powered trailer.
Lost Coast Fog Cutter Double IPA
The nights are bound to be foggy in Golden Gate Park, which means you'll likely need a little something to keep you warm. Lost Coast's Fog Cutter Double IPA might be the perfect beer to grab on your way to see the headliner of the night. Here's hoping its magical powers cut through the fog enough that you'll be able to see the stage.
The Full List
And here's the full list of participating breweries and what they'll be pouring:
21st Amendment Brewery
Hell or High Watermelon Wheat
El Sully Mexican Lager
Ace Cider
Pineapple
Apple Honey
Almanac Beer Co.
Craft Pilsner
Saison Dolores
Anchor Brewing Company
Mango Wheat
Dry-Hopped Steam
Anderson Valley Brewing
Briney Melon Gose
Summer Solstice Cream Ale
Bare Bottle Brewing
Boaty McBoatface #2
Sparkling Wheat
Bear Republic Brewing Co.
Racer 5
Big Bear Black Stout
Calicraft Brewing Co.
Buzzerkley
Oaktown Brown
Drake's Brewing Company
Robusto Porter
Hefeweizen
Faction Brewing
Defcon III Belgian Dubbel
Summer IPA
Fort Point Beer Co.
KSA
Villager IPA
Harmonic Brewing
Yonder Wall Wit
Rye Old Fashioned Pale
Half Moon Bay Brewing Co.
Amber
Full Swing IPA
Headlands
Group G RyePA
Hawk Hill Hefeweizen
HenHouse
Saison
Oyster Stout
High Water Brewing
Campfire Stout
Blondes Have More Fun
Iron Springs Pub & Brewery
Saison d'ete
Single Hop Oatmeal Pale
Linden Street Brewery
Black Lager
Glow Pilsner
Local Brewing Co.
Hetch Hetchy Hoppy Wheat
Sunnyside Pale
Lost Coast
Fog Cutter Double IPA
Great White
Mad River Brewing Co.
Steelhead Extra Pale
IPA
Magnolia Brewing Co.
Kalifornia Kolsch
Blue Bell Bitter
Mendocino Brewing Company
Red Tail Ale
Talon Double IPA
Napa Smith Brewery
American Lager
Golden Gate IPA
North Coast Brewing Co.
PranQster
Old Rasputin
Pine Street
Grapefruit Gose
Atom Splitter Pale
Social Kitchen & Brewery
Lavandula Roseum
Juiciest Galaxy
Speakeasy Ales & Lagers
Baby Daddy Session IPA
Prohibition Ale
Strongbow Cider
Strongbow Cider
Sierra Nevada Brewing Co.
Outsidelands Saison
Hoppy Wheat IPA
Vienna Lager
Tumbler Brown Ale