Translating Ancient Greek: How One Man Launched a Modern Greek Wine Revolution While Holding Onto the Past
Photo by Kathleen Willcox
Drink
Features
Greek Wine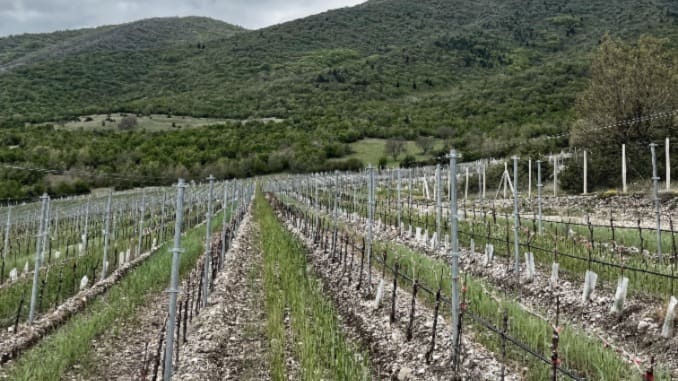 Greece has always had a complex relationship with time. Ancient history and modernity in most places make for uneasy bedfellows. In Greece? They're inseparable. Ancient Greece essentially pioneered democracy, launching a golden age that ended with the death of Alexander the Great in 323 B.C., but not before the Greek language and culture—including Greek wine and viticulture—had spread across much of modern-day Europe. 
Winemaking in Greece has been traced back to the Neolithic era, around 6,500 years ago, but under Ottoman rule (1453-1821), those millennia of wine-growing and -making knowledge were largely lost amid strictly enforced bans on alcohol consumption and the widespread destruction of vineyards. Even after Greece regained its independence, nation-ravaging wars, revolutions and political in-fighting made the return to commercial viticulture the last item on most people's to-do list, especially in the northern half of the country. 
Until 1979.  
---
The Rebirth of an Ancient Greek Wine Tradition in Northern Greece
Costa Lazaridi, an executive at his family's successful marble company and a wine lover who wanted to revive the region's distant viticultural past, decided to plant a vineyard on the slopes of Mount Falakro near his house.
"That was the first modern linear vineyard in what we now know as the wine region of Drama," explains George Zacharis, CEO of the winery, Domaine Costa Lazaridi. "We wouldn't be here right now, the 10 wineries that followed wouldn't be here now, and we wouldn't be on our way to receiving PDO status if Costa had not planted that vineyard."
But we're getting ahead of ourselves. And besides, the starter vineyard that Lazaridi started with was far from successful.
"The results were initially impressive, but they were clearly not quite world-class," Zacharis admits. "But! He knew he was onto something, but didn't have the background and knowledge to create the wine he knew the region was capable of producing. So what did he do? He hired experts who knew."
His initial planting of 21 acres of the decidedly un-Greek Cabernet Sauvignon and Sauvignon Blanc as well as Greece's flagship grape, Assyrtiko, set the stage for the future. 
"It was about embracing and honoring Greece's past but also setting the stage for the future with international varieties that the entire world is familiar with," Zacharis explains. 
Lazaridi hired expert agronomists and enologists, including the world-renowned winemaking consultant Michel Rolland, for everything from helping him select auspicious plots for vineyards and deciding which grape varieties would be suitable to plant where to tasting through the wines and finalizing blends before bottling. 
Lazaridi's wine project went through a painful—but ultimately rewarding—growing phase. 
"Being the first to do something is never easy," Zacharis says. "But by 1992, what we know as Domaine Costa Lazaridi was in operation, with a modern winemaking facility and an aggressive vineyard expansion plan in place."
---
Understanding the Terroir 
When many of us think of Greece, we often picture an Ouzo-fueled boom boom room on the glittering Aegean Sea, the Temple of Zeus at Olympia, or the gloriously decrepit remnants of the Parthenon in Athens. But in reality, the country is 80% mountains, and much of the northern swath of the country resembles the mountainous city of Drama. 
The region is dominated by hills and mountains, all of which protect vines from extreme cold in the winter and searing heat in the summer and provide elevation and a range of soils that make the wines made there so compelling. 
Perched in a northeastern corner of Macedonia, Drama borders Bulgaria to the north and is one of the few Greek regions that doesn't touch a sea. (Cooling breezes from the Aegean Sea 20 miles to the south do provide relief during the height of summer, though.) 
For the first several decades, Lazaridi grew grapes right around the winery in Adriani in the region of Drama. That 175-acre, 700-foot elevation vineyard is dominated by clay, while the 345-acre, 1300-foot elevation vineyard Kali Vrisi features rocky soil. The 86-acre, 1300-foot-elevation Platania also has a rocky terrain, with a consistently cool breeze from the Nestos Valley, which delivers a brisk brightness to the fruit from the region. 
"Around 2010, we realized there was a problem, though," Zacharis acknowledges. "Climate change. The summers were getting consistently warmer, and we weren't getting the same freshness, complexity and aromatic depth, especially in the whites. So we began looking for vineyards at an even higher elevation."
In 2014, the team began planting Katafyto, a vineyard about an hour-and-a-half drive from the winery, right on the Bulgarian border. At 3,000 feet in elevation, the temperatures during the growing season are often up to 20 degrees cooler there than they are at the domaine's original vineyards, explains Zacharis. 
"We initially planted 10 acres of Sauvignon Blanc and Malagouzia," Zacharis says. "The altitude and the soil—well-draining and sandy with limestone in some areas—delivers the freshness we are after. It has transformed our entire wine program."
Now, there are 75 acres planted, with 40 more going in this year and an additional 25 planned for next year. Sauvignon Blanc dominates the plantings, but there is also Malagouzia, Merlot, Pinot Noir, Vidiano and Chardonnay in the ground. 
Some of the grapes—the Sauvignon Blanc, Malagouzia and Vidiano—are destined for individual bottlings, but most are blended with grapes grown across Drama, with the goal of creating a balanced, evocative portrait of Costa Lazaridi's holdings. 
---
Back to the Future
"That area is where the future is," Zacharis says. "Having those vineyards has been a game-changer for us and has helped us to consistently create the premium wines Costa envisioned so many years ago."
In 1995, Protected Geographical Indication (PGI) Drama was officially recognized by the European Union as a region worthy of distinction and protection.
"Costa helped write the proposal, and we worked for years petitioning the Ministry of Agriculture in Greece, both to get the PGI established and to receive so-called 'permission' to plant indigenous grapes," Zacharis explains. "We had to do that to put it on the label, every time, because there was no record of them being planted here during modern times."
The lobbying paid off, and now 19 international and indigenous grape varieties are approved, including Sauvignon Blanc, Cabernet Sauvignon, Merlot, Assyrtiko, Agiorgitiko, Roditis and Muscat of Alexandria. The team at Costa Lazaridi also pioneered red and white blends that embody their unconstrained-by-Kronos approach to winemaking. 
The white grapes, including international varieties like Sauvignon Blanc and the indigenous Assyrtiko, and the red grapes, including international varieties like Cabernet Sauvignon and Merlot and the indigenous Agiorgitiko, take the best of both ancient and modern viticultural worlds and allow wine lovers to taste Drama's past, present and future in one glass. 
"They have become our calling card and are a key part of our current project to get Drama recognized as a Protected Designation of Origin [PDO]," Zacharis says. "That is a step up from PGI, with stricter rules than PGIs, and it is the next step in the path we have been on since 1979."
Others have taken note of both Drama's promise and Costa Lazaridi's success. There are now 10 commercial wineries rooted in the region, each with their own distinct character. Thirsty? Read on for a few Drama-tic bottles to seek out: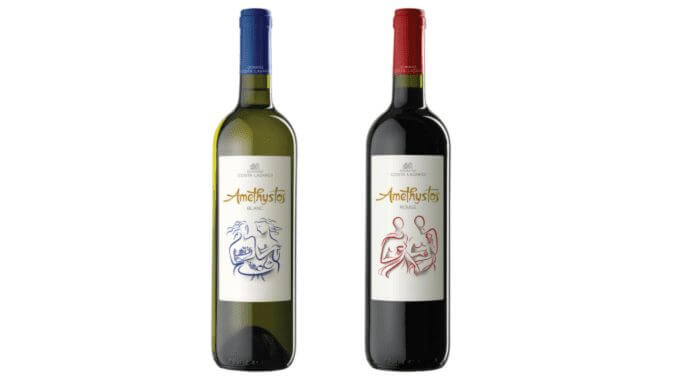 Domaine Costa Lazaridi's Amethystos Blanc, a blend of Sauvignon Blanc and Assyrtiko. Depending on the vintage, the percentage of grapes shifts, but Sauvignon Blanc dominates. This is crushable, with notes of nectarines, mango and bright lemon, but it's also complex, with flint and texture. Pair this with sardines grilled with oil and lemon. 
Domaine Costa Lazaridi's Amethystos Red, a blend of Cabernet Sauvignon, Merlot and Agiorgitiko. Again, the percentage of grapes shifts depending on what the harvest brings, but Cabernet Sauvignon usually dominates. This is a classic Bordeaux blend through a Drama filter. Less opulent and tannic than its French counterpart, this is a fun-loving red with structure, lithe red mountain fruit, cherry pie, spice. Pair this with grilled lamb chops, or roasted eggplant pastitsio. 
Ktima Pavlidis' Thema, a blend of Syrah and Agiorgitiko. This is rich and intense, with notes of cherries, plums, mocha and smoke. This wine has a great aging potential, and should be decanted before serving. Pair this with steak and homemade Greek fries, hand-cut and pan-fried in olive oil.
Estate Manolesakis' Exis White, a blend of Assyrtiko and Malagouzia. This is a lovely, citrusy spring sipper, with notes of grapefruit, pineapple, white flowers. Drink this by your (likely imaginary) pool with young goat cheese and grilled bread. 
All of these wines are delicious, and—bonus for exploring lesser-known regions—around $20. This summer, it's all Greek to me.