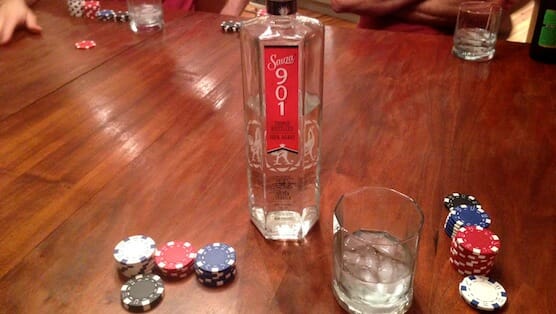 Raise your hand if Justin Timberlake pisses you off.
Don't get me wrong, I'm sure he's a perfectly nice guy who calls his mother every Sunday, but I have a particular beef with JT. He's too talented. First, the dude's a pretty good singer—his music's not my bag, but whatever, he can carry a note. Fine, but he's also funny as hell (see any of his SNL appearances for proof) and he's married to Jessica Biel (at this point he's just showing off). And I'll be damned if he isn't a scratch golfer too. Scratch. Golfer.
What the hell, JT? Just pick one thing to be good at and leave something for the rest of us.
So when a bottle of the Justin Timberlake branded Sauza 901 Tequila showed up in the Paste Drink office, I was kind of hoping it would suck. Sadly, 901 doesn't suck. It's good in the way that most 100% agave tequila is good. There's a little heat to it, so you know you're drinking booze, but there are hints of citrus and pine and that prickly note you get from pure agave. If I have any complaint about this tequila, it's that it's too smooth, a characteristic owed to the fact that Sauza 901 is triple distilled (as opposed to the industry standard, double distillation process). Jameson Whiskey employs a similar triple distillation process, and the result is similar. What you have is a tequila that's extremely easy to drink, especially when you pour it over ice. Well played, Justin Timberlake. Well played.
Sauza also recommended a cocktail recipe—the Mexican Mule, which is a twist on the Moscow Mule that uses ginger beer and a healthy splash of lime. It's incredibly refreshing with a bit of spice from the ginger beer. I like it better than the original vodka-based Moscow Mule, because of the floral notes that tequila brings to the table. Bonus: the recipe is really simple. Check it out below.
Mexican Mule
1 part Sauza® 901® Tequila
2 parts ginger beer
Juice of ½ lime
Directions: Put all ingredients in a tall glass over ice and stir.
Distillery: Sauza Tequila
City:Jalisco, Mexico (Sauza Import based in Chicago and owned by Beam Suntory)
Style: Blanco Tequila
ABV 40%