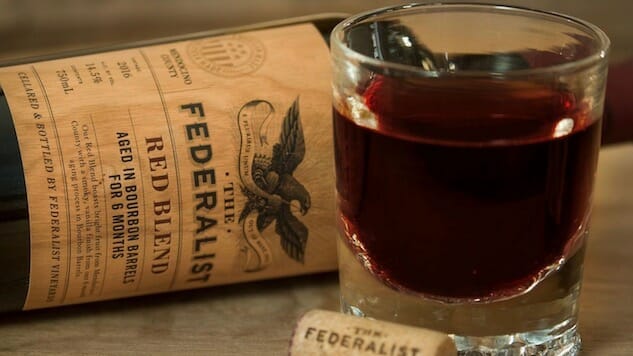 You can tell a lot about a winery when they choose to release their own glasses. Take the vessel introduced by Federalist Wines. Unlike thin and ultra-delicate models like Riedel or the hefty crystal goblets from Ireland's Waterford, the Federalist's wine glass runs against the current of what a wine glass is supposed to be. It feels heavy in your hands, with no stem and a flat bottom, a humble design, rather than something sleek or flashy. If it weren't for the curved interior, which replicates the shape of a typical wine glass, you could easily mistake it for a whiskey glass. And that's precisely the point.
Federalist Wine was founded on the notion that wine should be approachable—not something that's relegated to the one percent or those who love to swirl and spit or store four-figured bottles in their wine cellar, but something even the casual whiskey drinker who typically eschews the haute ethos of the wine culture could appreciate. As its name implies, Federalist also embraces America's legacy for liberation, pushing away from the rarified Euro wine scene and embracing the "New World" style of wine personified by Zinfandel. That's why each wine bottle carries an image of a U.S. icon. The first release, the Visionary Zinfandel, was adorned with an illustration of Alexander Hamilton, the Dueling Pistols Red Blend memorializes the duel between Hamilton and Aaron Burr, and a Chardonnay adorned with an image of the Statue of Liberty.
But their most recent releases arguably captures the essence of what Federalist is really trying to do. They took their Red Blend and Zin and aged them in bourbon barrels and charred bourbon barrels, respectively, for six months—far longer than wine typically rests in wood (which can range between six to 12 weeks). The theory is that the more complex tastes characteristic to whiskey will pass into the wines, making them more approachable to those who scoff at the fanciness of wine and prefer their alcohol to be brown and on the rocks. Whether this is an ideal target demographic is questionable. Given the vast landscape of tastes and endless trends that currently exist in the U.S. drinking landscape (boutique distillers, limited-edition small-craft beer partnerships, wineries in every states, and craft beer at practically every gas station in the country), I would expect a bourbon drinker to be able to easily understand and appreciate the nuances of a good bottle of wine as much as I'd expect them to have their go-to every day whiskey as well as a few "special occasion" favorites, and to be able to explicate why they prefer those whiskeys and bourbons. In simpler terms, wine doesn't feel like a bridge too far for those who traditionally only drink spirits.
That said, their Bourbon Barrel-Aged Zinfandel is quite approachable, and successfully integrates whiskey flavor profiles with that six-month aging process, which came after living for six months in American oak. You get a nice bit of subtle spice over a bedrock of lush black fruit, smoke, and treacle. The wine itself is a blend of Zin as well as Petite Sirah and Merlot, but the barrel aging also adds a degree of depth akin to stronger wines, and would hold up nicely against red meat. Its layers of complex flavors also make it dangerously sippable on its own.
By contrast, the Honest Red Blend—named in honor of Abraham Lincoln, who also adorns the label— doesn't hit any bourbon barrel-aged wood, and makes for a nice contrast to their bourbon barrel-aged releases. It rests in 35% new oak for 15 months, and is comprised of a mix of merlot, Zin, and Cabernet Sauvignon that all originate from the northern coast of California. As with the barrel-aged Zin, it boasts a dark, fruity character akin to Cab Savs, but with a welcome bit of spiciness that adds a degree of depth, complimented by a long finish that worked well with rare steak or more subtle dishes like a Goan fish curry.
Federalist's choice to embrace the anti-elite approach to wine is welcome, even if it's not needed, per say. But regardless of where you are in your evolution into the ultimate oenophile (a pretentious word for "wine-lover" if there ever was one), their bourbon barrel-aged bottles are definitely worth trying, and their non-aged bottles also stand up admirably against the more traditional American vintages.