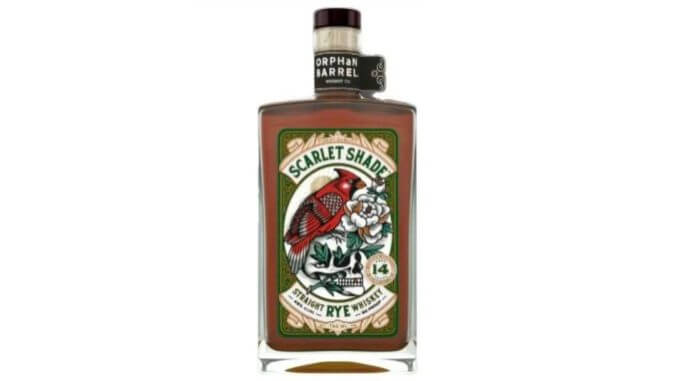 It's always nice, as a spirits writer, when you're trying to make a point about a particular brand in the course of a review and then you end up with another sample immediately afterward that helps in illustrating what you were trying to say. Case in point: Yesterday I reviewed a single barrel expression of Blue Run's Emerald Rye Whiskey, and was attempting to grapple with the idea of a $200 price point on a non-age-stated limited release, distilled at the still relatively youthful Castle & Key Distillery. That's a tough ask for a spirit that we still theoretically know little about in the whiskey community, which I could see making consumers wary of dropping serious coin. But that same $200 when it's directed at a 14-year-old bottle of rye whiskey from MGP of Indiana? You're going to find more takers there immediately, even when we're talking about a 90 proof rather than cask strength expression, because MGP is a significantly more known and understood commodity. That's what Orphan Barrel Scarlet Shade is banking on, and it's not a bad bet on their part.
This is of course an entry in Diageo's long-running Orphan Barrel series of sourced, unique, one-off bottlings. As a brand, Orphan Barrel helped to establish the modern, sky-high price points for limited edition one-offs in the American whiskey world, though whiskey geek interest in the brand has perhaps predictably leveled off in recent years thanks to an influx of competition, much of it of the cask strength variety. Still, Orphan Barrel does still put out some occasionally intriguing releases, none of them cheap, whether we're talking about American whiskey or scotch whisky. This one? Well, Orphan Barrel Scarlet Shade is the brand's first-ever rye whiskey release, which will surely be an aspect that appeals to a certain niche.
As for what's in this bottle, it's "Indiana rye," which we can assume means the classic 95/5 rye recipe from MGP of Indiana, but aged in Kentucky. It carries an advanced age statement of 14 years, and that, coupled with the fact that it wasn't aged in Indiana, can't help but bring to mind Dickel's 13-year-old MGP rye release in the Cascade Moon series from a few years ago, a whiskey that I absolutely loved despite its gaudy $300 price tag. If Scarlet Shade turns out like that Cascade Moon expression, I would be very happy indeed.
In terms of historical context, though, one has to wonder if there's a lifeline here from Scarlet Shade to the former Bulleit 12 Year Rye (also from Diageo) that was initially released in 2019. That brand was received with relatively little fanfare, and it's sort of amazing to note now that it was retailing for only $50–what clearer indication could you want of how much pricing has changed in the last few years? With the Bulleit 12 Year having since disappeared, it's possible that Scarlet Shade contains some of that same liquid, turned into a premiumized, slightly older bottle that now commands a $200 price point. It's certainly possible–and very on brand for the whiskey market as it exists right now–but after tasting this one, I find myself liking Scarlet Shade significantly more than I ever enjoyed that Bulleit release. Which is fortunate, because at this price point it has to impress.
So with that said, let's get to tasting.
On the nose, Orphan Barrel Scarlet Shade opens with pleasing aromatics of cinnamon brown sugar, sprinkled over buttered rye toast. I'm getting hints of warm banana bread and a lot more red fruit, like cherry compote or pie filling, along with toasted oak and flashes of herbal dill and cigar wrapper. It's quite a nice nose; easily approachable and enjoyed, with the correspondingly low level of ethanol you would expect. For the age statement, the oak is only a fairly modest player in the overall profile.
On the palate, Scarlet Shade proves to be not quite as sweet or rich as the nose initially implies it might be, but it's nicely composed all the same. Again I'm getting the buttered toast and cinnamon brown sugar combo, along with brighter cherry, herbal rye, toasted oak and warm baking spices. There's a good amount of berry fruitiness that is enlivening, and actually some prickly heat as well–not quite expected, given the relatively low proof, but some of the peppery heat has stuck around. It develops more oaky dryness from sip to sip, though it's by no means excessive. The entire thing strikes a nice balance between elegance and drinkability, though some drinkers will obviously want a more bombastic profile at this price point. They're all quite complementary flavors, though, and it continues my personal enjoyment of extra-aged MGP rye expressions.
All in all, this is a good showcase for the maturity of MGP rye flavors. It's not quite the superlative bottle that the Cascade Moon 13 Year Rye was, perhaps because the latter was presented at a bit higher proof point, but this is still one of the best ryes I've had in 2023 so far. At the very least, I find it easier to justify the high price tag here because of the difficulty of getting rye with this kind of maturity on the whiskey market. You can call me a sucker for an advanced age statement, but there are flavors here that younger ryes can't really match. If that appeals to you, good luck laying hands on a bottle at a reasonable price.
Distillery: Orphan Barrel (MGP of Indiana)
City: Lawrenceburg, IN
Style: Straight rye whiskey
ABV: 45% (90 proof)
Availability: Limited, 750 ml bottles, $200 MSRP
---
Jim Vorel is a Paste staff writer and resident beer and liquor geek. You can follow him on Twitter for more drink writing.