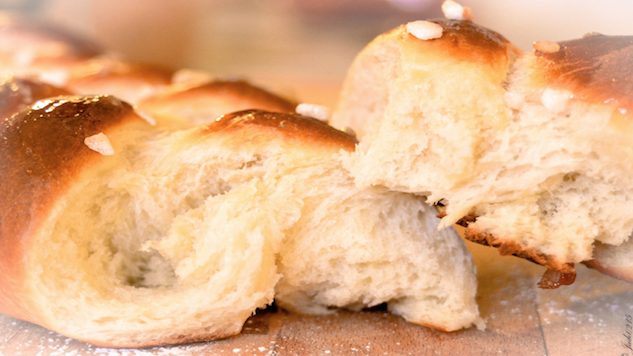 It's easy to fetishize another country's way of life when you don't live there.
But when it comes to bread, an everyday, ubiquitous staple of sustenance, it's hard to grasp why France's is so much better than ours. Good bread gives a feeling of home.
The U.S. is known for liking convenient food. We work too much and eat quickly. Bread is often a part of these quick meals, whether it's alongside a soup or salad or in a hearty sandwich to keep us going. So why isn't the bread better?
During rush hour in Paris or Lyon, you'll often see a nice long baguette poking out of a commuter's bag. The French eat bread with dinner without question. You don't have to ask for it in restaurants. Ordering a croque-monsieur? You'll get bread with that. Everyone I met had their local boulangerie that they liked best. But for me, a depraved American, even the grocery store baguettes, despite sometimes controversial baking practices, were good.
In her article, "Breads of Yesterday," Karen Hess writes "The French like to say that without good bread, there is no gastronomy." Bread itself "forms the palate of the people." This was absolutely true as far as I could see and taste.
For a French restaurant in New York City, the bread is key, said executive chef of Sel et Poivre Christian Schienle. The restaurant gets its bread from Hudson Bread in New Jersey.
"Guests are judging the restaurant based on good bread," he said.
Why is the bread in France so damn good?
1. Laws
A boulangerie has to make its bread on-site (no pre-made dough) to be called a boulangerie. A baguette is not just any tasty French bread: it must weigh 250-300 grams and be 55-65 cm long. Bread can only contain flour, salt, yeast and water. No preservatives are allowed. This is laid out in the French Bread Law, also known as the Bread Decree, of 1993. There are of course lots of other breads beyond baguettes, but the baguette is a common dinner companion.
2. Flour
Climate, water and altitude all affect wheat production. The milling process and flour selection is a lot different on small farms in France, according to Elizabeth Dyck, agronomist and grain advocate, founder of Organic Growers' Research and Information-Sharing Network. She visited small French wheat farms in 2011, and many of the farmers were bread bakers too. She noticed they were blending different varieties of grains, and each used their own mixture to make bread, experimenting with different combinations to create different characteristics.
"What really excited me is that these guys had very small farms and they were making a good income. Most of them were baking artisanal sourdough bread and also using ancient wheats," Dyck said. "[It was] an exciting model, and the bread was just phenomenal."
It may also have to do with protein requirements, Dyck said.Commodity wheat blends in the U.S. require 14.5 percent protein, while French farmers use a much lower protein percentage, about 12 percent protein maximum, she said. The grading of flour is based on its ash content, as per a 1963 law. There are categories of flour and different types within each. Type 55 flour is used for bread, but certain Type 55 flours are better for crepes, certain ones for baguettes, etc. Extraction rate is the ratio of flour obtained relative to the amount of wheat. "Corrected flour" is anything with an additive like soy bean flour, which whitens it and strengthens the gluten.
3. Methods
Some say the generally higher gluten content makes French bread better than U.S. bread. But most of what matters lies in the quality of each ingredient. The longer a bread is fermented, the better its flavor will be. Breads in France and the best ones in New York are fermented longer, Dyck said. This results in nutty, chewy nuances that provide the palate with an experience, rather than just a filler. Bread can easily be the most exciting part of eating in France. "You don't need much to make it into a really exciting dining experience," Dyck said. "Smear a little cheese or butter, a couple of fresh peppers, [and] it becomes much more of a central focus of a meal."
4. Culture
People care about food in France. They really, really care about food. There's no need to label French people "foodies," as pretty much everyone has their food opinions that they're happy to share. Bread, wine and cheese are everyday staples in French gastronomy.
Why don't we care in the U.S.?
Dyck thinks it dates back to our country's early history.
The classic American white loaf was brought from England, but of course has changed drastically since Colonial times. Long story short, it's become less flavorful and less nutritious over time. Wheat was not immune to the effects of agribusiness. The production of mass-produced breads bear little resemblance to actual breadmaking methods, according to Harold McGee's On Food and Cooking. Of course, mass-produced breads also lack the aromas and yeasty qualities of fresh bread.
But the story is changing. The movement to bring back heritage grains is well on its way, and the consumer demand is there, Dyck said.
Where to Get Yummy Bread (in the U.S.):
Runner & Stone makes some of the best bread in Brooklyn that utilizes local flours. The name of the bakery/restaurant refers to the stones used to grind grain in a traditional mill, according to the Runner & Stone website. As of this month, their breads will be available at the Union Square Greenmarket.
Wide Awake Bakery, just outside Ithaca, is another example. As owner Stefan Senders said in a case study by OGRIN, the idea of a "locally grown" bakery wasn't just a fantasy, but a logical business step. He started out as a homebaker using wheat from a nearby organic farm when the farm's owner suggested he open a bakery. As of 2015, the bakery utilizes 1,200 pounds of flour per week, 70 percent of which is Farmer Ground Flour's stone-milled organic flour.