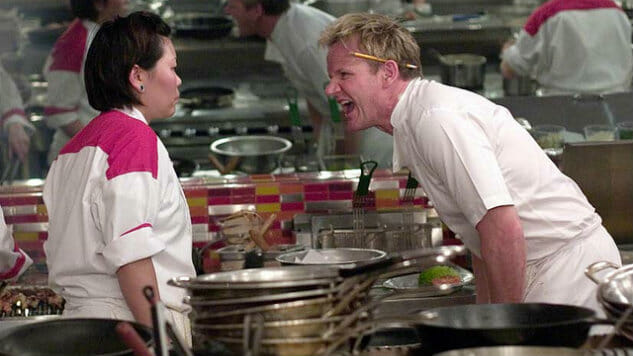 "The customer is not always right," David Chang famously quipped to the New York Times back in 2011. He was already notorious for his hard line on no substitutions and a lack of sympathy for vegetarians, and his defiant stance and celebrity emboldened scores of young cooks.
Chefs are getting treated like rock stars, which raises the question of whether all the attention has perverted the dynamic between the cook and the diner. It's the customer's special evening that they came to the restaurant to celebrate — don't they deserve to be happy with their sauce on the side if they want it that way? Even a chef known for being commanding, Gordon Ramsay, thought so when it came to his friend Victoria Beckham, but not all chefs think so.
There may be good reasons for not putting salt and pepper shakers on tables (like too little space), and no cook has ever wanted to grill a well-done steak, but whether the chef is really the boss of your dinner should be up for debate.
Yet fresh stories of diva chefs taking their attitudes into the dining room have continued. There was Jon Shook of Animal in Los Angeles who responded to questions about his "no substitutions" rule with: "Would you ask Picasso to change his painting?"
As far back as 2008, the "my way or the highway" tone was being set at Shopsin's in New York City and in Kenny Shopsin's book with gem quotes like "The brilliance of my restaurant is my ability to control my clientele."
We're seeing the arrogant side of chefs, but everyone who has ever felt misunderstood knows where the impulse to stand their ground comes from. Not everyone resorts to snark, however. Most frustrated culinary artists suffer in silence.
"Once someone called it 'squishy,' I knew it was finished," chefs Christopher & Veronica Laramie of eVe in Berkeley, California said to FoodArts.com. The disappointment is palpable, the dish in question an elegant-sounding brined and sous vided local albacore tuna served with sunchoke puree, compressed black radishes, capers, and a kumquat compote. "I tasted it and thought it was perfect, but people couldn't wrap their minds around the texture."
On the other side of every cherished creation sits a paying customer. As a chef, you hope you are making something beautiful, something that will satisfy and bring joy, but at the end of the day, it's commerce. If you can't make the people happy, you don't have a business.
Nothing shined a light on this conundrum between art and expectations like the beloved "Hits and Flops" column in the culinary industry magazine Food Arts (now shuttered). It bravely bore testimony to how we don't always get what we want.
Under the header "What do they know?!" chefs would wax poetic about the concept and construction of their favorite dishes that wouldn't sell. Fortunately for connoisseurs of the beautiful and unpopular, the archive of the column is still online. Back when new issues were coming out, lots of chefs would flip straight to that section when it arrived. (I certainly did.) It wasn't out of spite or schadenfreude, but to feel the communal bond of being thwarted by the masses, and to read about other chef's quixotic dishes that sounded even loonier than our own.
"For about five minutes this was called 'strawberry cheesecake.' Then we had to change the name because, when customers read it, their hearts got set on traditional strawberry cheesecake, and when they saw it, they were disappointed," Bryce Caron, then executive pastry chef of Custom House Tavern in Chicago, said of a dish he described as: Fresh chèvre sponge cake with cajeta ice milk, strawberries & black licorice. The staff loved it, but out in the restaurant, it didn't survive. "The dessert on the plate was too far from their emotional expectations," he added.
Admitting defeat in the face of popular opinion can hurt. I am not immune to un-sellable ideas myself. In 2008, the fourth year of my chocolate business, CocoaVino, I wanted to mix it up. I wanted to create a truffle designed to pair with cheese, because chocolate and cheese are two of my dearest loves, and we always want our best friends to get along. It was a fig-filled dark chocolate and olive oil ganache, coated in a thin layer of dark chocolate and then rolled in bitter cocoa powder as a finish. I thought it went best with blue cheese, in particular a Spanish blue sheep's milk cheese so funky it could curl your toes just to stand near it. If you're going to push the envelope, you might as well go for it, right?
In my own defense, Gourmet magazine ran the truffles in their holiday gift guide, so I'm not the only one who thought they were delicious. But even with that great press, they didn't fly off the shelves. Not even close, actually. People didn't like them. They complained that they were weird. They said they weren't very sweet. The truffles didn't meet their expectations for what a chocolate should be. They weren't what they wanted to gift to their loved ones.
I wanted to wait it out, and we did for a little while. Maybe enough people would come around to chocolate and cheese, I hoped. They didn't. The truffles had to go, because at some point, when food is your business, every idea has to pull its own weight. And enough people have to support your vision for you to keep going.
Will the chefs who want to tell you how you can have your food and what you can sauce it with survive the test of time as restaurateurs? A few of them will, but certainly not all. Not even rock stars get to tell people what they can like about the music or how to dance to it.
Ultimate license in our artistic pursuits ends when we want to sell the product. If chefs want 100 percent control of their art, perhaps they should take up painting. But even then, if they're lucky enough to sell one, it might be because a decorator thinks it matches their client's couch.
Alisha Lumea is a writer, pastry chef, and consultant for food and beverage products, projects, and films. Chocolate and seafood are her specialties, although not together.
Photo by gordonramsaysubmissions@N06 CC BY