So, you want to avoid the commercially bred turkey this year, and buy a bird that's been bred locally and boasts heritage pedigree, one that's likely roamed around and eaten all sorts of things it's supposed to eat. To mix metaphors, this is surely a bird of a different color, so there are some things to keep in mind—once you get past the fact that these are going to cost more than supermarket turkeys.
First, they have less fat and are more lean—the muscles are getting more work than what you would typically find in mass-produced birds. They can be much smaller, but it depends on the breeds and "if the farmer gets them on the ground early enough," says Chef Craig Deihl of Cypress and Artisan Meat Share in Charleston, South Carolina. They can also be much richer in flavor. Both preparation and cooking methods become even more important, given these factors, says Deihl.
"Because of its muscular structure and smaller breasts, it needs to be cooked at a lower temperature for a longer period of time if you're going the traditional route of [roasting]." For a less traditional approach, a low-temperature smoke works well because you can separate the breasts from the leg quarters and "it's a much more controllable process," he says.
"If you want to take it even further, spatchcocking it, where you remove the backbone and flatten the turkey so the legs and thighs push up into the breasts, is ideal. The bird cooks evenly, stays moist," Deihl says. He suggests a low-temperature broil before serving for crunchy skin. Diehl knows a few things; he's a multi-James Beard Award nominee, and a founding member of the Butcher's Guild.
Chef Michael Leviton, an eight-time James Beard Award nominee and chef-owner of Lumiere in Newton, Massachusetts admires the flavor of heirloom breeds. "Both the dark and white meat have a much deeper flavor. The dark meat is darker with heirloom birds. It's nice and livery—in a good way." In general, he says, the birds are more flavorful. But the breast meat is not going to be abundant as it is in commercial birds. As a result, you need to be a little gentler with these birds.
He advocates cooking them at high heat, say, 500° F for about a half an hour to give the bird a chance to bronze, and then drop it down to 225° until it's finished. There are questions of sustainability and ethics that may come into play regarding your decision to going heirloom, but there are some health benefits, too. "If you buy a turkey that isn't pumped full of awful stuff, it's going to be better for you," says Leviton.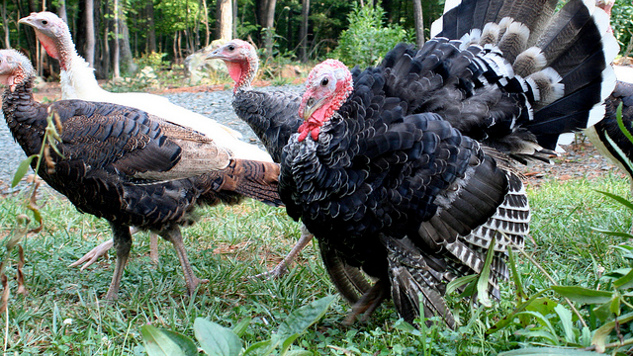 ancapron CC BY
When it comes to heritage birds, the ones Diehl sees most often are Bourbon Reds and Blacks, which in his experience are usually in the 18-22 pound range. But it varies, so when you're ordering a turkey from a farmer, make sure you have a clear understanding of what size you will receive. "I've also had a Bourbon Red that was 14 pounds, and it was $7.75 a pound," he said.
 It's hard to do worse than what happened to Shane Lyons, executive chef of Distilled NY. On Thanksgiving in 2009, when he was 21, a mix of "exhaustion, ignorance and rushing the product to the table" turned the holiday into a disaster. He'd just become executive chef of Nosh in Colorado Springs and it was his first go with such a job. When asked about cooking a heritage turkey, he says, "Don't do it!"
Lyons purchased a wild turkey just before Thanksgiving and didn't have time to brine it. So he seasoned it well with herbs, rubbed it with butter, roasted it and let it rest. "When I carved it and served it, it was like foam rubber," he explains. Not exactly the turkey experience his extended family was expecting from a chef. "I just remember watching everyone chewing and chewing and chewing. My brother says it was the worst meal I've ever made. It's definitely a stain on my holiday resume," he says.
?Several things went wrong here. First and foremost, it was too soon to cook this wild bird. "The turkey was shot in the wild, probably under stress. And it was in rigor mortis. It should have aged." Ideally, you want a more humane process and some aging—about a week—before cooking a fresh bird. Secondly, he hadn't brined it. Lyons says he has been sufficiently "gun shy" about doing a heritage bird again, but if he were to re-approach it, he'd do it very differently.
"I'd brine it for 24 hours heavily with fall spices, herbs, garlic and a little sugar." And then he'd break down the turkey, sear and braise the dark meat, and very slowly roast the breast meat, with caul fat or bacon, and finish it with high heat. Of course, you'd have to have a table full of eaters who are cool with a slightly less than conventional approach.
"I don't know why this meal is held in such high esteem, other than the nostalgia and tradition of it. Mediocre, moisture-soaked bread? I guess stuffing is good…." he says.
Carrie Havranek is a recovering music critic and part-time baker who writes about food, farmers' markets, chefs and restaurants—and sometimes travel—from her home in Easton, Pennsylvania. You may have seen her work elsewhere in Edible Philly, the Kitchn, or Frommer's.