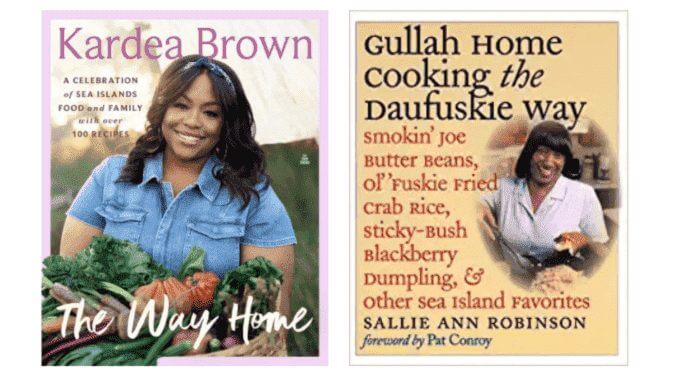 Every summer when we were growing up, my family made the 13-hour drive from our house in Little Rock, Arkansas, to Edisto Island, South Carolina. My parents would wake my sisters and me at four in the morning and pile us into the Suburban, which had been packed the night before with our suitcases, books, games and most of the food we would need for a week at the beach. 
As our day-long journey across the Deep South progressed, our excitement would build: How crowded would the island be while we were there? Had any of the houses on the island changed much? What would the Mystery Tree look like this time? These days, my youngest sister's kids ask those questions when we make our annual family trek (now from much-closer Atlanta). 
Despite the years we had spent going to Edisto, it took me far too long to recognize that the island is much more than a place where we made some of our best family memories: The island's 2,000 or so residents include a tight-knit Gullah Geechee community. 
The Gullah Geechee are descendants of enslaved West Africans brought to the barrier islands of North and South Carolina, Georgia and Florida, which now comprise part of the Gullah Geechee Cultural Heritage Corridor, to work in the lucrative indigo, rice and Sea Island cotton fields. While the white plantation owners fled the islands during the Civil War, many of the formerly enslaved people remained, and because of their geographical isolation, these communities have largely maintained their rich African-influenced traditions. 
These traditions include a creole language also called Gullah Geechee, music, art—Gullah sweetgrass basket weaving is particularly prized—and food. Awareness of Gullah Geechee influence on culture in the American South, and on U.S. culture in general, has been growing in the past couple of decades. This is particularly true when it comes to food, with increasingly more Gullah Geechee cookbooks being published.
The following list of cookbooks will give you a fresh introduction to American cookery by way of Gullah Geechee recipes and stories of island life and family. 
---
1. Gullah Geechee Home Cooking: Recipes from the Matriarch of Edisto Island by Emily Meggett
Born on Edisto Island about an hour's drive south from Charleston, Emily Meggett was 89 when her cookbook was published last year. Meggett learned to cook alongside another Gullah woman, Ms. Julia W. Brown, who was, according Meggett, "one of the best cooks on the island." Brown was head of the kitchen for a white family from Rockport, Maine, that wintered at Edisto, and Meggett cooked for them for 45 winters. She also cooked for everyone else on the island: If the side door to her kitchen was open, you could come in and get something to eat.
Meggett never needed a recipe—"all of it is in my brain, in my heart, in my hands"—she told Garden & Gun—but thankfully, she generously wrote her recipes down in a book for all of us. She died in late April, just a few days shy of her cookbook's first birthday.
The book opens with a welcome to Edisto Island, giving the reader a glimpse of what makes this out-of-the-way island so special ("my home, my heaven," Meggett calls it) and then follows with a history of the Gullah Geechee people. Every recipe has a head note about how to cook the dish, its history or what makes it special or essential. 
Cook: Frogmore Stew, Red Rice and Benne Cookies 
---
2. Bress 'n' Nyam: Gullah Geechee Recipes from a Sixth Generation Farmer by Matthew Raiford
These days, Matthew Raiford is a farmer and chef on the land his great-great-great grandfather, Jupiter Gilliard, bought after emancipation. Describing himself as a "freshwater Geechee" because he grew up on the mainland of Brunswick, Georgia, rather than the nearby islands, he learned to cook from his Nana, mom and aunts.
After graduating from high school, Raiford joined the military, vowing never to return to Brunswick. But he came back to Gilliard Farms in 2011, 26 years later, following a series of culinary adventures that he details in the book's lengthy introduction ("Notes From a Prodigal Son"), including enrolling in and graduating from the Culinary Institute of America.
Raiford organizes the recipes in Bress 'n' Nyam (the Gullah phrase for "bless and eat")  according to their elemental beginnings, including eart/earth, de wata/water, fiah/fire and win'/wind. The book is filled with beautiful photos of Raiford's refined but unfussy recipes.
Cook: Saffron and Coconut Milk Rice, Magic Cobbler (the recipe works with any summer fruit) and—when you're really ready to have a party—Gilliard Farms Lowcountry Boil
---
3. Gullah Home Cooking the Daufuskie Way: Smokin' Joe Butter Beans, Ol' Fuskie Fried Crab Rice, Sticky-Blackberry Dumpling, and Other Sea Island Favorites by Sallie Ann Robinson
In 2005, when Sallie Ann Robinson published Gullah Home Cooking the Daufuskie Way, tiny Daufuskie Island was being developed for rich white property owners, much like nearby Hilton Head. The Gullah residents, never many in number, were moving away, Robinson included. "I left (although I plan to come back)," she asserted in the book's introduction. 
Recipes in Gullah Home Cooking are grouped by where on the island you would find the primary ingredient: the garden, the river, the woods and so on, and they are written in Robinson's inviting, approachable prosody.
Daufuskie is to this day accessible only by boat. A sixth-generation Gullah, Robinson has indeed returned home. She's written two more cookbooks featuring Gullah home cooking and is a celebrated local tour guide.
Cook: Momma's Shrimp and Tada Salad, Ol' Fuskie Fried Crab Rice and Sticky-Bush Blackberry Dumpling
---
4. The Way Home: A Celebration of Sea Islands Food and Family by Kardea Brown

The star of her own Food Network show, Delicious Miss Brown, Kardea Brown might be the most well-known food icon on this list. Brown did not grow up cooking alongside her mother and grandma—if she wanted to be in the kitchen with them, she had to stay quiet and stay out of the way. But she absorbed everything she could while watching them. 
The Way Home is the most conventional cookbook of these four in terms of how the food is photographed and how the recipes are organized and presented. That said, Brown's introduction is lengthy and personal. She describes her personal faith, the hard work it took to get where she is now and what it means to her to be Gullah Geechee. 
Cook: Sea Island Collard Greens, Smoky Pimento Cheese Stuffed Burgers, Edisto Lemon Pie and Swamp Water Cocktail