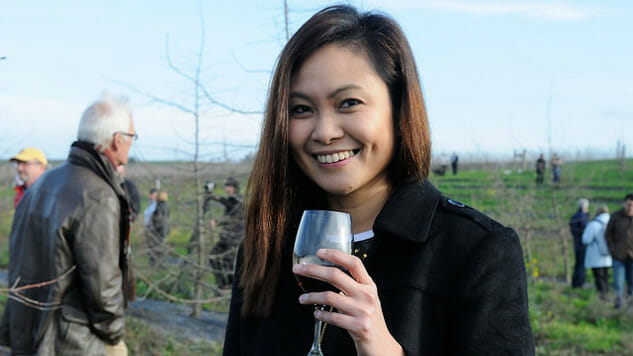 Just because it's winter doesn't mean you have to become a shut-in for the next three or four months. In fact, food festivals burst with abundance this winter, and many thankfully occur in warm-weather cities. Instead of Netflixing and chilling until April (though, that's fun, too), consider drinking Virginia wine, hanging out in the Caymans with acclaimed chefs, or learning about truffles.
Cayman Cookout, January 14-17, Grand Cayman
Only an hour from Miami and situated near the blue waters of the Caribbean, the "cookout" is one of more opulent fests on this list. Famed Le Bernardin chef Eric Ripert hosts it at Grand Cayman's Ritz-Carlton Hotel—but he won't be cooking hot dogs and brats on the white sand beaches. Instead, he'll assist with 30 different foodie events featuring celeb chefs such as José Andrés, Tom Colicchio, and best bud Anthony Bourdain. The Cookout offers wine tastings on a sailboat to a Champagne brunch, and the pièce de résistance, seven chefs cooking a seven-course dinner for an affordable $777 per person.
Napa Truffle Festival, January 15-18, Napa, Calif.
Yes, truffles as in foraged mushrooms, not chocolates. And yes, it sounds pretentious, but truffles are delicious, and apparently a lot of science is involved in properly growing them. Sponsored by the American Truffle Company, the sixth-annual, four-day event will see seminars on things like how to cultivate truffles (where you will probably learn black truffles can fetch up to thousands of dollars a pound, and how Napa and Sonoma are perfect for owning truffle orchards). Other segments involve a dog-training demo with truffle dogs—the Lagotto Romagnolo breed, which are expertly trained to dig up those prized fungi. And of course throughout the weekend you can feast on wine and truffle dinners cooked by Michelin star-winning chefs. The Grand Truffle Weekend Package will set you back $1,250 per person, or you may opt for cheaper packages that don't contain as many "diamonds of the kitchen."
Winter Fancy Food Show, January 17-19, San Francisco, Calif.
Over 80,000 products, 1,400 exhibitors, and 18,000 people flock to the Bay Area's Moscone Center to partake in The Specialty Food Association's massive, multi-floored annual winter event (the summer portion takes place in NYC in June). The event's only open to food industry folks, not the general public, so you'll have to be somebody important in order to attend. Throughout the three days, people will be treated to keynote speakers, and samples of gourmet foods from Italy and everywhere else. Being the largest marketplace focused on specialty foods and beverages on the West Coast sounds daunting, but it's an opportunity to find the next big food trends.
Fellsmere Frog Leg Festival, January 21-24, Fellsmere, Fla.
Last year's Frog Leg Festival served 4,000 pounds of frog legs and 3,000 pounds of gator tails to about 80,000 people—a Guinness World Record. And for the first time in several years, they sold out of their frog legs. The small town (population 5,000) is located near Vero Beach, and is also home to The National Elephant Center. For $14, you can get frog legs, gator tails, hush puppies, coleslaw and grits; or, for $3, devour a frog leg on a stick. The fest also cooks up conch and more normal foods like burgers. Besides the frog eating, activities include a hay throwing contest, a hog calling contest, mechanical bull riding, live music, and a frog hopping contest with live frogs (it's unclear if the losing frog is fried and served on a stick).
Lowcountry Oyster Festival, January 31, Mount Pleasant, S.C.
Occurring in Charleston suburb Mount Pleasant at Boone Hall Plantation (it is actually quite pleasant there, especially all of the live oak trees), the world's largest oyster fest serves up 80,000 pounds of those bivalves in one day. Participate in silly things like an oyster eating contest and an oyster shucking contest, which in 2013 entailed a woman shucking 70 oysters, compared to a man who only shucked 53 of those suckers. Because the fest sells so many oysters, host organization the Charleston Restaurant Association has to ship in oysters grown on Gulf of Mexico-based Texas farms. Attendees are encouraged to BYO oyster knife and gloves, but hot sauce and crackers will be provided.
Big Cheese Festival, February 13-14, Fairfield, Ohio
In 2013, as part of the grand opening of a new store that carries 1,400 kinds of cheese, Jungle Jim's sliced up 7,155 pounds of aged Wisconsin cheddar cheese, deemed "The Big Cheese." Ever since then, the international food store's hosted this annual cheese fest. Expect over 40 booths giving out samples of cheese from Greece, Ohio, Vermont, and beyond; charcuterie; and condiments. And for the main event, Guinness Book of World Records cheese carver Sarah Kaufmann will carve…well, some cheese.
Alice in Wonderland Sunday Funday, February 14, Austin, Texas
The Austin-based mobile app Stret¢h "helps people pair their budget and health restrictions or food dislikes with nutritional chef recipes," and on Valentine's Day they'll put on an Alice in Wonderland-themed food event. They will have food tastings all day from local eateries East Side Kings and La Barbecue, a hot chocolate bar, chef demos, a Mad Hatters brunch, a Cheshire Cat drink lounge, and aerialists performing death-defying stunts. Come dressed as your favorite Looking-Glass character, and if you're lucky, maybe you'll win the door prize: a trip for two to The Big Easy.
Virginia Wine Expo, February 17-21, Richmond, Va.
Did you know Virginia is an up-and-coming wine region? Over a 50 Virginia wineries will participate in the ninth annual expo—along with vineyards from Italy—held at the Richmond Convention Center. Considering it's typically hundreds or thousands of dollars to attend a weekend of wine tastings at a Napa wine fest, Virginia's under-the-radar status allows them to keep prices reasonable for attendees. For $360, you will gain VIP status for the Burger Blast (over 20 burgers to try), a smoked foods events, a grand tasting, and a Sunday brunch. Just remember: Virginia is for (wine) lovers.
South Beach Wine and Food Festival, February 24-28, Miami, Fla.
If you didn't get a chance to go to Grand Cayman, then you have another chance to get down South—SoBe, that is. Akin to the Cayman Cookout, celeb chefs cook up gourmet foods, but unlike the Cayman's, SoBeWFF arranges many more events with special guests. Miami's become such a culinary destination that TV personalities Andrew Zimmern, Guy Fieri, and Rachael Ray pounce at the opportunity to do food demos on the beach in front of 60,000 attendees. 75 events will take place during the fest days, and include a wide-array of food and drink dinners hosted by chefs Stephanie Izard, Rick Bayless, Alon Shaya, Martha Stewart, and Extra Virgin host Debi Mazar. Drink rosé with Stewart, and ask Fieri what's the best brand of hair bleach to use.
Bockfest, March 4-6, Cincinnati, Ohio
Cincinnati celebrates its rich German heritage every March with goats and beers. To kick off the first night of Bockfest, a live goat leads a parade in pulling a keg of bock beer as the elected Sausage Queen waves at the crowd. (Don't worry, the goat will not be sacrificed in the name of Bock.) During the weekend, Germanic food and booze events are held Downtown and in Over-the-Rhine, with Arnold's Bar hosting a special menu and several bock-centric beers on draft. Bock beers are usually stronger than other beers, and embolden the drinker to get through winter. To culminate the fest and to shrug off more winter, a snowman (or woman?) will be set ablaze, while everybody drinks beer and sings.